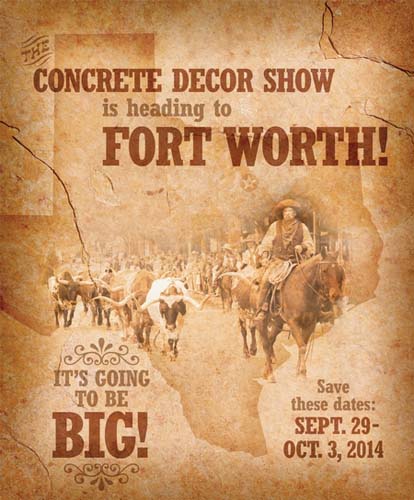 Are you interested in knowing more about the opportunities available to you at the 2014 Concrete Decor Show? Wondering about how to become a trainer for our hands-on workshops? Have you thought about exhibiting at the show? Or do you just want to find out ways you can become more involved with the Concrete Decor Show? Then Save the Date for our Pre-Show Meeting on Sept. 18, 2013 in Fort Worth, Texas.

In addition to moving the Concrete Decor Show to the fall, we have some other changes up our sleeves that you'll be interested in hearing about. Find out what these changes are, along with benefits to exhibiting, an overview of our training program, and site visits to potential nonprofits for our hands-on workshops and pre-show project opportunities. Manufacturers, contractors, architects, distributors and more are all encouraged to attend.

We hope you will be able to meet with us in Fort Worth. Please RSVP to Sheri Mikkelsen by Aug. 16, 2013, if you would like to attend. Email [email protected] or call (877) 935-8906.
Got more questions about your project?