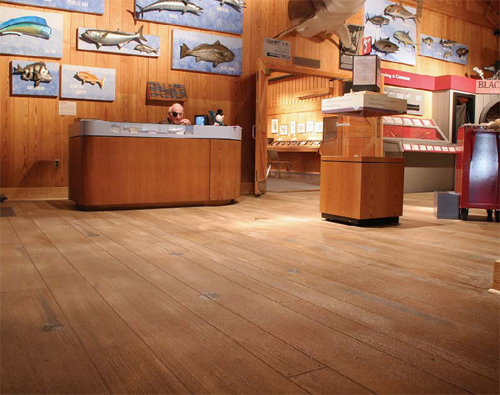 It was end-cut hemlock, a 1-inch by 5-inch inlaid floor installed 25 years ago that looked just as gorgeous today as it did then.
But here's the thing… "We're quite susceptible to hurricanes here," says Barry Kreager, a decorative concrete contractor and president of Royal Coat Inc. "We've had seven of them in the last 10 years." And that was the problem with that exquisite hardwood floor in the 1,600-square-foot main lobby of the North Carolina Maritime Museum, in Beaufort. "It would jump right off the floor every time it got wet," says Bob Springle, the facility's business manager.
The last time, the cause of the damage was even more prosaic than one of the region's powerful hurricanes. It was a leaking toilet that sent the inlaid floor to the bottom of Davy Jones' locker. "We got a quote of $60,000 for the materials alone to replace it," says Springle. "I don't even know what the labor costs would have been."
For much less than the material costs, Kreager and Royal Coat, based in nearby Morehead City, promised a concrete floor that would fit right in aesthetically and take water damage with a smile and a dry mop. "It's a nautical museum, so there's a lot of wood there, wood-framed cannons and the like," he says. "So the floor had to have the right feel."
Kreager's crew spent much of their time stripping off the existing wood and the stubborn adhesive, then using a diamond grinder over the entire length of the floor. They also had to apply fill material to gradually ramp up doorways and entries. And do all of this around day-to-day foot traffic.
Meanwhile, says Kreager, "In our shop, we created a wood-grain concrete overlay system using a modified cement by Color Crown Corp."
Workers laid out the floor with tape to resemble planks and the seams between them and sprayed two tones of brown-tinted overlay coating for a dead-on wood-grain appearance. They used hard-bristle brooms for texturing, to knock off the glare and reduce the slip hazard.
"We've had quite a few positive comments from visitors, people who want to get in touch with the contractor and do something like this in their own homes," says Springle. Sure, it's beautiful and nautically thematic, but the facility's business manager says the most attractive aspects of the new floor were the price and its virtual indestructibility. "We get 200,000 people a year coming here and tracking sand in from the beach. All we do with the floor is mop it."
Don't worry about that inevitable next hurricane, adds Kreager. "Just hose the mud out."
www.royalcoat.com
Got more questions about your project?