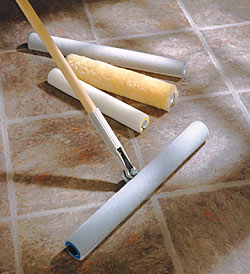 A roller sleeve or cover is commonly thought of as something found in a painter's toolbox rather than a concrete contractor's. However, rolling sealants and colors onto (and into) concrete has become an increasingly popular option indecorative concrete applications.
It's sometimes said that anyone can roll paint. However, professional painters argue that's not true. It takes skill to apply paint to a surface in such a way that it looks as though it was there all along. The same is true for roller-applied coatings on concrete. Perhaps anyone can do it, but it takes skill and experience to do it right. There are different methods of use, all of which affect the desired finished product.
On top of that, there are different kinds of rollers. You need to choose the right one to excecute your decorative concrete job perfectly.
When to use a roller
In decorative concrete, rollers are most commonly used to apply coatings and sealers, says Chris Sullivan, vice president of sales and marketing with ChemSystems Inc. They can also be used for applying some nonreactive stain and dye products.
Rollers are even an option for spreading release powder for stamping, he says. "For release powder, use a very fluffy (3/4-inch or longer) nap. When done right, rolling leaves a nice, even spread of release powder and cuts down on the dust and mess that occurs when throwing the powder onto the concrete."
Nap time
One important distinguishing feature of each roller is the "nap," the length of its fibers. Different naps are recommended for applying different materials.
"Choose the appropriate length of nap for the job — shorter nap for smooth surfaces, longer for rough," says Sullivan. "Also, consider the manufacturer's specifications for the material you're going to spread, i.e., make sure you choose a nap that isn't going to spread the product too thickly or thinly. Third, match the sleeve fabric with the product you're using. If you're spreading a product with high solvent content, choose a roller sleeve that is solvent-resistant."
Tim Bales, owner of Bales Concrete LLC, offers several recommendations: "For countertops, use a lint-free short-nap roller (1/4-inch to 1/2-inch). A longer nap is best for sealing textured or stamped concrete. A good rule of thumb for roller covers is the smoother the surface, the shorter the nap."
Jason Geiser, owner of Deco-Crete Supply, also uses a long nap (1 1/4 inches to 1 1/2 inches) on textured and stamped concrete. "The longer nap ensures that you're getting the product all the way into the textured slab. Rolling also tends to pull the sealant from low spots where it wants to pool."
Common mistakes
Choosing the right roller sleeve is important because with rollers, you get what you pay for, says Sullivan. "Consider the core, the length of the nap, and what the cover is made of. A cardboard core is generally okay for one-time use. If you're going to reuse the sleeve, look for a resin core."
What else should concrete artisans watch out for when wielding rollers? "When applying liquid sealers, dyes and stains with rollers, the biggest issue is lap lines," says Sullivan. "Lap lines tend to occur when there is too much product on the roller sleeve, which forces more fluid to the outer edges as you roll. If you're going to use a roller for stains or dyes, a high-quality, tapered-edge roller sleeve is best. It's also important to follow the manufacturers' guidelines and use a light touch."
"With textured work, you can either roll or you can spray first and then back-roll," says Jason Geiser, owner of Deco-Crete Supply, based in Orrville, Ohio. "With stamped concrete, I always spray and back-roll. Since the roller isn't saturated when you're back-rolling, leaving roller marks is less of an issue."
Another common mistake, says Sullivan, is using rollers to apply acid stain. Don't. "The inherent problem of leaving lines when rolling is exacerbated when the lines actually penetrate into the concrete, which is what acid stains are supposed to do."
"You want an acid stain finish to look natural," says Tom Ralston, president of Tom Ralston Concrete, Santa Cruz, Calif. "Rolling makes it look man-made or contrived. Rolling acid stain essentially reduces the finished result from a deep three-dimensional look that draws the eye into the concrete to a flat two-dimensional appearance."
If you are planning to roll sealer onto concrete, weather conditions should always be considered, says Sealant Depot owner Don Schmitt. "Roller lines often happen because the sealant is drying too fast. With most sealants, we would recommend a maximum of 80 F and a minimum of 50 F."
Finally, many applicators simply choose the wrong roller sleeve, says Matt Short, president of Sealant Depot Inc., Cinnaminson, N.J. "Contractors sometimes choose a longer-nap roller sleeve because they can spread the material quicker than with a short-nap roller sleeve or a sprayer. The problem is they end up putting the product on thicker than the manufacturer specifies. The end result is an orange-peel appearance or a whitish pigment, which is caused by trapped moisture."
Better than sprayers?
Still, despite all their potential issues, rollers are often preferable to sprayers.
"Sprayers are a good option, but they present problems too," says Short. "Many solvent-based sealers contain a lot of acetone, which is really hard on sprayers. Plus cleanup is labor-intensive with sprayers. When you include cleanup time in your labor estimate, rolling is often the better way to go."
"Sprayers have a tendency to gum up and drip, which shows in the finished product. The drips dry darker," says Schmitt. "Spray is hard to control, especially on a windy day. The solvents can kill surrounding shrubs and grass."
"It's almost impossible to get perfectly even coverage with a sprayer," Geiser says. "By back-rolling, you not only even out the coverage of the product, you also pull the liquid from low spots and push product into any nooks and crannies."
Textures and tricks
Besides being used to spread a product on concrete, rollers can apply light texture, according to Short. "One trick I like is to coat a short-nap (1/2 inch or so) roller cover with resin and let it dry. Now you have a textured roller that can be used to add a light texture to edges."
"Stamps often leave suction marks when you lift them off a slab," says Ralston. "I've found that coating a 1/2-inch to 3/4-inch nap roller cover with release agent and rolling it over newly stamped concrete is a good way to roll out the suction marks."
Ralston has also used rollers to embed thin overlay stamps in custom jobs. To apply stamps he recently created with seaweed, he used rollers to apply enough light pressure to embed a shadow print on the concrete floor of an oceanfront home.
"I've seen rollers used to produce a number of light textures and finishes," says Sullivan. "You can slide the roller, use it for dimpling, or press it lightly into the concrete for a faux finish, for example."
Rollers
ArroWorthy — The Microfiber Roller Cover
While there are a number of microfiber roller covers on the market, the exclusive finishing process developed by ArroWorthy has established ArroWorthy's Microfiber Roller Covers as one of the most widely used in the industry today:
Made from a special blend of high-capacity, nonshedding European woven fabric.
Picks up more product than other synthetic roller covers.
Distributes material more smoothly and evenly over a larger surface area than other roller covers.
Available in 1/4-inch, 3/8-inch and 9/16-inch naps.
Widths range from 4 inches to 18 inches.
(631) 643-0436
www.arroworthy.com
Padco — Pro-Finish Roller Covers
Padco Pro-Finish Roller Covers are designed for use with solvent and water-based finishes as well as with today's low-VOC coatings:
Perfect for use with floor finishes, sealers, paints, stains, epoxies and waxes.
Provide a streak-free and lint-free application on hardwood, concrete, vinyl, tile and terrazzo surfaces.
Available in 9-inch or 18-inch sizes.
(800) 328-5513
www.padco.com
Padco — The T-Bar
The Padco T-Bar applicator's unique squeegee action applies a smooth, bubble-free finish quickly. With the T-Bar, no back-rolling is necessary:
Waterborne and solvent-modified finishes and waxes are applied in thin coats or thicker-mil thicknesses depending on the applicator used.
The heavyweight tool is used to apply a uniform thin coating.
The lightweight tool applies less pressure for a thicker coating.
Available made from lambswool, woven fabric or Nylfoam.
Sizes range from 12-inch to 30-inch widths.
(800) 328-5513
www.padco.com
Purdy Corp. — White Dove Roller Cover
Among Purdy Corp.'s wide array of roller covers, the White Dove is the best cover to use on a smooth surface when a decorative finish is the desired result:
Provides the industry's most lint-free finish.
Made of high-density, woven Dralon fabric.
Designed for easy rolling and provides a high-quality finish.
Available in widths ranging from 3 inches to 18 inches.
Nap depths range from 3/8-inch to 3/4-inch.
(800) 547-0780
www.purdycorp.com
The Wooster Brush Co. — Wooster Epoxy Glide
Epoxy Glide roller covers smooth and level all epoxies and urethanes with ease, including floor coatings, bonding sealers and polyamides. They can be used with waterborne and solvent-borne coatings. Other features include:
Great pickup, gliding flow and impeccable release.
Resists matting and maintains bounce for even application.
Excellent control of film thickness.
Doesn't pick up what has already been released, eliminating drag problems.
Available in 4-inch, 9-inch and 18-inch lengths.
(330) 264-4440
www.woosterbrush.com
The Wooster Brush Co. — Wooster Super Doo-Z
The Super Doo-Z roller covers feature shed-resistant fabric. Other features:
The covers offer the smoothest, lint-free finish with paints, enamels and varnishes.
Dense fibers reduce dripping and spatter for neater results.
A top roller is good for putting down epoxies.
Available in 4-inch, 7-inch, 9-inch, 14-inch and 18-inch lengths.
Nap heights range from 3/16-inch to 3/4-inch.
(330) 264-4440
www.woosterbrush.com