Custom rock features and hardscapes built from glass-fiber reinforced concrete (GFRC) are high-end features added to landscapes at luxury homes or commercial developments. There is a movement to make these decorative elements accessible to more customers by supplying contractors with prefabricated, modular components they can install.
Several companies nationwide, including RicoRock Inc., of Orlando, Fla., take molds of natural rock formations and use them to cast natural-looking panels and boulders from GFRC. Contractors with concrete and masonry experience can use these products to create fabulous rock features even if they don't have advanced skills to cast and carve the rocks themselves.
One of the most popular landscape uses for GFRC rock installations is pool surrounds and waterfalls. Here are some tips for using structural components to make these features look and perform their best.
Bruce Riley is managing director of RicoRock Inc. He can be reached at [email protected].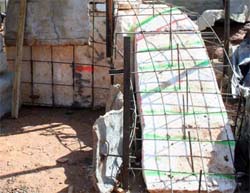 THE FORMING STAGES: Forming the foundation for a free-standing waterfall from concrete blocks or compacted dirt is very time-consuming and expensive. A good alternative is building on extruded polystyrene foam blocks. The foam blocks can be cut into a rough shape and covered with a rebar armature. GFRC castings are then wired to the rebar and backfilled with concrete.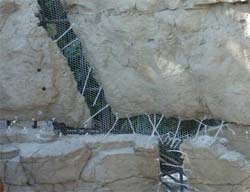 THE FORMING STAGES: Cast panels are not close-fitting jigsaw pieces. There are usually gaps of 3 inches to 6 inches between them. Metal lath with a plaster finish is the best way to fill these gaps and visually blend castings. Using plastic zip ties instead of tie wire avoids problems with rust, a common cause of callbacks in later years.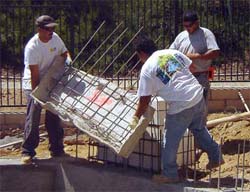 THE FORMING STAGES: Waterfalls often have caves or grottos — open areas behind the water. Using a "grotto lid" that comes with rebar already inserted in the casting saves time when installing these cantilevered panels.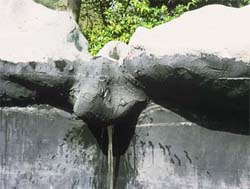 WATERPROOFING: Whether installing cast or hand-sculptured rock, it is critical to waterproof the pool shell BEFORE attaching any rock, because water will penetrate any cold joint and pass through raw gunite. Plastering the outside of artificial rock does not fix leaks caused by improperly installed rockwork. It is a beginner's mistake to build the rockwork and then try to apply waterproofing.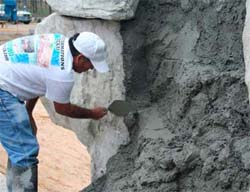 WATERPROOFING: Water course areas should be hand-troweled into a rough shape, waterproofed, and then hand-stamped and textured. Failure to waterproof the area before finishing will result in calcium deposits, leaks and, ultimately, callbacks.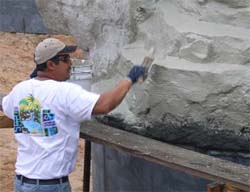 WATERPROOFING: Waterproofing with a hydraulic-cement type of material is critical to prevent leaks and calcium deposits. It is typically not a finish but an underlayment for a finish texture coat.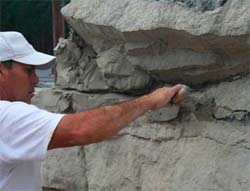 FINISHING: The gaps between panels should be filled with a mortar mix that dries to the same color as the GFRC. Additional color can be added to both panels and mortar, but if they don't match to begin with, they won't match after they are colored.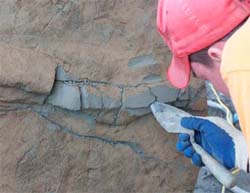 FINISHING: Textures on the gaps between castings can be achieved with texture mats and a release agent. But to really match the character of the castings, a dry-lining technique that involves carving partially hardened mortar is needed as well. Allow the mortar to dry, for several hours if needed, to a very stiff stage, and then carve crevices and lines to give the mortar a rock character.
Got more questions about your project?