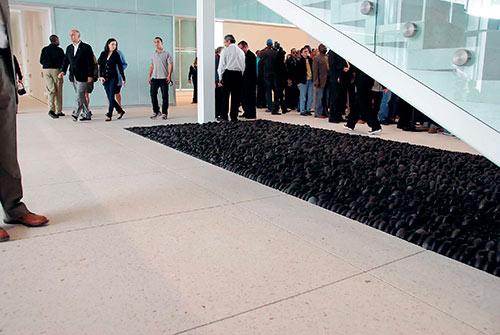 At the Tampa Museum of Art, all eyes are on the compelling paintings, photographs, sculptures and Greek and Roman antiquities. Designed by San Francisco-based firm Natoma Architects Inc. and constructed by international construction company Skanska, the building itself evokes an essence that's subtle and serene so as not to detract from the art on display.
An especially subtle element in the museum, which opened to the public in February 2010, is the flooring. Installed by a crew led by Travis Hall, owner of Palmetto, Fla.-based Southland Concrete Creations, the two levels of interior flooring comprise about 30,000 square feet of white concrete. Workers enhanced the floors with saw cuts in a tiled pattern of rectangles — which mirror the patterns on the museum's ceilings — ground the floors down to expose aggregate and honed them using 200-grit resin diamond pads.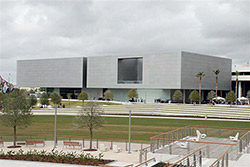 Outside, Hall and his crew poured about 35,000 square feet of white concrete and gave it a similar treatment, but finished with 60/80-grit metal bonded diamond pads for a rougher, slip-resistant surface.
Why was decorative concrete the material of choice? Natoma Architects partner Stanley Satiowitz says cost was a major factor. "It was an economical way to make an elegant floor," he says.
Hall says project managers were after the look of terrazzo, and by installing concrete with exposed aggregate, they managed to achieve that look for about a third or fourth of the cost of terrazzo. Plus, it was easy to achieve a subtle effect with concrete, he says.
"(The material choice) had to do with the modern and understated look of the concrete," Hall says. "Everything in the museum is about flow. It was about not overstating the architecture, and not taking away from the art."
The application of white concrete — which Hall says is an unusual choice for a polished floor — resulted in a calming eggshell hue for the floor. Hall says a high-gloss finish was originally planned for the interior surfaces, but since high-sheen products can turn white concrete slightly beige, the architect decided on a very light shine, which was achieved through the honing work done with 200-grit resin diamond pads. The low gloss level also gave them the architect the understated look he was going for.
Satiowitz — a big fan of concrete — said the material gave the floor a "neutral, tranquil and calm" look and ensured the museum's artwork remained the building's focal point. He adds that all surfaces throughout the museum, such as walls and countertops, are different shades of white.
"People have responded well to it," Satiowitz says. "Sometimes there is a prejudice against concrete, but when it's treated right, it can be a high-quality look. The installers managed to create consistency. We work with concrete a lot — it's our favorite material."
Hall's crew, led by Corey Crumley and Anthony Kunz, completed the job in three phases, beginning with the museum's first floor, continuing with its ground floor and finishing with its outdoor patio areas. In both interior phases, they poured a 3-inch white concrete topping over a structural concrete slab covered with a 6-millimeter Visqueen slip sheet, made quarter-inch-wide, inch-deep saw cuts, ground the surface with metal-bonded diamond pads to expose the aggregate, added L.M. Scofield Co.'s Formula One Lithium Densifier, honed the surface with 200-grit resin diamond pads and applied Scofield Formula One Finish Coat, which acted as a stain guard. Finally, they burnished each surface using a high-speed propane burnisher.
Workers followed the same process on the museum's exterior concrete, with the exception of using 60/80-grit metal bonded diamond pads while polishing and applying Scofield Repello sealer as a final topcoat. An HTC 800 HD grinder was used for all grinding and honing work.
The interior saw cuts, which Satiowitz says reflect the museum's ceiling patterns to create a uniform look from top to bottom, posed one of the biggest challenges for Hall's crew. Hall says their saw cuts had to be made within an eighth of an inch of where the architects wanted them to be, which required much coordination with Skanska's on-site supervisor.
"We had only a few hours to get all the saw cuts in. Otherwise, we were taking a chance of the concrete cracking," Hall adds.
Another challenge Hall's crew faced was maintaining the consistency of the aggregate by making sure it was evenly distributed and not too deeply embedded in the concrete as they poured.
They encountered yet another issue during the mock-up process — some polishing pads left marks on the white concrete, Hall says. Resin pads marked the concrete with the resin color. What's more, certain burnishing pads left the color of the pad on the floor, especially when run across the saw cuts. So they switched to neutral-colored diamond pads. It was fortunate they completed a mock-up and developed a specific process plan before beginning the work, he says.
"We basically made poor man's terrazzo," he says. "We were trying to duplicate terrazzo, and that can be a difficult thing to do. Terrazzo is naturally consistent, and concrete is naturally inconsistent, so we had to overcome the inconsistencies while pouring."
After educating floor maintenance workers on proper cleaning techniques, Hall says he's experienced no issues with the floor since the museum opened.
"The feedback I've received is that the floor is beautiful," Hall says.
Project at a Glance
Client: Tampa Museum of Art, Tampa, Fla.
Decorative Concrete Contractor: Travis Hall, Southland Concrete Creations, Palmetto, Fla. | www.southlandcreations.com
General Contractor: Skanska, Solna, Sweden | www.skanska.com
Designer: Natoma Architects Inc., San Francisco, Calif. | www.saitowitz.com
Duration of project:One year
Scope of project: Approximately 65,000 square feet (30,000 interior and 35,000 exterior) of polished white concrete surfaces with decorative saw cuts
Material Suppliers: L.M. Scofield Co., HTC Professional Floor Systems
Materials Used: Scofield Formula One Lithium Densifier, Scofield Formula One Finish Coat, Scofield Repello, HTC 800 HD grinder
Got more questions about your project?