Across the country stamped concrete jobs are beginning to show wear. To help restore the worn surfaces, Concrete Earth LLC has developed a three-step system to re-color, accent and seal previously installed jobs. Rztore (pronounced restore) is a fast, efficient system that revives old stamped concrete and return it to foot traffic in as little as eight hours.
Previously when contractors needed to repair a stamp job, it was costly and time-consuming to strip the surface of the color and sealants. Rztore is able to work around remnants of product, saving time and reducing client costs.
"Our system is not affected by partially remaining sealers or color," says Patrick Soler, CEO of Concrete Earth. "It's designed to work around those issues."
Once the surface is cleaned, the first step is to apply Rztore's color base, which is available in 15 shades of earth tones. Although Rztore was initially developed to enhance the existing color, it can also be used to completely change the color of the concrete.
"If the original color is no longer desirable, Rztore can completely change the color base," Soler says. "It's been used to go from a pewter gray to a dark walnut before."
He also noted that if the color is still in good shape, which is often the case with integral color, the first step in the system can be eliminated.
Rztore's second step is Accent Antiquing. Not only does it create the popular antique or mottled look, but it also provides additional color to compliment the new or original hues. Available in eight accent shades, multiple colors of Accent Antiquing can be used on the same project to create unique looks.
"Your ability to create different tones is only limited by your imagination and artistic ability," Soler says.
Rztore's final component is Surface Seal, which is available in a matte or glossy finish. It is formulated with a hard acrylic resin for maximum protection.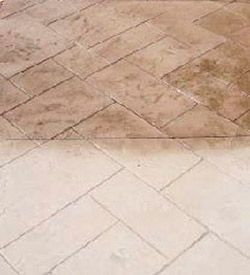 "When you're done, you've got a brand new concrete look either by reestablishing the original colors or creating new ones," Soler says. "Once the surface is restored, we recommend the surface be kept clean and the sealer be reapplied as needed."
Rztore contains no VOCs and can contribute to LEED points. Contractors should use acetone-resistant sprayers when applying.
"We worked very hard making the system as green as we could," Soler says. "Unfortunately there was no way to make it waterborne and still perform like we wanted."
www.concreteearth.com
Got more questions about your project?