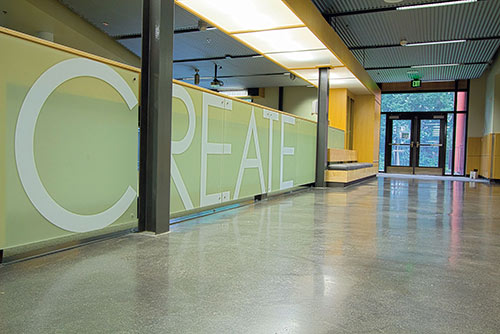 Picture the elementary school you attended. The floors were probably concrete covered by institutional-style vinyl tile or commercial-grade carpet. In a word, boring.
Thanks to the work of Kyle Wiggins and his team at Flooring Solutions LLC in Woodinville, Wash., Meadowdale Middle School has an entirely different kind of floor.
Meadowdale, a new school in the Edmonds School District, in the suburbs north of Seattle, boasts nearly 100,000 square feet of floor surface, about half of which is state-of-the-art polished concrete.
"The school is two stories," recalls Wiggins. "They wanted the corridors and some of the classrooms to be polished concrete."
The first floor is a normal concrete slab, while the second floor is a post-tension slab supported by posts set on 2-foot by 2-foot footers that encroach into the first floor, he says.
The scale of the job and the tight schedule imposed by the school district's goal of opening in time for the upcoming school year posed some minor challenges.
Wiggins' team (typically three or four employees on any given day) tackled the job by breaking it down into six separate phases — usually keeping two 32-inch grinders operating all day and using additional manpower to fill cracks, hand-grind, and ultimately dye, densify and seal. Paying close attention to scheduling goals helped them finish on time.
However, getting the floor to a point where the dyeing would look uniform proved to be the most challenging aspect of the job. The footers on the first floor didn't blend well with the slab. Grinding exposed a lot of cracks, which had to be filled with epoxy. Due to the lack of expansion cuts on the upper floor, grinding exposed cracks there too.
"The more grinding we did, the more cracks appeared," says Wiggins. "The school district wanted a light gray polished finish, which doesn't hide cracking very well, so we had to do more grinding and routing than we expected to do."
Attention to detail
A job such as this involves a striking number of smaller, detailed tasks: grinding, filling cracks and expansion joints, more grinding, dye application, densifying, polishing, sealing, finishing, and finally protecting. Each step requires attention to detail.
The grinding was done with Innovatech Predator grinders, which feature a four-headed planetary design as opposed to the more common three-headed design found on a lot of commercial concrete grinders. The crew started with 40-grit metal-bond diamond segments (also by Innovatech), graduating to 150-grit segments over the course of several additional passes, spending extra time where needed to maintain a consistent appearance. Hand-grinding in corners and tough-to-reach areas was minimized by using Innovatech P-850 edge grinders.
"The people from the school district were very pleased with how we achieved consistency right up to the edges of walls and in corners," says Wiggins. "They had done polished concrete in other schools prior to this one, but they said they had never seen that kind of uniformity."
For the dyeing, densifying and sealing, Wiggins stuck with products from L&M Construction Chemicals Inc. He used their Vivid Dye line of dye to attain the light grey color the customer wanted. Prior to densifying the surface, they hit the dyed concrete with 800 grit to further lighten the color.
Densifying was accomplished using two applications of different kinds of hardener. The surface was cleaned, and L&M FGS sodium-based hardener was applied, agitated and scrubbed in using agitators and brooms. Then the floor was washed again, and L&M LiON Hard lithium-based hardener was applied and allowed to dry. The floor was scrubbed clean yet again, and the surface was sealed with L&M Permaguard water-based sealer.
A final complication arose at the tail end of the job. The floor was finished, but work on the building was scheduled to continue for months — HVAC, electrical, painting and so on. How to protect a finely polished concrete surface from construction traffic or dents and scars from dropped tools and building materials?
"We struggled a little with this one," says Wiggins. "At first the school district wanted to use plywood, and then they decided on masonite. Finally, I suggested a product called EZcover. It's a fiber composite with a dense membrane on top and a softer, feltlike cushion on the bottom. It performed very well, and saved us the labor involved in using plywood or masonite."
LEED in mind
Wiggins chose his dye, densifiers, and sealer with LEED requirements in mind.
Greg Schwietz, president of L&M Construction Chemicals, says the company has developed products to specifically meet or exceed LEED specifications and regulatory caps on volatile organic compounds.
"We do a lot with independent testing to ensure that our products don't contain hazardous components that would create VOC or interior environmental issues later. In fact, many of our dyes, sealers and cleaners are approved under CHPS criteria," says Schwietz.
CHPS (the Collaborative for High Performance Schools) is a green-building rating program especially designed for K-12 schools. CHPS criteria were published in 2002.
With chemical restraints taken care of, the only other LEED challenge was dust containment.
"Really the biggest environmental issue we had on the job was dust containment during the grinding and polishing phases of the job," Wiggins said. "That's one of the reasons I like the Innovatech grinders. They have powerful Ermator (T-12600) dust collectors with HEPA filters that keep the dust under control."
"We have definitely seen an increase in the use of polished concrete in institutional and governmental buildings over the past several years. And it makes sense when you think about it. Utilization of concrete is simply a very desirable option from an environmental point of view," says Schwietz.
Wiggins couldn't agree more. "Every school has concrete floors. It comes down to a matter of whether they want to cover the concrete with carpet or tile, or simply use what's already there. From a long-term point of view, concrete requires less maintenance. It doesn't have to be replaced periodically like tile or carpet, which ends up in the landfill. And concrete just looks good."
Project at a Glance
Client: Edmonds School District, Lynnwood, Wash.
Contractor: Kyle Wiggins, Flooring Solutions LLC, Woodinville, Wash. | www.floorsolutions.com
Scope of project: Polish, dye and seal 50,000 square feet of concrete floor surface in a new middle school.
Most challenging aspect: Complete the work on schedule while maintaining consistency of color and slip resistance.
Grinding/Polishing Equipment Used: Innovatech Predator Grinders, Innovatech P-850 Edge Grinders
Products Used: L&M Construction Chemicals materials (Vivid Dye light gray dye, FGS sodium-based hardener, LiON Hard lithium-based hardener, Permaguard water-based sealer), Crown Polymers Flexible Joint Epoxy, Universal Concrete Forming Products EZ Cover
Got more questions about your project?