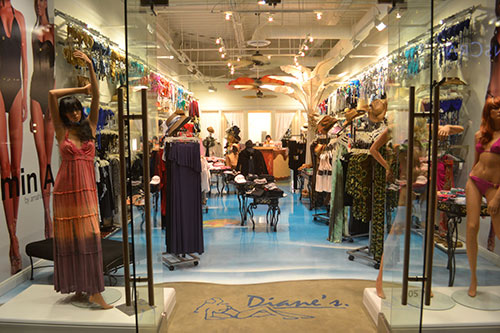 When Ray Anger, owner of Scottsdale, Ariz.-based Decorative Concrete Staining & Scoring Inc., came on board as the decorative concrete contractor for the Scottsdale location of Diane's Beachwear, a California-based chain of upscale beachwear boutiques, he took plans for the store's floor from simple to spectacular. The store's general contractor, Skyline Development & Construction, originally proposed a solid blue epoxy coating, but Anger had something much more eye-catching in mind.
Anger used polymer stains, high-definition visuals and real sand to recreate the look of an ocean floor. He convinced the chain's owner, Diane Biggs, that his plan would result not only in a beautiful, durable surface, but in sales-generating visual marketing for her store too.
"We do a lot of theme-oriented establishments," Anger says. "We believe the floor should tell a story, because when it tells a story, it really intrigues people and creates that wow factor that draws people to the establishment."
Skyline Development & Construction found Decorative Concrete Staining & Scoring online through the Concrete Network website and chose the company to design and install floor coatings for the new store in Scottsdale Quarter, a high-end shopping and entertainment center. Biggs said the Scottsdale store opening presented the perfect opportunity for a special floor treatment — it's the first Diane's Beachwear store located outside of California, and the retail chain is approaching its 50th anniversary.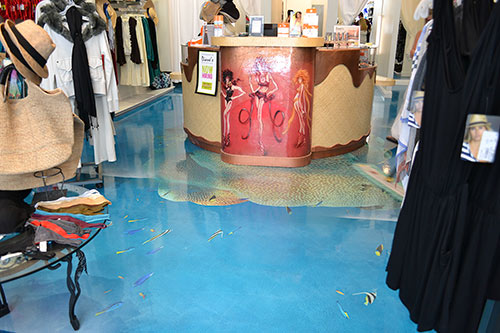 "I love concrete floors, but some work and some don't," Biggs says. "I wanted to create a tropical vacation for my customers. They're shopping for things to take with them when they go somewhere warm, so I wanted to create that experience."
Anger says he and his crew faced an initial challenge of ensuring the bare concrete inside the store would properly absorb decorative products. After conducting a surface absorption test, Anger found that since the existing concrete slab had been troweled tightly and topped with a curing compound, it could not absorb stains and sealers.
To prep the surface for decorative coatings, Anger and his crew media-blasted the concrete, using garnet instead of silica sand or shot. This method, used frequently by Decorative Concrete Staining & Scoring, better controls the removal of the surface's top layer and leads to a smooth result, Anger says.
The design process involved persuading Biggs that Anger's vibrant, detailed ocean floor was both doable and a worthwhile investment. After viewing a few of the company's previous artistic jobs, she was sold, Anger says.
"We made some drawings for Diane, and she didn't initially think it was possible," he says. "She had a budget for the project, and you have to understand that budgets are fine, but you also get what you pay for. She also had a certain amount of money set aside for marketing, and we had to explain that her floor would become her marketing and create a draw of its own, so in the end, she wouldn't have to spend as much money on marketing."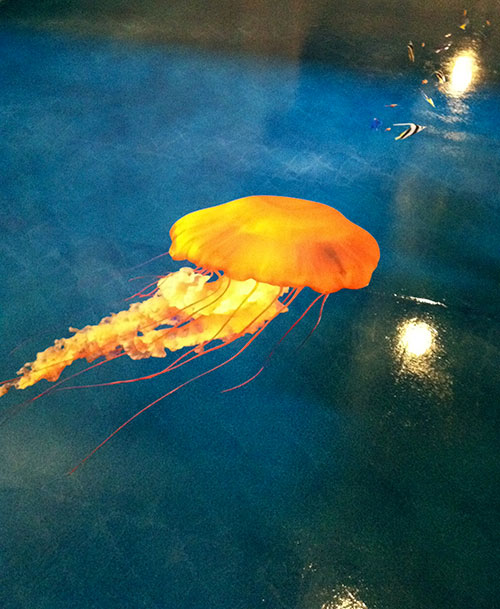 Marine life in high-def
The crew began with a white base on the entire floor using a Kemiko Rembrandt Polymer Stain. Next, the crew put down Kemiko Rembrandt Polymer Stains in shades of blue to recreate the look of ocean water and applied high-definition images of a large jellyfish, a brain coral reef and a school of tropical fish.
The application process entailed printing photos onto a thin film from 3M, then melting and liquefying the printed film under intense heat so it would penetrate the pores of the concrete and become part of the floor.
Finally, the crew used the white stain product to add wave and foam details to the ocean floor. Urethane and polyaspartic coatings finished the water portion.
Next, the crew turned a rectangular-shaped area at the store's entrance into a "beach" by putting down a high-solids epoxy coating as a base and adding a layer of sand. An outline of the Diane's Beachwear logo — the word "Diane's" and a woman lounging in a bikini — was then blasted into the sand and stained using Kemiko Rembrandt Polymer Stain in an eggplant shade. They applied a coating of clear acrylic urethane to lock in the sand and the stained logo.
As the floor would endure abuse from foot traffic and clothing-rack movement, durability was a critical factor. The floor's durability was just not a result of the chosen topcoats, but a consideration from the get-go, Anger says. "Making sure you have the right profile and that the products have something to grip to is what leads to strength," he explains. "(The client) had problems with decorative applications in the past that looked beautiful but then broke away because they were not properly prepped."
Anger adds the floor's other key success factors were executing steps in the correct order and protecting the finished product. "We had to make sure we were sequencing the job according to how it needed to be done, and that we protected it before allowing the rest of the work in the store to take place," he says.
Biggs says she loves the results and that the Scottsdale store's floor has become a new signature for Diane's Beachwear.
"The first thing customers notice when they walk in is the floor," she says. "I'm very happy with the creativity, and I've never seen anything like it before. It's like you're walking on water. It's hot in the Arizona desert, and when you walk in the store, you cool off right away."
Details have yet to be finalized, but Anger says he plans to work on more Diane's Beachwear stores in the future. Biggs says Anger's work has set the bar for excellence. She believes each new Diane's Beachwear store floor will look even nicer than the last.
"Next time, I'd like to do some starfish on the floor," she says. "I think with each floor we do, the outcome will be better and better."
Project at a Glance
Client: Diane Biggs, Diane's Beachwear, Torrance, Calif.
Decorative Concrete Contractor/Designer: Ray Anger, Decorative Concrete Staining & Scoring Inc., Scottsdale, Ariz. | www.decorativestaining.com
General Contractor: Skyline Development & Construction, Norco, Calif.
Scope of project: A 1,161-square-foot stained floor with sea-life images and sandbar
Duration of project: Two weeks
Colorants Used: Kemiko Rembrandt Polymer Stains
Got more questions about your project?