Ideal for patios, concrete driveways or other expansive exteriors, this stamping technique is all about subtle variations in color and texture, resulting in a realistic stony finish.
Ingredients:
4,000-psi blended stone concrete mix with gray cement
Brickform Color Hardener: Light Gray
Brickform Antique Release: Medium Gray, Smokey Blue
Proline Concrete Tools Seamless Skins: Italian Slate
Brickform Creative Images Texture Mats: Ashlar
Kemiko Stone Tone Stain: Black, Cola, Maylay Tan
Acetone
Klean-Strip Xylene
H&C SharkGrip Slip-Resistant Additive
Kingdom Cure solvent-based cure and seal
Special Equipment Required:
Various sizes of disposable brushes
Plastic cups
Small spray bottles
Scrub sponges
Ammonia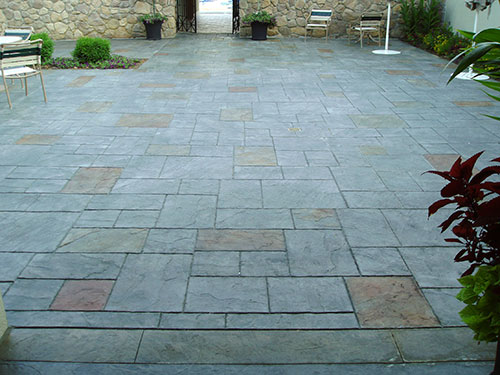 Directions:
Once you have your concrete placed, color is your first order of business for this effect. First comes the color hardener, which is installed at a rate of 200 square feet per 60-pound pail. This is about half the recommended amount, but applying it more sparsely results in a mottling effect by letting some of the slab's natural color come through.
Once the surface of the concrete has lost its sheen, it has set enough for you to apply the release. Blend the Medium Gray and Smokey Blue release at a 1:1 ratio and broadcast over the surface. Don't worry about getting perfectly even coverage — a little bit of variation adds to the finished look.
Now it's time to begin stamping with the Ashlar texture mats. For a larger slab (this one was 6,000 square feet, for example), you'll want to have several two-man teams working on stamping sections of the slab simultaneously. For a framed stamp like this, have each team stamp areas of about 1,000 to 1,200 square feet at a time, working from one end of the slab to the other.
When impressing, vary how much pressure you use, as it varies the look and makes the texture look more natural.
Also, in addition to the Ashlar stamps, take your Italian Slate skins and apply lightly, at random, to give a little more natural variation to the stones.
Once the entire surface has been stamped, let cure overnight.
The next day wash down the area with a pressure washer and a broom to remove any loose release from the concrete.
While the surface is drying, mix up your acids. You'll use a variety of mixes here:
Black, mixed 3:1 with acetone
Cola, undiluted
Cola, mixed 1:1 with acetone
Maylay Tan, undiluted
Maylay Tan, mixed 1:1 with acetone
You'll want to have some of each of these blends in small spray bottles and plastic cups. In addition to spraying the surface, you'll be doing some detail work with small paintbrushes, which is when the cups of stain will come in handy.
Now, since this look is going for a natural stone finish, it's often useful to study pictures of the type of rock you're trying to emulate. Using your research as your guide, get creative with your acid application!
For this project, Concrete Oasis started out by giving different guys sprayers filled with different colors and having them apply stain until all of the stones had gotten some color. Once they finished their first pass, they took a step back to study the surface. The next step was to go and add a second coat, often of a different color, to just half of the stones, chosen at random. Then, with cups and paintbrushes, they went out and added accents to the low areas and high areas in the surface.
After all your color is added, go through with scrub sponges and knock down some of the color. Don't scrub too hard, as you are looking to just let some of the gray come through. The acid comes off the high spots first while remaining in the dips, which creates a very natural effect.
Neutralize the entire surface with water and ammonia and let dry completely.
Now it's time for finishing touches. Start by mixing a 16-ounce bottle of SharkGrip into one gallon of xylene. This will help the slip-resistance additive stay suspended in the sealer.
Add the mix to the 4 gallons of Kingdom Cure sealer and mix thoroughly.
Apply 3 coats of this mixture to the entire surface, letting it dry for 20 to 30 minutes between applications, and you're all set.
Concrete Oasis Inc., Malvern, Pa.
www.concreteoasis.com
Got more questions about your project?