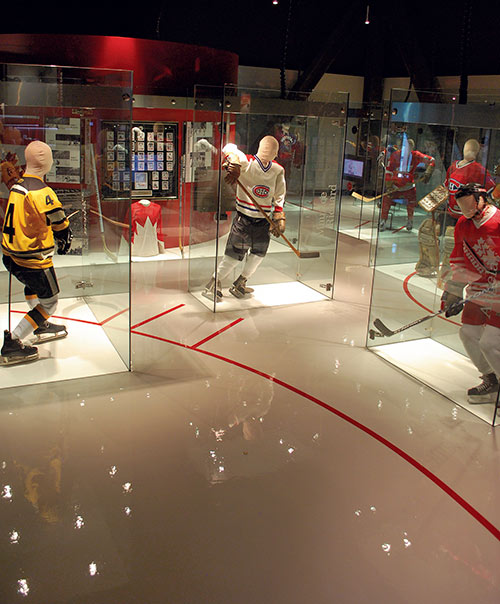 In early 2011, the designers of the new location of Canada's Sports Hall of Fame in Calgary, Alberta, decided a hockey rink floor would be the best way to enhance their ice hockey exhibit. Who did they turn to for help? Decorative concrete contractors who used epoxy products to transform plain surfaces into realistic replicas of ice and water.
Virtual Ice Rink at Canada's Sports Hall of Fame Calgary, Alberta, Canada
Happenstance led Tyson Long, president of Calgary-based Hardscapes Inc., to the new location of Canada's Sports Hall of Fame museum in Calgary's Canada Olympic Park, where he used white and clear epoxy coatings to transform the floor of the museum's ice-hockey exhibit room into a virtual ice rink.
Long worked in the same office building as Pacific Group Displays, a Calgary-based exhibit display provider that had been hired to design and install the exhibits at Canada's Sports Hall of Fame. Familiar with Long's work, a member of the display company approached him about installing epoxy-crafted ice for the exhibit, and he agreed.
Using Elite Crete Systems' epoxy products, embedded chopped fiberglass and red vinyl strips, Long turned the surface into a faux ice hockey rink in just a week's time.
The canvas for Long's epoxy job was a concrete slab that had been poured 2 inches lower than the floors in the exhibit room's adjoining hallways. To allow handicapped access, workers from Pacific Group Displays added 2 inches to the floor's thickness by placing two layers of plywood substrate on top of the concrete slab and installing tracks for holding glass exhibit displays. The epoxy material was to be placed flush with the tops of the tracks to result in a seamless look at the feet of the display cases, Long says.
Long and two crewmen put down a layer of roofing paper and metal-mesh lath material for reinforcement, followed by several coatings of Elite Crete Systems' Thin Finish, with chopped fiberglass pieces in the first coat for additional reinforcement. Long created the white "ice" with three coats of Elite Crete Systems' E100-UV1 Epoxy with a universal tint pigment in Titanium White.
For the ice hockey rink markings, Long and his crew placed red vinyl strips supplied by Pacific Group Displays on top of the white epoxy material. "They wanted it to be as realistic as possible," Long says. "So we decided to bury the rink lines in the product instead of creating a painted-on look."
On top of all that, to give the floor depth and a "flooded" look, workers applied two coats of E100-UV1 Clear Epoxy at a rate of 75 square feet per gallon.
In the first topcoat, they embedded a loonie — a Canadian dollar coin, considered a good luck charm for Canadian hockey and curling teams competing in the Olympics. The lucky loonie legend dates back to the 2002 Winter Olympics, when both the men's and women's hockey teams won gold medals after an ice rink maker buried a loonie in the rink used for the competition.
One challenge Long faced was working around the display tracks. He says that to keep the epoxy material from flowing into the tracks, he stuffed the tracks with backer rods (foam rods typically used to fill joints between construction materials).
Visitors caught their first glimpse of the ice hockey rink replica, a true salute to the popular Canadian sport, when the new Canada's Sports Hall of Fame building opened on Canada Day, July 1, 2011.
www.concretecanada.com
Project at a Glance
Project Specs: An approximately 1,000-square-foot epoxy floor coating that mimics ice
Timeline: One week
Client: Canada's Sports Hall of Fame, Calgary, Alberta, Canada
Decorative Concrete Contractor: Tyson Long, Hardscapes Inc., Calgary, Alberta, Canada
Exhibit Designer/Installer: Pacific Group Displays, Calgary, Alberta, Canada
Material Suppliers: Elite Crete Systems, Pacific Group Displays
Materials Used: Elite Crete Systems' Thin-Finish overlay, E100-UV1 Clear Epoxy and E100-UV1 Epoxy with Titanium White pigment.
Got more questions about your project?