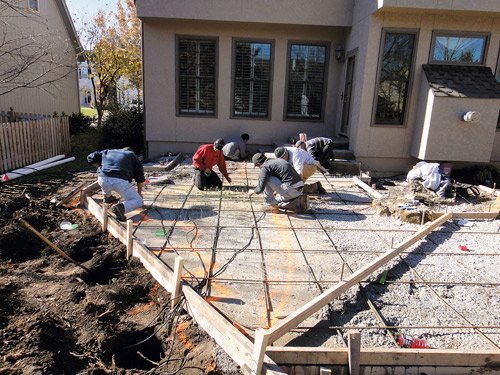 When The Cordish Cos., out of Baltimore, Md., set out to build the Power & Light entertainment district in Kansas City, Mo., the company envisioned a flashy fiber optic-studded common area central to where most of the nightclubs would be situated.
"They wanted to do something over the top," says Mike Denny, president of Artistic Concrete Surfaces, a company based in Olathe, Kan., that was hired to pour, color and stamp the concrete area so it would look like wooden planks. "We were supposed to spell out 'Live' on the floor in lights, but after we got through the whole process of how we were going to do it, the top dog pulled the project at the last second." ACS still did the floor, just without the glitter.
Disappointed, Denny found himself telling a residential client about this turn of events. He had been really looking forward to the job because even though he had incorporated fiber optics into concrete countertops, he had never attempted to put the lighting into a slab. It wasn't Denny's original intention to entice the couple, but he sold them. "Once they heard about it, they had to have it," Denny says about homeowners Ann and Mike Bilovesky. "They thought fiber optics in a patio sounded really cool."
Stamping fiber optics
In the fall of 2010, Denny brought over a 10-man crew to create an outdoor living area that would be expansive, have no set boundaries, and be easy to keep up with few or no maintenance materials. It took the company, which specializes in stamped and polished concrete and concrete overlays, six weeks to finish the approximately 1,200-square-foot job in Overland Park, Kan. The project included extensive landscaping, a natural stone fireplace, a concrete and stone water bubbler, lighted steps leading into the house, and a stamped concrete patio that incorporated boulders and fiber-optic lighting into the design.
The job's biggest challenge was figuring out a way to texture the surface without burying or breaking the fibers, Denny says. "The customer was intent on having stamped concrete, so not stamping wasn't an option."
Denny's crew first poured a 2-inch-thick slab to serve as the base of the patio and then drilled 600 1-inch-deep holes into it. Next the crew drove 3-inch nails into the holes, leaving about 2 inches of each nail above the finished concrete, and attached the fibers to each with tie wire.
Once the wires were securely attached, they poured integrally colored concrete to the level of the tops of the nails. The concrete contained a retarder, which gave them plenty of time to finish and stamp it with very flexible polyurethane seamless skins from Matcrete.
"We had to cut the stamps into 1-by-1 foot pieces and go around the wires by hand to get the surface stamped without bending the wires back into the surface," Denny explains. If they missed, the bent wire would leave a little line that had to be repaired.
"I guess there were three or four fiber optics per square foot and we had to bend each one of those in order to get in between the wires," he says.
The fibers were installed in a 7-by-25-foot ribbon of concrete that flowed through a 20-by-25-foot patio section. Needless to say, the process took a long time. Besides using a retarder to slow the set, the crew picked a cool day with no wind to tackle this part of the project.
After the colored concrete was placed and stamped, the crew used a hot knife to cut off the tops of the wires so they were flush with the surface. The crew then went over the entire surface with a semigloss decorative acrylic sealer.
Just like Christmas tree lights
The fiber-optic strands from all 600 points of light were funneled into several 1-inch-thick cables that snaked underneath the patio. Each cable connected to one of two ports situated in a watertight compartment hidden in the back of the stone fireplace. The compartment also houses a light box. There, a color wheel and two LED light bulbs produce the light for the reflective fiber-optic display. Just like Christmas tree lights, the lighting can be programmed to change colors at various speeds, be set to just one color, including white, or be turned off. There are about 10 different colors from which to choose.
Turns out the Bilovesky project turned the heads of more than just the neighbors. It won the 2011 Excellence in Concrete Award from the Concrete Promotional Group, an Honorable Mention for Top Decorative Concrete Projects in 2011 from Concrete Construction magazine and the 2011 Residential Project of the Year from the Kansas Chapter of the American Concrete Institute.
Denny says his company is well-known in the area for the outdoor living spaces it creates. It added landscaping and CAD design to its roster of services to diversify when construction was off in 2009, he says.
"With our CAD design software, we're able to walk our clients through their projects and give them a great idea of what the finished product would look like," Denny says. It was the walk-through capability, he adds, that really cinched the fiber optics part of the Bilovesky deal.
Today with a full-time designer on staff, Artistic Concrete Surfaces prides itself on being a design-build contractor that can help transform visions into tangible realities. "We went from being a concrete contractor to a full-service, start-to-finish outdoor contractor that deals with landscaping and anything else a client might want in an outdoor living area," Denny says.
Adding the extra services was "a huge stepping stone for us," he says. "We went from earning $1 million to $3 million in a matter of a year and a half. People really appreciate dealing with one contractor who gets the job done on time and on budget. Our referrals are endless."
Project at a Glance
Clients: Mike and Ann Bilovesky
Contractor: Artistic Concrete Surfaces, Olathe, Kan. | www.kansascityconcrete.com
Ready-mix Supplier: Geiger Ready-Mix Co. Inc., Kansas City, Kan. | www.geigerreadymix.com
Materials Supplier: Murray Decorative Concrete Supply Inc., Shawnee, Kan. | >www.dcs-ks.com
Masonry Subcontractor: Nick Boan, Rock Solid Masonry, Shawnee, Kan. | www.rocksolidmasonrykc.com
Scope of Project: Build and landscape an outdoor living area that encompasses about 1,200 square feet of a homeowner's backyard. Include a natural stone fireplace, a concrete and stone water bubbler, lighted steps leading into the house, and a stamped concrete patio that incorporates boulders and fiber-optic lighting into the design.
Duration of project: 6 weeks
Crew size: 10
Materials Used: Sahara integral color from Prism Pigments, Brown Stone acid stain from Concrete Resurrection, Caesar Stone seamless texture skin from Matcrete, Solvent Seal 18 semigloss acrylic sealer from ChemSystems Inc., step liners from Stegmeier
Got more questions about your project?