In a gutsy move by J.C. Penney Co.'s CEO, Ron Johnson, roughly 700 stores were renovated last summer to kick off a four-year plan to reinvent the store. As Johnson told investors at a meeting held in August: "We are here to transform JCPenney, not to improve JCPenney."
Johnson aimed to create what he calls a "specialty department store" that features "streets" instead of aisles. The plan involves reconfiguring the age-old department store into 100 brand-specific "shops," each with their own distinct flooring, fixtures, mannequins and signage.
"When you look at our store everything (will be) organized by shops, just like a mall," Johnson said. The "streets" in the specialty department store will be close to 15 feet wide and anywhere from a half to a third mile long.
To make the shops distinct and give the mall-within-a-mall concept the modern look it deserved, the chain relied on burnished and polished concrete for its first two "waves" of renovations — making this mass remodel arguably the biggest project in the history of the polished concrete industry.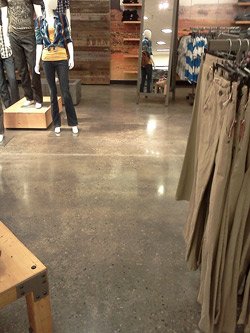 JCPenney turned the concrete polishing community upside down with the amount of work it wanted done nationwide with specific products and methods in a short time period, all with extremely short notice.
The enormous renovation project was challenging for the more experienced polishing contractors and a real learning curve for the not-so-experienced, says Roy Bowman, chairman of the Concrete Polishing Association of America and president of Concrete Visions Inc. in Tulsa, Okla.
"Everyone wanted to be part of it," he says of the work, which entailed polishing or burnishing concrete floors for new Levi's, The Original Arizona Jean Co. and Izod shops. All renovations were done at night so the stores could keep their regular business hours.
The polished areas weren't large by any means, ranging from a couple>thousand up to 8,300 square feet. It was neither the square footage nor the number of stores involved that rocked the polishing community. "It was the fact that JCPenney wanted them all done at one time," Bowman says. He suspects the reason behind this push was the company wanted no interruptions for its back-to-school annual shopping extravaganza.
Time and material constraints
Initially, JCPenney's precertified installers list only contained about 40 polishing contractors. However, that number jumped to more than 180 contractors once it became apparent that additional manpower would be needed to get the nearly 700 stores done in a couple weeks' time.
Doug Wright, general manager of Rite-Way Concrete Seal Systems Inc., in Wolcott, Ind., intended to work on six stores but ended up only doing two. "We had so much other work going on and with such a narrow window to complete the Penney's work we couldn't pull it off," he says. "Those were issues for many of us — doing that magnitude of work on short notice in so little time."
That sentiment was echoed by Jeff Lukaszewski, sales manager of 3D Concrete Inc., in Aledo, Ill., who only took on one store. Aside from previous commitments and limited resources, he says, asking his polishing specialists to handle multiple jobs in different cities would have not been in the best interest of the client. "We have specially trained people to handle site-specific repair methods," he says.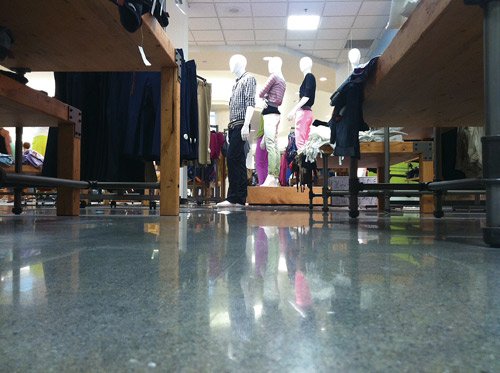 Then there was the matter of specified materials, with no room for substitutions. "They didn't tell us the dye and patch color we needed until a few days before the work started. Everyone was scrambling to get what they needed," Wright says. "I didn't realize how secretive some things are for the retail community."
"I believe the specifier and his team did a good job when it came to repair products," says Lukaszewski. "We had the right products to do the process. Repairs can be a difficult situation but they made that part very fluent."
The fact that many of the stores were decades old and not in architectural shape meant the polishers would need all the support they could get. Tabitha McCarter, vice president of operations of Yarbrough Concrete Polishing, in Knoxville, Tenn., says her workers had the most trouble on the seventh store they did, which was about 30 years old. "Moisture was locked in areas where walls once were or where there was something placed on top of the concrete shortly after it was poured. It seemed no matter how far down we ground, we couldn't get rid of that dark streak. But the third time was the charm. We had to go as low as a 25 (grit) and that got us deep enough."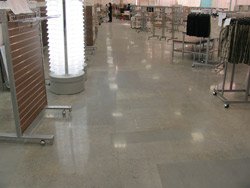 A patchy situation
By and large, removing the decades-old sticky carpet glue — an item that wasn't addressed on the bid sheet, Bowman says — created the most headaches. A lot of contractors underestimated how much work would be involved to get rid of it.
Runner-up in the problem department was the extensive patchwork. "JCPenney was very specific about how they wanted the patching handled. To do it correctly took a lot of time," he says, which the accelerated schedule also didn't factor in.
"Removing the glue to get to the canvas below was extreme," says Lukaszewski. It took his crew 2 1/2 days to get it all up, only to reveal excessive random cracking and more holes to fill than he ever imagined.
Other contractors, including Bowman, ran into similar problems. In one of the Levi's areas Bowman polished, where wood flooring may have been installed many years ago, he uncovered 1,500 holes in a 4,500-square-foot area, with many of the holes filled with gypsum floor patch and carpet glue. "Each hole had to have the patch and glue removed and filled by the spec. It was no easy task," he says.
"The concrete we dealt with was in worse shape than we thought," says Skyler Owen, project and sales manager for Lundeen Simonson Inc. in Spokane, Wash. "Some stores had been remodeled four or five times over the years. Everything was covered in carpet and glue." While he anticipated completing a job in five to 10 days, it ended up taking five days just to do the repairs.
"There was extensive cracking, particularly on the second floors, and trenches that were 12-16 inches wide up to 30-40 feet long were filled with underlayment that had to be chipped out and filled in with new material," Owen says.
Then there were the asbestos tiles discovered at some sites. "That really threw a monkey wrench into the mix, when the abatement companies had to come in." Bowman says.
Besides adding more time to the already too-tight work schedule, the abatement process introduced another pollutant to the beleaguered floors. "The abatement contractors were using different solvents and some of the dye didn't want to react," Wright says.
At one store, the solvent-asbestos mixture soaked into the floor and left behind what looked like a giant oil stain. "We did as much grinding as we could but the floor still had a tint to it," he says.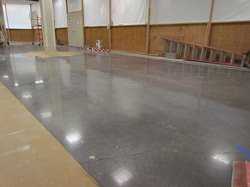 Gift-wrapped work spaces
While challenges were plentiful, the working environments were state-of-the-art.
"The conditions were some of the best we've ever worked in," Wright says.
The general contractors built temporary walls and ran plastic up to the ceiling, creating confined areas that let nothing escape. "Often when you work in a retail environment, you spend as much time getting ready to work as work, covering and uncovering merchandise," Wright says. "That was not an issue."
Work-space prep was uniformly great, contractors rave. "Every store we went to, the encapsulated areas were of the same quality," says John Jones, owner of Budget Maintenance Concrete Services, in Pottstown, Penn.
Good thing, because getting organized to go from store to store for two months straight with no breaks made for one tough summer, says Jones, whose company worked on 15 stores, including a Boscov's department store convert. They took the store, which had never opened, back to its bare bones, grinding, polishing and dyeing about 95,000 square feet of the floor over 12 weeks.
Looking ahead
Anticipating the next wave, Bowman says, "For the sake of getting the best polish job, I think JCPenney should make sure the polishing contractors are qualified and give them ample time to perform to a high standard. When you bring in a bunch of people and shotgun the work you're going to have more problems than if you make sure the right guys are doing the work."
Owen, whose company worked on eight stores, says, "We'd be reluctant to take on that many again. We'd raise our price, too, and we've heard others say the same thing. The schedule, work and scope of the project were more than what we thought it was going to be."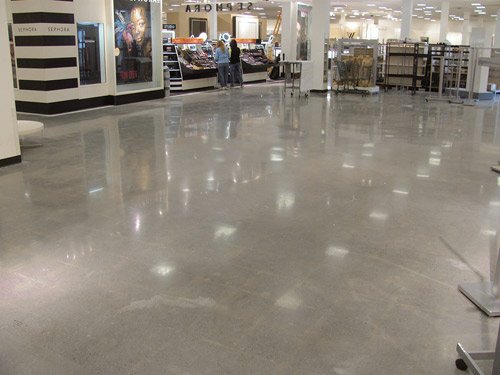 Wright, on the other hand, says the money was good. "Everybody (I knew) was able to bid a price that was fair to JCPenney and to us. We were able to make a profit and the floors turned out great. It was just unfortunate the schedule mandated things that made the job more difficult."
Those involved with the two first waves of work anticipate more polishing business may be coming their way as soon as the beginning of next year, after the dust from the holidays has settled, and no later than next spring. Speculation is that they may be called on to help construct the "streets" as well as more new shops.
According to Ken Hannah, the JCPenney CFO, the company will have at least 40 branded shops in select stores in 2013. (Currently, there are 10 to 12 shops in select stores.) During a presentation at Goldman Sachs 2012 Global Retailing Conference in early September, he said the next wave is scheduled to hit customers in spring, with one to two shops opening each month across the 700-store base.
Specified Materials for J.C. Penney Co.'s Wave 1
Wave 1 consisted of work for the Levi's and The Original Arizona Jean Co. shops. No substitutions were allowed, but multiple options were presented in several categories.
Penetrating hardener/densifier: Consolideck LS from Prosoco Inc., AmeriPolish SureLock Densifier
Protective surface treatment (stain guard): Consolideck LSGuard, AmeriPolish SureLock Stain Protector
Dye in JCPenney gray: Consolideck GemTone Stain, AmeriPolish SureLock Dye
Joint filler: Spal-Pro RS 88 polyurea from Metzger/McGuire
Crack and spall repair: Rapid Refloor polyurea/polyurethane hybrid in "complimentary matching color" from Metzger/McGuire
Wide-area surface repairs: TRU Self Leveling system from CTS Cement Manufacturing Corp. with AmeriPolish OS Dye, Deco-Pour system with Prosoco dye
Grout coat: StarSeal Fusion from Vexcon Chemicals, Match Patch Polish from Deco-Pour, Rapid Refloor pit grout from Metzger/McGuire, HT Spall-TX3 from Hi-Tech Systems
Got more questions about your project?