Many concrete professionals who are asked how they got into the business of concrete say they sort of "fell into it." That's the story that applies to Matt Hine, now owner of Progressive Concrete Coatings in Wilmington, North Carolina, who's made a name for himself in decorative concrete finishing.
"The concrete business wasn't exactly the first thing that came to my mind," says Hine. "It was something that just kept evolving and before I knew it I was in the industry."
When he was in high school, he took drafting classes and went on to drafting and design when he graduated. After learning the AutoCAD program, he began using 3-D mechanical drafting and design at his job with Corning, where he designed and implemented equipment to produce fiber optic cable. His innate abilities were quickly noticed and he was asked to teach classes to his peers on how to work the technical design software.
Hine's job at Corning was followed by Flow Sciences Inc., where he designed laboratory enclosures. After some time, Hine realized from training and teaching with the 3-D mechanical software that he really enjoyed working for himself and setting his own pace and schedule. He was in search of something where he could combine his artistic and business side.
"As soon as I figured out that I was meant to be an entrepreneur, I began looking for opportunities," says Hine. With his design and artistic background, he saw an opportunity for a start-up business in decorative concrete. Sometimes he looks back and realizes he didn't just accidentally fall into the industry. It was timing matched with personality, passion for creativity and natural abilities.
Constantly growing
Hine's drafting experience came in handy for layouts, patterns and designs. While he designs mostly by hand and onsite, his artistry comes from listening to the clients' needs and design wishes which he then interprets and implements into the final design. "The concrete becomes my canvas and the results become my artistic concrete expression," says Hine.
Over the years, Progressive Concrete Coatings has worked hard to expand and make a name for itself in the Wilmington area. The company has progressed from a one-man start-up to having a fully operational office, warehouse, design showroom and multiple crews for residential, commercial and industrial installations.
Progressive Concrete Coatings has been around since 2003, continually growing and hitting record years each year. The company's rapid growth wasn't just something that happened without effort, he concedes. There were long hours, late nights, working on holidays and just plain hard physical labor.
"We do a lot of research, predictive forecasting and planning," he says. "Our corporate business model morphs right along with industry changes and we are constantly striving to provide fresh and innovative products and designs."
He proactively seeks out opportunities that will display their creative designs and his unique artistic combinations of products and techniques. Hine is always thinking ahead, hoping to be involved in bigger, higher-profile projects.
Currently the company specializes in doing retail spaces, among them restaurants, gyms, doctor's offices and a large trampoline facility. "We're getting into more industrial work, but we service residential homes and builders as well," says Hine. "We try to infiltrate all aspects of the concrete industry to diversify, and so we can supply our clients with the complete package if wanted."
There are endless possibilities when compounding different products and styles, but one of Hine's favorite processes is water-blue reflective epoxies. The products' fluidity enables him to manipulate them to showcase different reflective movements and textures.
One of his recent projects involves renovating a car wash. Using a blue reflector epoxy, he's designing an area to look like an oceanfront beach leading from the entry throughout the lobby. He's overlapping this design with a proprietary granulated EPDM rubber system mixed to create a pebble-sand color blend to make things look as realistic as possible.
"It's all about attention to detail," says Hine, which many people have noticed. "We're getting that reputation where people like our work and continue to seek it out." It keeps them busy all year long.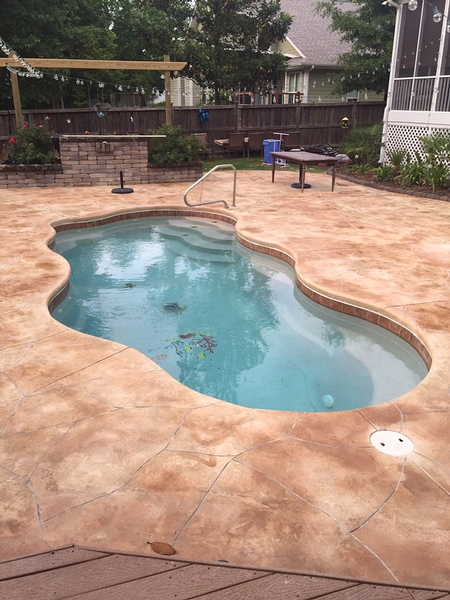 Pay attention to details
Most of Hine's inspiration now comes from specific projects. "We really like the direction that polished concrete is taking and try to go after those jobs," says Hine.
The company has a wide portfolio and several of its finish processes have gained popularity. Acid staining a surface to recreate a look that occurs in nature has been selling strong. One of its newest product lines has pushed business through the roof.
The EPDM vulcanized granular rubber system mixed in various color blends has solved some major issues plaguing the coastal regions, all while adding a beautifying touch and slip-fall protection. The troweled system is pervious and can be installed directly over existing subsurfaces. It has a high flexibility value so where there is ground movement or cracking and heaving issues it will expand and contract to keep the surface seamless with no breaks in the surface.
It's cushiony to walk on and stays cooler in extreme heat. The system has nearly zero maintenance and doesn't require resealing every few years. "When we find new and innovative products and techniques like that, then we try to integrate them into our designs and system offerings," says Hine.
Hine admits there are some disadvantages to working with concrete. Sometimes you have to wait on concrete or epoxy, while other times customers demand the job be completed with a short turn around. What makes it all worth it is that he has the advantage of having a process that differs from others, allowing his floors to stand out from the competition.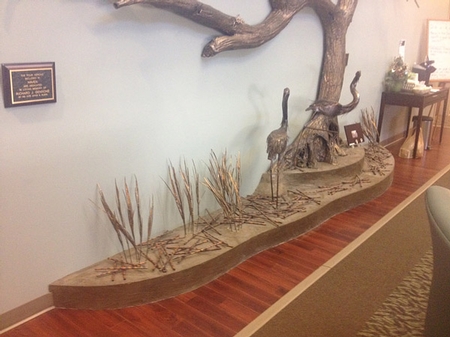 When describing his work, Hine uses three key words: creative, unique and inspiring. Hine's exquisite finishes are the product of his philosophy on work. He believes in taking pride in everything he does and being very detail oriented, something clients time and time again point out to him as to why they love doing business with him.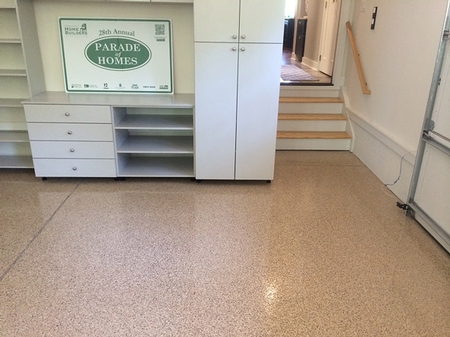 Hine's advice to contractors trying to break into the business is: "Do your homework to see if this is something you want to do and can handle. It's hard work and you have to love what you do."
Some key things he's currently working on are an animal shelter, a factory and residential work. He's done his fair share of breweries in the past, and currently metallic epoxies are one of his specialties. More and more places, especially restaurants, he says, are requesting that finish.
Got more questions about your project?