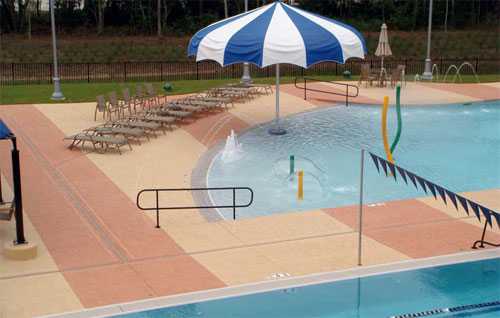 With Louisiana ranked as the state with the nation's second highest precipitation rate, and New Orleans being the third rainiest city in the United States – well, it might not be a surprise that spring showers play a major part in the story that follows.
"Bubble-up showers happen around here as the weather warms up," says Will Burley, production manager of Concrete Coatings Inc., of Hammond, La., an hour outside of the Big Easy.
Concrete Coatings is a Sundek dealer owned by Scott Burley, Will's uncle. It's a decorative concrete resurfacing contractor handling pool decks, patios, terraces and other exterior surfaces for commercial and residential customers in metropolitan New Orleans, south Louisiana and other points along the Gulf Coast.
The assignment that came from RCI, a major landscaping contractor in Slidell, La., was to resurface nearly 14,500 square feet of freshly poured concrete for the pool deck, bar area and tennis-court viewing area of the newly constructed Stone Creek Club & Spa in Covington, La. Concrete Coatings would use Sundek Classic Texture, an acrylic spray texture system, in two custom finish coat colors.
The cooler-than-concrete, slip-resistant surface is a natural for outdoor pool areas and the sort of job Burley and his crew could do in their sleep:
Using a hopper spray gun, they'd apply a base stipple coat, consisting of a dry mix combined with a liquid polymer, to cover any surface imperfections in the poured concrete.
They'd apply the texture coat – the same mix as the base coat but with a different consistency, also shot from a hopper gun, then knocked down with a trowel.
They'd spray the finish coat, a two-color acrylic paint with sealer. They'd stand back and admire.
It would typically take five days tops, according to Burley.
Simple? It was. On paper. But jobs that look simple on paper can be a whole lot more complex when the job site has become totally waterlogged over the course of a drenching 72 hours. Especially when you add a bone-dry deadline that's not going to move for anything – not with a grand opening in the works.
And yet Concrete Coatings pulled it off, and in such style that the company won recognition from the American Society of Concrete Contractors Decorative Concrete Council during its third annual awards competition earlier this year.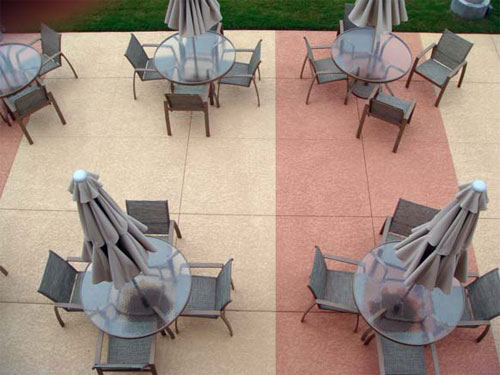 "Against our better judgment"
Burley's first warning that the project might turn out more complicated than planned came when his crew began the job. "Only half the saw cuts had been installed, transferring the burden of completion of 2,900 linear feet (of saw cuts) to us," Burley wrote in his ASCC DCC contest submission, describing what he and his crew were up against.
Once they'd cut, cleaned and stippled 12,528 square feet of concrete surface, the sky turned ominous.
Mike Rotolo of RCI, the landscape contractor on the project, shrugs off the project's weather complications. He's lived and worked in south Louisiana long enough to know that you take what the elements give you. "We're one of the last trades to go in, so the deadlines are pretty firm regardless," he says. "And we're all used to the weather out here."
Meaning that when storm clouds gather, it's the threatening sky that must be ignored, not any of the contractual obligations. And the general contractor had expressed a firmly held view that the pool deck must get refinished on time.
"We would have loved to have waited out the weather, but we didn't have the luxury because of the deadline pressure," Burley explains.
So he and his crew learned to work without looking up. Not that ignoring the problem made it go away. Not a chance.
"We proceeded against our better judgment and lost 8,000, 6,800 and 5,500 square feet of texture coat on three different occasions," Burley says. "The rain came during the day, after we'd shot the texture. So we'd spend the rest of the day removing and clearing and pressure-washing so we could start all over again the next morning."
It meant working faster and harder "between raindrops" to get the job done. Once the texture had finally been successfully applied, Burley's crew scraped, stoned and ground the deck to prepare it for the finish coat.
Initially, they at least had the small comfort of an access road so they could drive their gear right up to the job site. "But then the landscaping got put in and we lost our road," Burley says. "From that point on, we had to park maybe 200 yards away and lug 45-pound bags of mix and 60-pound buckets of additives from the staging area in the mud."
Blue skies
As always happens, the rains finally stopped. Burley and crew finished the job by spraying two custom colors of Sundek Classic Texture finish coat in in a striped pattern.
The whole process took as much as double the five days Burley had predicted the job would take, "but there are no shortcuts," he says. "The material has to set up before you can get to the next step. It's a waiting game."
The wait was worthwhile. Stone Creek opened on time and Rotolo of RCI barely remembers the weather constraints his decorative concrete pros were under.
"The project turned out great," he says. "They're our go-to guys on that type of work. They helped solidify us with the client, and we've since picked up more work from the general contractor (The Lemoine Co. LLC, based in Louisiana)."
As for Concrete Coatings, as noted, the company won second place recognition in the Overlay/Spray Textures, Over 1,500 Square Feet category from the ASCC's Decorative Concrete Council in January for the Stone Creek project. So everyone's happy. Blue skies all around.
Project at a Glance
Client: Stone Creek Club & Spa, Covington, La.
Decorative Concrete Contractor: Will Burley, Concrete Coatings Inc., Hammond, La. | www.decorativeconcreteneworleans.com
Architect: Ohlson Lavoie Collaborative, Denver, Colo. | www.olcdesigns.com
General Contractor: The Lemoine Co. LLC, Lafayette, La. | www.lemoinecompany.com
Project Manager: Mike Rotolo, RCI, Slidell, La. | www.rotoloconsultants.com
Scope of project: Resurface 14,348 square feet of pool deck, bar area and other exterior surfaces, using an acrylic spray texture overlay
Duration of project: Five days
Materials Used: Sundek Stipple base coat, Sundek Classic Texture finish coat in custom colors
Got more questions about your project?