Construction of the National September 11 Memorial was progressing on schedule to meet its target Sept. 11, 2011, grand opening date, when a big problem emerged concerning the twin fountains and reflecting pools built within the footprints where the North and South towers once stood.
After custom-colored 2 1/2-by-2 1/2-foot concrete pedestal pavers were installed, the fountains were filled with water to an operating depth of 18 inches for a trial run — and disaster struck. The pavers didn't look right. The contrast between them and the fountains' Jet Mist granite walls was "architecturally dreadful," says George Reedy, eastern U.S. director of sales for Crossfield Products Corp., the company that manufactures Miracote products.
"They were not the correct shade of dark gray," agrees Nathan Shapiro, senior project manager for the memorial's general contractor, Lend Lease. "They didn't live up to what the architect had in mind."
It was decided that the pools, which were each nearly an acre in size, would have black bottoms instead to better match the granite. "Replacing the pavers with granite would have been rather expensive," Shapiro says, "so we looked into using a coating of some sort."
Among the products under consideration, Reedy says, were Miracote MPC, a permeable cementitious coating with breathable qualities, and a vapor-impermeable paint specifically made for pools. The products were applied to the concrete pavers and evaluated for about a month. Miracote's blend of polymer liquid and cement-aggregate mix fared better in color quality, ease of application, material cost and drying time.
"There were some significant physical differences between our product and the pool paint," Reedy says. One was time — MPC could be applied, sealed and fully submersed before the paint was chemically cured enough for total immersion.
Reedy says MPC was also chosen because of its moisture vapor permeability, also known as "breathability." The cured protective coating allows moisture to pass through it.
This property was essential as there could be times when the pools would have to be drained for extended periods for cleaning, maintenance or repairs. The concrete pavers were installed on top of a waterproofing membrane that covered the structural concrete slab. When the pavers weren't fully immersed, water would need a way out in its vapor form without subjecting the pavers to potential damage.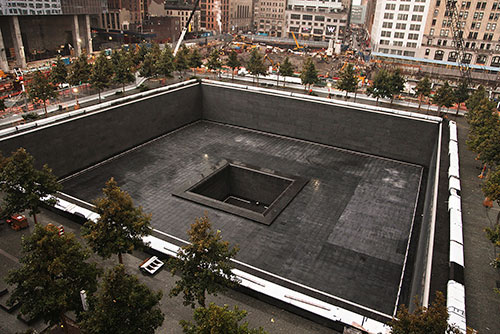 Round two
The North Tower pool bottom was coated with MPC in May, and the South Tower pool was coated in June. However, Shapiro says, as the summer wore on, this "fix" made matters worse instead of better.
Due to the construction schedule, the subcontractor, KJC Waterproofing, had initially applied Miracote MPC in sections over three days at different times of the day. "The outcome was a patchwork of varying shades of gray," Shapiro says.
"It was quite visible where each of the three stop-and-start points had occurred," Reedy adds.
The main problem, Shapiro says, was that the subcontractors treated the Miracote product like it was paint instead of a cement-based coating. "Miracote has certain properties that hugely impact the outcome," he says. "We found out it makes a big difference when and how it's installed."
"When you apply this type of product and have owner expectations for ultimate color consistency," Reedy says, "you need a larger crew than what you would need for paint. We recommend applying the coating all at one time and not in sections day to day. And once you roll it, don't roll over it again minutes later after it begins to dry or you will see streaking."
A pigmented cementitious coating, he adds, encounters the same weather problems as colored concrete during an install. Climatic conditions that have an impact on the rate of evaporation, such as shade, temperature, wind and humidity fluctuations during the course of a day, can affect its final appearance.
To rectify the off-color problem, Reedy says, the pool bottoms were power-washed — "The product recoats to itself very well" — and an additional coat was applied to both during the first week of September. "This time, to minimize the potential for color variations, each application was performed from start to finish at night after the sun had set when conditions were more favorable," he says. In addition, the liquid catalyst element of the MPC was factory-tinted black.
Thanks to an expanded crew, Reedy adds, each recoat was completed in roughly five hours rather than the 20 or so apiece it took the first time around.
After a two-day cure, Reedy recommended sealing the MPC with Miracote's MiraGard Drylook Sealer, a fluorocarbon-modified siloxane water-repellant penetrating sealer that has no sheen once dry and makes cementitious surfaces more oil- and stain-resistant.
MPC can withstand rain and some water within hours after application. However, "We required a three-day cure prior to filling the fountain and exposing the sealer to full immersion in chemically treated water," Reedy says.
The end results were solid-black bottoms that seamlessly melded with the pools' solid black granite walls — successfully completing the architect's vision of two voids where the Twin Towers once stood.
The National September 11 Memorial was officially dedicated Sept. 11, 2011, and opened to the public the next day.
Project at a Glance
Client: National September 11 Memorial & Museum
Construction Manager: Port Authority of New York and New Jersey
General Contractor: Lend Lease, New York City | www.lendlease.com
Senior Project Manager: Nathan Shapiro
Architect: Michael Arad, Handel Architects, New York City
http://www.handelarchitects.com/
Waterproofing Subcontractor: KJC Waterproofing, Dumont, N.J.
Scope of project: Install overlays for the fountains at the new National September 11 Memorial; In addition, coat the concrete pavers that line the bottoms of the two World Trade Center memorial fountains and reflecting pools with a breathable, waterproof coating that would match the surrounding black polished granite walls
Materials Used: Miracote MPC factory-pigmented black protective coating and MiraGard Drylook Sealer
Got more questions about your project?