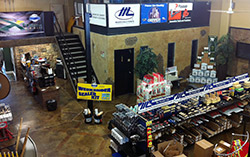 My father was a concrete contractor, and I remember going into a concrete supply store with him for product when I was younger. I remember how dusty, dirty and disorganized the store was. You could not see what you were buying, as all the products were stored in the back behind two swinging steel-panel doors.
What a cold experience that was.
When I built my store, Hard Rock Developments, in Calgary, I made absolutely certain the store was going to be like a boutique of sorts. Touch, feel, smell while you shop, and even listen to music. In fact, you can even eat popcorn and have a quality cup of coffee.
The store was built solely with two groups in mind — contractors and their customers, usually homeowners. I made absolutely certain the store would help contractors sell their work. I built a place for them to send their respective clients to, a place that shows the potential of decorative concrete products in a real-life, real-time setting.
As a supplier, we need to support contractors. They need a place to showcase their product. The cost of the infrastructure required for contractors to showcase their product on their own property, in most cases, does not justify them doing it there. As a result, our showroom is their showroom.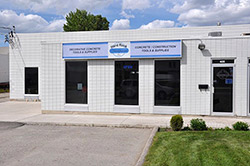 Our main focus is samples, proper literature and visual aids to assist in the decision-making process. Our staff is fully trained to help everyone ensure proper application methods are followed.
The store is merchandised with real concrete color samples, and the counters are built with concrete and vertical product. The walls are textured. The floor is stained and cut into tiles. We try to cover as many applications as possible to ensure a healthy real-life experience when you come in. These applications help the contractors and homeowners make decisions. They help buyers visualize these applications in their own homes and contractors bring new concepts and ideas to the job site.
Every year we try to make changes to the store. Last year we removed the point-of-sale counter and built a new one using all the latest technologies. Again, we do this for the sake of contractors and homeowners. It's like running a paint store — you need to have the latest trends in the store.
This was my vision from the start. I wanted a place that portrays comfort, showcases current styles, and has a certain appeal to it that is not expected when you walk into a store in this industry. One comment that I hear, almost every day, is, "Wow, this is not at all what I expected." They were expecting what I experienced with my father.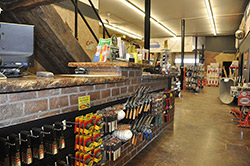 The contractors welcome the support we give them. It allows for a smooth, efficient relationship between everyone involved, and it enables us and the contractors to put forth a more upscale presentation to end users. We show homeowners that they are dealing with a professional group of people who know the business. This puts potential customers at ease and encourages them to make a sound decision with the right people. Let's face it — word of mouth is your best form of advertising. Use it!
The repeat business we create is the single biggest form of compensation one could ask for. The contractors continue to use the store as their showroom, thereby using our products. The homeowners often return for concrete sealers and even for things such as do-it-yourself countertop products. We are constantly seeing new customers who start buying simply because of previous exposure to us. And if the experience wasn't theirs directly, it was the experience of someone who they associate with.
It takes time to build a store and create a model that works for your client base. It is also crucial to have manufacturers that support your cause, protect you from oversaturation, and are willing to participate in the essentials of product growth.
Got more questions about your project?