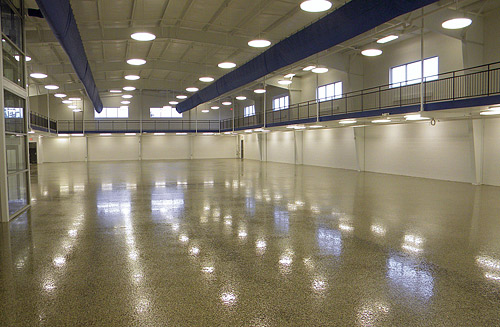 If you're looking for a rock that will dazzle, there's a hot new entry in the market.
This rock is mica, and it's lending glitz to floors when used in combination with polymer-based systems formulated for application over concrete.
"They are unique in terms of their look. They add a little bling, kind of flashy," says Ken Miedema, owner of Concrete Revival, a concrete-flooring contractor based in western Michigan, near Grand Rapids.
"Applications have to be suitable for that kind of look," he says, mentioning salons, bars, restaurants and other high-visibility commercial settings.
"It can be an alternative to an acid-stained floor, though it looks different," Miedema says. "If someone says they want an acid-stained floor, they might be candidate for mica flake, due to color tones with the flakes."
He cited a recent project where the client inquired about acid staining. "Because the floor had been painted, we would have to grind that off, and the mystery of stains, or blemishes and unknown patching could compromise the look they were going for with an acid stain. I presented the mica chip as an option. They loved the option."
Miedema said another benefit of the mica-chip-and-polymer floor is durability. "It will hold up really well and does not have to be resealed or waxed as other concrete finishes might require."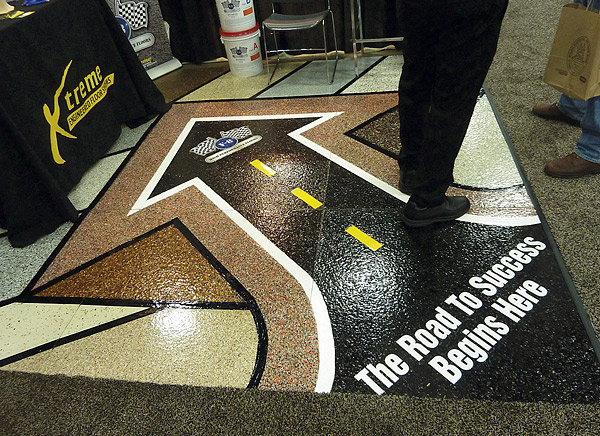 Elegant and high-end
Bruce VanWieren, president of Xtreme Engineered Floor Systems, calls the look produced by mica chips "elegant and high-end, like you might see in a bank lobby, airport, casino, office building, clothing store or mall. It's more of a natural metallic look versus a manufactured vinyl paint chip."
Xtreme, also based in Michigan, offers mica chip as an option with its V-8 Hybrid flooring system, a proprietary polyurea-polyaspartic formula that is also marketed as a more traditional vinyl-chip application. The company installs the flooring systems and markets the technology to other contractors, including Miedema's Concrete Revival.
A third effect option offered by Xtreme is its Platinum system, which incorporates metallic pigments into the polymeric formula as opposed to having them broadcast on the newly applied flooring surface.
"A mica chip will compete with marble-looking tile," VanWieren says. "It is a little harder to install, and does cost a bit more" compared to vinyl chip flooring. "This is because mica is sharp when coated and needs to be sanded and topcoated the next day versus a standard one-day installation we accomplish with our vinyl flake system."
Cost works as a plus for mica polymer flooring, however, when compared to terrazzo or marble tile —VanWieren gives a ballpark consumer price of $6 to $7 a square foot for mica-chip polymer flooring, installed, compared to the $20-and-up neighborhood for terrazzo and $8-$10 or more for high-end decorative tile.
Mica, however, remains something of a novelty to this point. "The market is going to be more of a decorative environment, where you are more accustomed to seeing terrazzo or marble, and it's going to take awhile to get into those markets."
Miedema, of Concrete Revival, gives similar estimates — "not less than $6 a square foot," he says, compared to $4-$5 for a vinyl chip floor and a $3-$4 range for acid staining. But he cautions that pricing hinges on several variables, such as amount of preparation work needed, degree of difficulty of the job, and size of the job in square feet.
The higher cost is attributed more to additional labor (more steps) than to the material. "Mica chips cost more per pound but because of their light weight, you get a lot of chips per pound, and thus they seem to require half the quantity compared to a vinyl chip," Miedema says.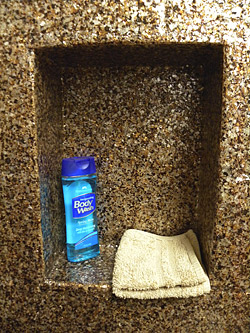 Others get in on mica
Other key suppliers of polymer flooring systems are Dur-A-Flex Inc., HP Spartacote and Elite Crete Systems Inc.
Dur-A-Flex in 2012 rolled out its Mica-Flex E and Mica-Flex M decorative flooring systems, based on the company's epoxy and methyl methacrylate (MMA) resin chemistries. The epoxy system employs a urethane topcoat, while the Mica-Flex M system is all MMA.
HP Spartacote's Sparta-Chip MICA system is built around polyaspartic resin chemistry and consists of a pigmented base coat, clear broadcast coat, mica chips, and clear topcoat. Its mica chip color blends are named Freestone, Glacier, Copper River, Beechnut and Antique Gold. The company's Sparta-Chip MICA VOC/Odor-Free version uses a water-based, rapid-cure epoxy as the base coat, instead of a polyaspartic.
Elite Crete's polymer flooring system for mica flake includes epoxy primer and pigmented base coat and aliphatic urethane topcoat. Mica flake is from color-flake suppliers such as Torginol. The company's polymer flooring system using mica is identical to its vinyl flake flooring system.
Sparkle and shimmer
Mica's impact on the concrete flooring market is of an incremental, rather than viral, nature at this point. Much of it can be traced to Torginol Inc., a producer and marketer of decorative coating materials, including polymer flake, quartz granules, metallic pigments and mica flake.
The company is the exclusive United States distributor of mica flake, and functions as a "master distributor" of the material to makers and marketers of polymer flooring, says Torginol vice president and general manager Jason LaBouve.
John Justice, president of Justice Products Inc., which distributes Torginol's mica flake in parts of the Eastern U.S., says the material is getting more notice in a number of building materials, including polymer flooring, countertops, and as an additive for cementitious surface accents for swimming pools.
Justice says mica remains a "niche" product in those markets, but adds, "People are discovering mica. There seems to be a lot of interest in it. It gives a kind of shine and translucence."
Providing a capsule geology lesson on the material, LaBouve says mica is found in small concentrations in mineral deposits of various rock formations. Published information defines mica as a group of sheet silicate (phyllosilicate) minerals. The most commercially important types of mica are muscovite and phlogopite, which are of value in a range of applications due to functional and visual properties.
In addition to pearlescent automotive paints, mica's crystalline composition contributes to the visual qualities of shimmery plastics, specialty inks, and cosmetics such as eyeliner and eye shadow, hair and body glitter, lip gloss, nail polish, and others.
LaBouve says mica has proven effective in producing the kinds of "sparkle" polymer flooring suppliers and installers have long sought but had difficulty achieving with metallics, vinyl flake or quartz.
"It's more of a high-end, decorative look," he says, contrasting mica with vinyl flake. Other descriptors heard are earth-toned, subtle, warm, lustrous, rich and sophisticated.
Torginol offers mica flake in five solid colors; gold, amber, silver, a rum shade, and one called midnight (black that gives a coal-like impression), plus a multicolored version. LaBouve says the flake is compatible with all major polymer flooring types — epoxy, urethane, polyaspartic, polyurea and methyl methacrylate.
LaBouve says mica flake costs about $7 per pound, compared to approximately $3 per pound for vinyl flake. "However, the cost per square foot is approximately the same," he says, noting that a pound of mica flake covers more than twice the area of polymer or vinyl flakes.
The flakes are offered in Macro and Micro sizes. "The sizes can be used separately to create an obvious contrast with the Macro flake or more of a subtle contrast with the Micro flake," LaBouve says. "Or, the sizes can be mixed together to create a terrazzo-like appearance with Macro flakes scattered throughout a Micro-flake canvas."
Miedema says he views mica-flake floors as exhibiting visuals similar to a flooring system with metallic pigment. He adds, however, that the metallic pigment is a part of the resinous matrix of the flooring material and produces a more glassy-smooth finished surface. This surface would be more prone to scratching and marring than the mica floor, he reasons.
A chip floor can also provide greater slip resistance, he adds, by manipulating the mils of topcoat as well as accommodating traction polymers. The look of metallic floors, on the other hand, is compromised if traction is added.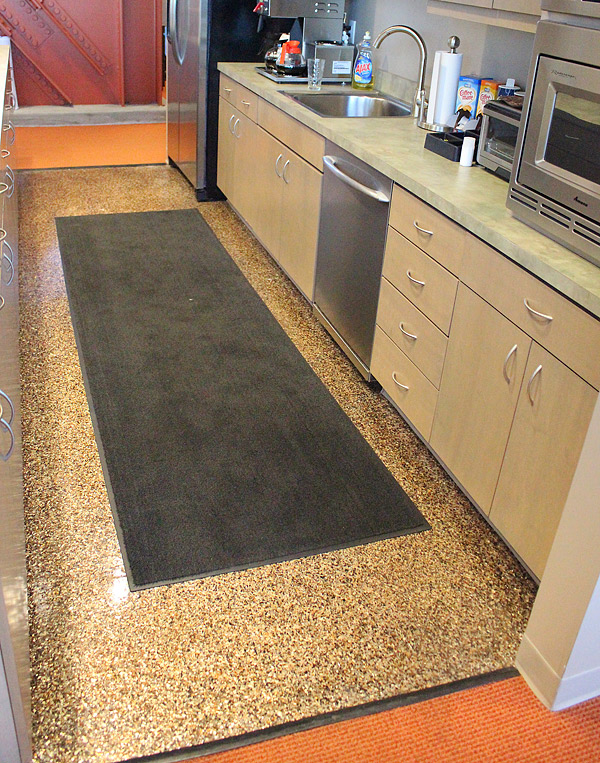 Mica-specific application practices
Putting down a polymer floor with mica flake differs from installing a vinyl flake or quartz system, according to suppliers and users, due in part to the characteristics of the mica and the importance of proper distribution in the broadcast.
Typically, says Torginol's LaBouve, the flake is broadcast onto the polymer-flooring system's color base coat. "It's lighter-weight flake, so it's distributed differently," LaBouve says. "You shake it over the surface."
After this initial broadcast, the surface is allowed to dry. Then it's scraped to knock off edges of the flake that protrude. Then comes a first clear coat, followed by a more complete dry, and then sanding followed by one or two clear topcoats for the final finish.
The sanding is needed because the mica flake is "somewhat plastic," LaBouve says, and tend to bend when scraped. Thus, some sharp edges remain projecting from the surface after scraping.
Miedema says Concrete Revival's standard practice starts with a grind of the concrete floor with a diamond grit of 25 or less, followed by application of a primer coat. The company uses Xtreme Engineered Floor Systems hybrid materials for all the resinous components of the process.
After a brief dry of 30 to 45 minutes, the color base coat is applied. Then the mica chip is broadcast onto the wet flooring.
"With the hybrid, you have to be right behind with the broadcast. You don't even have to wait two minutes," he says, citing the rapid dry and cure of the polyurea-polyaspartic chemistry. The mica flake is very light and doesn't sink into the surface like other chips, he says, adding that his broadcast method is "pinches" rather than handfuls, with a motion that disperses the flake high into the air.
After a light scrape and recovery of loose flake, a second random broadcast application over a clear-coat application helps to even out the coverage, Miedema says — the mica flake can leave blotchy areas where the base coat color is not adequately covered with flake.
The surface is scraped and cleaned again following an adequate dry, then a first topcoat is applied. The second topcoat may need to be preceded by a sanding or screening of the first topcoat. This is needed, he says, due to "bending" or "curling up" that is characteristic of mica flake.
"You may have to wait several hours to allow for more thorough curing to effectively sand the first topcoat, so that your sanding screens don't stick," he says.
He notes that the rapid-dry hybrid flooring system allows chip floors to be installed in a single day, but he says Concrete Revival prefers a two-day procedure due to the additional steps and dry time needed prior to sanding.
Got more questions about your project?