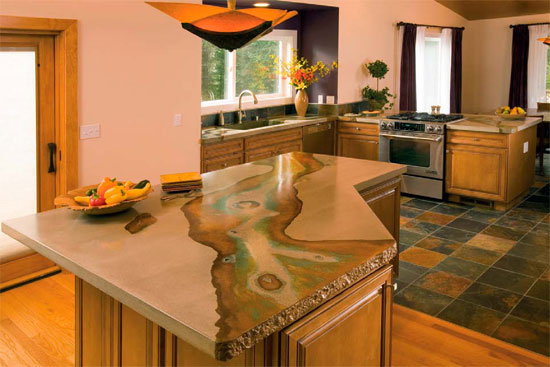 Steve Silberman, president of Absolute ConcreteWorks, located in Poulsbo, Wash., across the Puget Sound from Seattle, describes his company's products as "functional art."
Principal artisan Tommy Cook's use of color, stain, gleanings from nature and even customers' souvenirs takes the full-service precaster's countertops, fireplaces and sinks to a different plane
Tommy Cook's professional background was in finish carpentry and other construction trades. But about 10 years ago, his wife asked him to build an indoor fountain. While researching the project, he met a woman who told him her husband was looking for an apprentice to help make concrete countertops, fireplaces and architectural details. Intrigued, he visited the facility and was so taken with the process, he turned his back on carpentry and started learning how to create custom decorative and architectural concrete products.
After about a year, he struck out on his own, setting up shop in a garage with a couple of employees. And he began building a reputation for striking artistic vision combined with excellent craftsmanship.
The business grew, and Cook eventually landed a client who became a partner. Steve Silberman had moved to Washington from California and was in the midst of a complete renovation of his waterfront home. He and his wife, Tina, wanted something truly distinctive.
Ordinary granite counters just didn't do it for them. Stainless steel wasn't going to fly, either.
Then the contractor suggested they consider Cook's concrete business, and Steve balked — he didn't want a sidewalk in his kitchen! But after visiting the operation, Steve was sold.
Cook designed a backsplash that mimicked the Silbermans' kitchen-window view — the Olympic Mountains, up to the lights of Victoria, Canada.
From that point, the men's relationship evolved from contractor-and-client to co-founders of Absolute ConcreteWorks.
Cook says the business has enjoyed growth of nearly 300 percent in each of the last three years — a trend the partners believe will continue, even in a softening construction environment, because of the ever-growing visibility and demand for decorative concrete products.
And to accommodate that growth, the company now uses 10,000 square feet of manufacturing space, with another 30,000 square feet outside. Total employment averages about 10 people, and varies according to workload.
A good part of that growth can be attributed to ACW's focus on customer involvement.
Their clients are encouraged to become actively involved in the process. For example, Silberman says, a client might come to the facility with a contractor or designer in tow, along with a particular color or material sample they want. ACW then sets out to replicate the client's concept in concrete.
For example, the company recently worked on a custom home whose owner loved the look of granite, but wasn't too impressed with the material itself. ACW was able to match the desired appearance by using properly colored post-consumer glass mixed with crushed mother-of-pearl. (The use of post-consumer or post-commercial glass, metal and other recycled materials is one of ACW's specialties.)
ACW is able to go further than many other companies to accommodate the design objectives of architects, interior designers and clients. The partners attribute this to a combination of their uncompromising commitment to client service, leading-edge designs, and an ongoing investment in state-of-the-art machinery.
How flexible can they be? ACW has employed everything from coins collected during world travels and Harley-Davidson parts for a motorcycle fan to wild grasses, ferns and leaves culled from an owner's property. "That level of personalization makes us more versatile," Cook says.
Technical proficiency and the proper use of materials — particularly glass-fiber reinforced concrete (GFRC) — enables ACW to pull off some unusual projects.
A recent countertop project was cast in a single piece and carried in by just four people. Not too impressive, you say? Consider this: the slab measured 11 1/2 feet long, 40 inches wide and 2 inches thick, and included a knockout in the center for a cooktop!
In another job, a 14 1/2-foot-tall fireplace was cast in Washington, then shipped to Oregon for installation. Each 3/4-inch thick piece was about 6 feet wide and 4 feet high and suffered no cracks, fissures or other problems during transport.
Cook is quick to emphasize that, although these pieces don't weigh as much as "old-school" castings, they are not made from so-called lightweight concrete. "That stuff relies on pumice or foam beads to reduce weight," he says. "But it also reduces the concrete's structural integrity. We just don't do that."
The company is environmentally conscious, too. By relying on alternative (yet equally effective) materials, ACW has reduced its use of portland cement by as much as 50 percent. All of its slurry and rinse water is processed and cleaned. Even leftover concrete is recycled. "We have a line of statuary made from molds I bought years ago," says Cook. "Rather than simply toss our leftovers, we cast it and sell the results."
Although new home construction is waning, ACW doubts that its level of business will decline or level out. "Things are evolving," says Silberman. "Initially, our jobs were remodels or new custom homes and some upper-range spec homes. While the spec homes portion of our business has declined, ACW is called upon for more commercial, retail and condominium projects. Additionally, we are experiencing more calls from higher-end custom homes and remodels, resulting in an overall 31 percent increase in the first quarter of 2008 over the same period in 2007."
The secret? Being able to provide commercial and residential clients with complete precasting services. "We're renowned for our artistic work," Cook says, "but we also produce architectural details — window and door surrounds, wall caps, stair treads. We make concrete masonry units, too."
ACW is poised for even greater growth. Originally, product was mixed in 5-gallon buckets. But the company's continued expansion gave Silberman and Cook the impetus to improve the facility.
Today, most products from ACW are fabricated from eco-friendly GFRC under its own SoundCrete brand. "We've invested in state-of-the-art automated equipment from Europe," Silberman says. "We can now mix our materials in 25-gallon batches. Previously, we hand to hand-pack vertical surfaces. Now we're able to spray it, resulting in a more compact product with a tighter matrix and fewer air bubbles."
Cook is confident about ACW's future. As more and more people realize that concrete is an extremely versatile building material — "It's not your father's driveway anymore," he jokes — manufacturers are developing a wider range of sealers, additives, colors and other products.
"There's always something new on the market," Cook says, "and we plan to stay on top of those developments. That's what sets us apart."
(360) 297-5055
www.absoluteconcreteworks.com
Got more questions about your project?