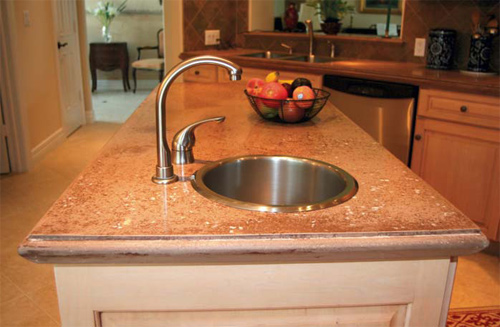 Ed Baldoni, founder and owner of Concrete Countertop Solutions, came up with the idea for Z-Counterform about five years ago. "I thought there had to be a better way to form concrete countertops," he said.
He's thinks he's found one. Concrete Countertop Solutions has developed an alternative countertop form that will help create cast-in-place countertops with a variety of edge styles. Z-Counterform reduces labor time and doesn't require any double-sided tape or drilling into kitchen cabinets.
What's more, the form is made out of a proprietary blend of PVC, which results in a concrete edge that looks and feels polished when the form is removed. "If you use a polystyrene form, it will leave an unwanted impression on the concrete edge. With Z-Counterform you are left with an edge that appears perfectly smooth," Baldoni says. "Plus, it will save you a ton of labor."
To use Z-Counterforms, simply place them on 1/2-inch cement backer board, fit the forms to the edges and back walls, and screw down the tabs. Caulk can be used to ensure a leakproof form.
Then the system is ready for pouring. Once the concrete has cured, simply snap off the forms, leaving the tabs under the concrete. "The way Z-Counterform is designed, it just breaks off and you're done," Baldoni says.
Because the PVC is 3 mm thick, the form won't warp or twist when under pressure from the concrete.
Five different form options are available: Square Edge, Double Fancy, Fancy Edge, Full Bullnose and Half Bullnose. In addition, there is a back-wall angle form to prevent concrete from adhering to a wall, plus a reusable rubber faucet knockout. Sink kits with 1-inch or 2-inch radius corner pieces will be available soon.
Each form option is packaged with 64 lineal feet (8 pieces) of edge form and 48 lineal feet (6 pieces) of back-wall angle form.
(570) 587-3799
www.concretecountertopsolutions.com
Got more questions about your project?