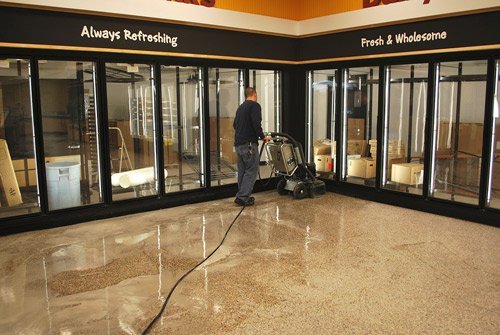 After we had just finished working all night stripping and waxing tile floors in October 2002 for one of our customers, my dad (Ray) and I (Travis) went into our favorite convenience store for some coffee and a made-to-order breakfast sandwich. Wawa Inc., a chain of convenience stores up and down the East Coast, had recently opened several new Wawa markets in Richmond, Va. They had expanded their operations from their core market of Pennsylvania, New Jersey, Delaware and Maryland, where they had operated convenience stores since 1964.
We noticed a small group of people pointing at the floors and having a discussion. My dad then taught me his first rule of business development: Always be prepared to be of service when an opportunity arises. We walked over, politely introduced ourselves and handed them business cards. (Not having business cards readily available is a common business mistake.) We told them we were in the floor cleaning, maintenance and restoration business and that we believed we could help them with the cementitious terrazzo floors that we had noticed were the signature feature in their stores.
The group was very impressed that my dad knew precisely what type of floors they had, as terrazzo is not extremely common anymore, particularly in convenience stores. The members of the group happened to be the Virginia-area retail operations manager, the corporate facilities contracted services manager, the zone manager and the store's general manager. Wawa was in the infancy of its expansion into Virginia, and the group said that they might need to make a change in the floor care services. We explained that we were experts in maintenance and restoration of exotic floors such as terrazzo (concrete with marble chips).
Then I learned another rule: Be careful what you ask for, you just might get it. My dad said we would be willing to do trial services for them in some stores to show them what we could do.
Within 24 hours, our very young company TW Cleaning Services Inc., which consisted of me and my mom as owners (my dad was and is retired, or so he insists) and my loyal staff of one employee, plus my younger brother Wesley when I needed him, had a 90-day trial opportunity. We were to service five new stores — three in Richmond, one in Virginia Beach some 125 miles away and one in Fredericksburg, Va., about 75 miles away.
Very soon, we were called to have a meeting at Wawa's corporate offices just outside of Philadelphia. During that meeting we were asked if we were prepared to take over all of the Virginia-area stores, some 35 at the time, and if we could maintain the same level of service we had during our trial period with only five stores. Much to their surprise (and mine), my dad told them that we probably would not maintain the same level. When they said they appreciated his honesty but now had some concerns, he advised them that they misunderstood his meaning. With only five stores, Wawa was really only a "secondary customer" to our company, even though we had given them excellent service. With them giving us all 35 stores in Virginia, they were going to become a "primary/priority customer" and with us applying more resources to their services, the quality level of our services would not just maintain at the same level — they would increase. Obviously, that was music to their ears and we were given all the work.
Since 2002, our floor-care services for Wawa have grown to cover more than 100 stores, including all stores in Virginia and most of Maryland. We have a great cooperative working relationship with the other four floor-care vendors for Wawa under the leadership of the current contracted services facilities manager, and we combine to service more than 600 stores in the Wawa chain.
Our family's group of companies, which includes Mid Atlantic Floor Care LLC and the DreamKrete polished and decorative concrete division, has grown exponentially because of Wawa, but not just because of their growth or any additional services we provide them.
With other prospective new customers, usually the only reference we have to put on our resume is Wawa, and when we explain we service all their stores in Virginia and Maryland, the doors immediately open wide due to their credibility in the Mid-Atlantic region.
When we learned more than two years ago of Wawa's plan to expand to Florida, we thought it would be a great opportunity for our companies to expand along with them. With already one additional national-level floor cleaning account in Florida for which we serviced six stores on a quarterly basis, establishing a branch was an easy decision. It will allow my dad and mom to fulfill their dreams of retiring to Florida, have some business to keep him occupied and allow him to turn the rest of our work over to my brother and me.
So this relationship has meant everything to our family businesses. And here's how we've developed it.
We have been successful with this chain by utilizing the three C's of contract management:
Commitment: First and foremost, we are committed to Wawa's Partners in Safety Program. We have a mandatory monthly safety and operations meeting, and our technicians know that if they don't attend they don't get assigned to work in the stores. Safety, with proper safety signage and notices, is a must since Wawa stores are open 24/7/365. We are also committed to following the specifications of the programs, procedures and processes for completing all services.
Consistency: We consistently follow a service schedule that we provide our customers at the beginning of each month. Our "service-to-schedule" ratio with which we rate our crews and field operations managers is annually 98 percent or better. Needless to say, we make every effort to ensure that we deliver consistently high-quality service on each and every store service visit. Our post-service follow-up programs include phone calls and in-store inspections, many of them done by me or my dad personally.
Communication: We periodically provide all our customers with progress reports of our programs and projects. Annually, we provide Wawa with a report, with supporting pictures, of both our accomplishments during the past year and plans for improvements going forward. We give all customer correspondence high priority — we pride ourselves in giving timely and thorough attention, reaction, responses and recommendations. When you properly communicate, you not only develop a happy customer but you develop a service partnership relationship for life.
Got more questions about your project?