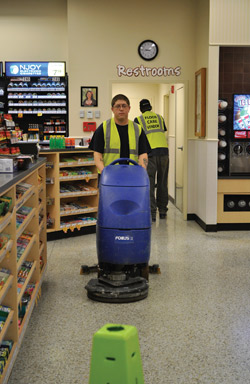 We have been selling maintenance since my wife and I started a cleaning services business in Virginia in 1996. Over the years, as my oldest two sons Jeremy and Travis became more involved in the business, we specialized in floor-cleaning services, including the maintenance and restoration of exotic floors such as marble, granite, terrazzo and other natural stones — even cleaning an occasional concrete floor in a warehouse or garage.
Polished and decorative concrete floor installations accounted for only about a quarter of our business as of the start of this year. Most of our revenues were coming from cleaning, maintenance and restoration services.
As growing decorative concrete contractors, we have found several benefits to providing contracted maintenance services as part of our business. It has generated a very consistent and profitable revenue stream that has supported our expansion into polished and decorative concrete. When we purchased grinding and polishing machines, I knew that if the machines never left our warehouse to ever do a job, we would still be financially sound as long as we serviced our maintenance customers.
Funny thing is, our maintenance customers, and the ongoing source of referrals that providing maintenance services offers, have actually promoted polished and decorative concrete work opportunities for us. We now own three complete grinding and polishing systems and can hardly satisfy our scheduling needs.
Getting started in maintenance
When it comes to start-up costs for providing maintenance services, recognize that it really doesn't cost you much out-of-pocket money. You already own autoscrubbers, pressure washers, low-speed power scrubbers, high-speed buffers and burnishers. (We utilize corded electric, propane-powered and battery-powered buffers, depending on the work environment restrictions.) You already have the mop buckets, handles and most of the other supplies required to perform these services.
You may need to purchase some additional chemical cleaners depending on the surface coatings and type of dirt being generated in the facility you're cleaning. There may be some cross-training necessary to make your staff maintenance technicians, but they should be very receptive to learning new skills that increase their employment hours.
With minimal additional costs, you can apply an effective marketing strategy to offer additional services that, quite frankly, have allowed us to outposition our competition.
We recently picked up a new maintenance service customer that had hired one of our competitors to install decorative concrete floors throughout their office suites. The customer found us through our Concrete Network Web page and hired us for cleaning and maintenance services, which our competitor did not offer. We now have a decorative concrete installation job scheduled for this customer.
The best time and place to offer your maintenance services is in your initial proposal to complete the polished or decorative concrete installation. Very importantly, we NEVER sell any concrete installation as being "maintenance-free" — there is no such thing! We promote a polished or decorative floor as being the most effective and, in the long term, least expensive system to install and maintain. For the customer to receive the most benefit from their initial investment, we say, a maintenance contract is critical.
Putting it down on paper
When you have the customer's attention and trust, it is time to design and write a Maintenance Service Agreement, also known as an Expectations Disclosure Statement. (Note that customers DO NOT like "contracts." They are much more comfortable signing "agreements" or "disclosure statements.")
We have learned that identifying the customer's expectations is absolutely imperative to creating a successful maintenance contract. This should include all of what I call the "who, what, when, where and why" of the maintenance program — who is going to be responsible for certain procedures (the customer's daily cleaning staff or our staff), what work is covered under the contracted maintenance services (and what work is not covered, but can be provided as additional billed services), when and how often services are needed and will be scheduled, which surfaces are to be maintained (and which surfaces are not to be regularly serviced, but again, can be added as additional billed services) and why the service program must be consistent to achieve the desired expectations.
The maintenance service contract should also include what I call the "dos and don'ts." In the "dos" column, the customer needs to routinely sweep, dust-mop and damp-mop the floors for dirt removal, mop spills of damaging residues immediately or as soon as possible and tell us about any significant issues, concerns or changes in surface conditions or usage. For the "don'ts," the customer needs to be sure they or their cleaning staff do not use any harsh or undesirable cleaning chemicals or apply any other unspecified coatings on the floors.
All of our maintenance agreements state that ours is custom work, subject to artistic license and, because of the use of various chemicals, reactions that are often unpredictable or uncontrollable. We also state that we use all environmental and safety management procedures and processes necessary for achieving the highest level of industry and governmental standards for these services.
Setting a price
Last but not least, we clearly disclose the price for our professional cleaning, maintenance and restoration services, being as specific as possible about how the billing is calculated and when we expect to receive payment (and the additional costs if necessary to secure collection).
Obviously, square footage of serviced area figures into our pricing calculations, but we always consider other factors such as surface conditions (cracking, drainage, existing colors or textures, applied sealers), surface usage and environmental conditions, when the services are required (during the day, late at night, only overtime on weekends), and any number of other special considerations.
Then, as a retired numbers guy, I always insist that we have a variance in our calculated pricing — the part that covers Murphy's Law (whatever can go wrong will go wrong) and the sometimes-present "aggravation factor" if dealing with a difficult customer.
Our business goal is to develop our polished and decorative concrete to become 50 percent of our business revenues. As we move towards accomplishing this, we have seen a steady increase in our maintenance-services revenue dollars too.
Got more questions about your project?