Teamwork, expertise and a carefully picked set of products were the secrets to success during a recent concourse floor coating job at Raley Field, home of Sacramento's minor-league baseball team, the River Cats.
A crew led by Warren Ruben, owner of El Dorado Hills, Calif.-based decorative concrete design and installation company Artistry in Concrete, installed 50,000 square feet of coatings using products manufactured by Miracote, including Miracote RT (RenewTop), the company's new spray-on cementitious overlay.
Plans for the concourse floor makeover initially began in fall 2011, when Sacramento River Cats CEO Susan Savage read a Sacramento Business Journal article about the role of art in the construction industry. The article included a section about Ruben's company, which is run by Ruben and his wife, Wendy, an interior-design professional. Intrigued, Savage contacted Ruben and asked him to resurface 15,000 square feet of flooring in Raley Field's bathrooms.
"I had been looking for someone local who did this type of work and Warren seemed like a perfect fit, so I reached out to him," Savage says. "I was attracted to his creativity and how he catered each job to the customer's specific needs."
Using a microthin overlay product and a gray metallic stain, Ruben, who is a regular user of Miracote products, transformed Raley Field's epoxy bathroom floors into urban, contemporary spaces.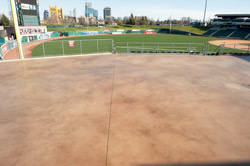 Putting a rookie on the mound
Pleased with the results, Savage contracted Ruben to resurface the stadium's U-shaped concourse — a 50,000-square-foot covered outdoor facility that is home to crowds of fans on game days and often rented out for special events.
Prior to its resurfacing, the concourse was somewhat of an eyesore at the stadium. Water lines and uneven patchwork had left the plain gray surface looking worn and dull, and Savage decided a fresh, new look was in order, Ruben says. For the new concourse coatings, they chose a system of products manufactured by Ruben's beloved Miracote: the water-based, adhesion-promoting primer MiraPrime Universal, the ultrathin, polymer-modified cementitious coating Miracote RT, and MiraGard HDWB, a water-based sealer suitable for any concrete or masonry surface.
As these three products comply with VOC regulations, meet the stadium's stringent LEED requirements and can hold up under a lot of foot traffic, they were a perfect fit for the concourse, says Miracote Western sales manager Trevor Foster.
The Raley Field concourse makeover was an opportunity for the manufacturer to debut Miracote RT on a large scale, he says — until that point, the newly released product had only been used on a handful of smaller jobs.
The RT stands for Renew Top, and like its name suggests, Miracote RT is engineered to give a uniform, attractive look to old substrates while preserving original texture. Unique benefits touted by the manufacturer include moisture-vapor permeability, a coverage rate of 700 square feet a bag and the ability to prep, spray and stain in one day.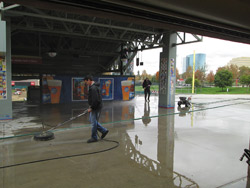 "We chose Miracote because of its proven track record and durability," Savage says. "Raley Field is an outdoor venue that hosts approximately 100 events per year, so our concourse takes a beating. For this reason, we really needed a product that would stand the test of time."
Ruben and his crew began the six-week project by grinding the concourse's patched areas and applying NewLook EcoAcid to open up the surface and expose the aggregate. They applied MiraPrime Universal using airless spray guns, followed by the Miracote RT, which they sprayed on using a high-performance spray gun from C.A. Technologies attached to a pressure pot that contained the material.
To give the surface a solid taupe color, they added Miracote's ColorPax LIP pigment packs in Dodge City Tan to the Miracote RT, as well as the MiraGard HDWB, which they applied in a single coat with airless spray guns. Finally, they added Smith's Color Floor stains in Bark Brown and Nutmeg, followed by two clear coats of the MiraGard HDWB.
"We chose to add pigment to the Miracote RT and the sealer so if any scratching or abrasion occurred on the top layer, the color would still pop through from underneath," Ruben explains.
Adverse weather brought on challenges throughout the installation process, with cold temperatures and freezing rain causing delays and forcing project managers to make some tough decisions. Foster explains that in order for each layer of product to properly cure, conditions must be completely dry and the surface's temperature must be a minimum of 50 F. Cold air and moisture can cause material to run off the surface before it cures and prevent it from gaining adequate strength.
Ruben and Foster in fact made the decision to remove nearly 15,000 square feet of primer and Miracote RT from the concourse's shaded ramp area and start from scratch after temperatures froze and left a light dusting of ice on the surface, they say.
"We weren't confident enough to put the next layer of material down over it, so we decided to start over," Foster says. "As a contractor, Warren is highly skilled and proactive. He'd say, 'This doesn't look right, so I'm going to look into it.'"
The fact that key materials came from a single manufacturer, not multiple manufacturers, helped streamline the decision-making process when rain and cold weather hit, says Foster.
Educating the client about how weather affects the products was another important part of a successful installation, and Savage says she and her operations team knew flexibility on their end was critical.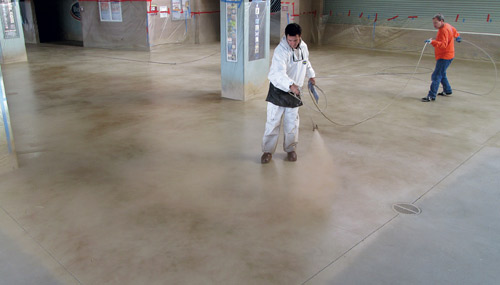 "We understood that any custom outdoor project like this one would have its ups and downs, and we needed to adapt to circumstances that were out of our control, such as the weather," she says. "Warren and Trevor worked well with our operations staff to adjust to everything that was thrown at them."
Workers finished installing the concourse coatings in February, leaving plenty of time before the River Cats' first game of the 2013 season on April 4.
"The concourse looks amazing," Savage says. "It's going to be a real treat for our fans, both practically and aesthetically. Of course from a practical standpoint, we're excited about the long-term durability of the new surface, but it's also exciting from the fans' point of view. We pride ourselves on having a clean, professional look and feel to the ballpark, and this really ties into that theme. We can't wait to show it off."
www.artistryconcrete.com
Got more questions about your project?