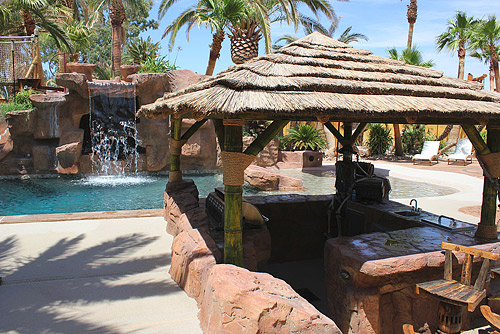 Like a lot of jobs, the transformation of Wade Brush's backyard in Las Vegas started with a feeling of simply desiring something different, something special. "I had a general idea of what I wanted," says Brush. "Some kind of tropical theme."
Brush's backyard is dominated by a swimming pool with waterfalls, a rocky cliff look, and lots of concrete from the 1980s — far too much to remove the existing concrete and redo everything. But he happened to be remodeling his kitchen and mentioned to the carpenter that he was thinking of doing something with the concrete in the backyard. The carpenter recommended Randy Payette, manager of Super Stone of Las Vegas and owner of Concrete Rescue Corp.
Payette is an interesting story. Working as the Las Vegas store manager, he was providing products to decorative concrete contractors for several years before launching Concrete Rescue. He found that he was becoming increasingly frustrated with decorative concrete contractors who were doing shoddy work: skipping essential steps, mixing and matching incompatible materials. He decided to start doing the work himself and formed Concrete Rescue Corp. last year.
In July, Payette accepted a job as technical director and regional manager of Super Stone's new location in Texas. He dissolved Concrete Rescue and put his artisan work on hold. But he'll start up again after the new location is on sure footing, he says. "Once you get a taste for it, it's very addictive."
A beach in the desert
"Brush's backyard was a job made for Super Stone products," says Payette. "The pool is a walk-in style pool, meaning it slopes into the deeper end instead of there being steps leading into the water. It was perfect for creating a beach look. When we started brainstorming about the possibilities, it didn't take long before we arrived at a tropical look, with the shallow end of the pool and the surrounding deck simulating a sandy beach."
Payette and Brush decided to incorporate the sand into the steps leading up to and around a bar area, as the sand provides a nice nonskid surface. However, they didn't want the entire deck around the pool to look like a beach, so they decided on an overlay with impression stamps to simulate stone that has been worn down by water and wind. The stone would be colored with a combination of Super Stone colorants. Payette suggested that the transition lines between the sand and the stone should meander to increase the sense of a natural beach.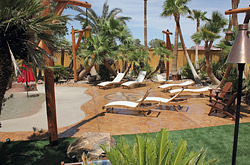 Preparation and application
A scarifier was used to prep the existing concrete, metal poles were removed and the holes filled. Trenches that held electrical and plumbing lines for the rock features were also filled in.
Payette describes the job as fairly straightforward, but there were a few challenges. "The real challenge was staying with the resort/desert island feel of the project," says Payette. "It could easily have turned out looking fake, with straight lines and abrupt transitions from the sandy look to the rock look."
Payette trusted his artistic instincts and freehanded the meandering edges of the shore with a Sharpie. He floated on Super Stone Ivory Sand Super Surface Overlay and used his trowel to cut a wavy line mirroring the Sharpie mark. "That's what makes it more natural-looking," he says. "It's not exact radiuses that were cut. Its all swervy."
Pushing up against the "rocky shoreline" of the overlay is the "sand" — two coats of a Super Stone epoxy seeded with Epamine Chroma-Quartz quartz crystals from Floric Polytech. The Floric material, colored Serengeti, is a color match to the Pebble Tec topping in the pool.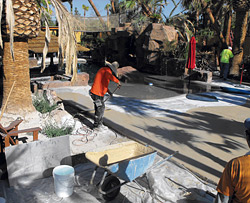 Payette sprayed Super Stone Liquid Color Dispersion, in Oak, over the top of the overlay to color the stone pattern, watering it down immediately. Once it dried, he used a mix of 4 ounces Super Stone Colored Sealer in Brown Stone to 1 gallon clear sealer as a antiquer. He prefers this antiquing agent to release power and xylene. "It looks a lot more fluid."
And the sealer mix doesn't permeate the entire surface of the overlay, avoiding a problem that occurs when some concrete sealers are applied over overlays, which often have larger pores than concrete does, he says.
He hollowed out patterns in the overlay on the tops of the steps, filling the hollows with quartz to make it look like sand. The floor of the bar is quartz too. "It appears as thought the bar is sitting down in sand, if you look at it."
Heat was a challenge throughout. July in Las Vegas can be brutal. The overlay material was mixed with cool water, and Payette increased the number of texturing mats to ensure the crew had time to set impressions before the material hardened.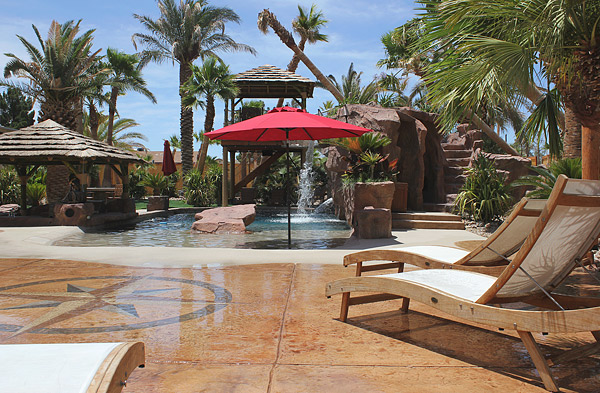 A special touch
Though the beach and stone feel was going to be nice, the artisan wanted something more. "As a new company, I wanted the job to be really picture-worthy," says Payette.
He proposed adding a compass rose near the sand-to-stone transition adjacent to the shallow end of the pool, and Brush agreed.
Payette used a compass to align the compass rose directionally and used stencils for the letters depicting direction, dremeling the edges to get a rough appearance. The rest he did freehand with a dremel, a truss strap and a framing square. He colored the points carefully to set them apart from the surrounding shades of brown in the stone finish.
According to Brush, Payette's dual jobs as part-time artisan and full-time Super Stone manager presented an advantage. "I think it helped that Randy knew his product so well. From the start, I believed that he was going to deliver exactly what he said he was going to. And he did."
While Payette has moved to the Houston area to open Super Stone of Texas, he looks forward to eventually resuming his artisanal work. "I'm probably not going to give it up because of my love for the art of it. I like the design, the satisfaction of the end result, feeling proud of making something that was nothing into something beautiful. I have to back-burner it just momentarily while I get this branch up and running."
Project at a Glance
Client: Wade Brush, Las Vegas
Contractor: Concrete Rescue Corp., Las Vegas, Nev.
Scope of project: Stamped overlay and epoxy on 2,600 square feet of concrete.
Most challenging aspect: Achieving a natural appearance, dealing with heat.
Super Stone materials used: Super Surface Overlay in Ivory Sand, Super Surface Polymer, Super Tex bond coat, Liquid Color Dispersion in Oak, Colored Sealer in Brown Stone, Low Gloss Acrylic Sealer, Seamless Epoxy in Adobe Buff and Clear
Other materials used: Floric Epamine Chroma-Quartz in Serengeti
Got more questions about your project?