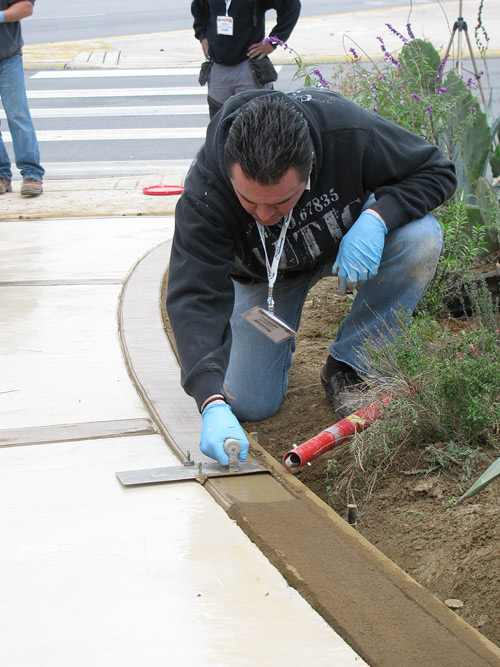 Exterior decorative concrete projects lend themselves well to areas of the country with warm, dry climates where the client can enjoy their outdoor space year-round. Unfortunately warm temperatures can also impact the workability of concrete by evaporating the water on the surface prematurely. To help combat this problem, Fritz-Pak Corp. developed Control Finish, a finishing aid that brings water back to the surface.
"A lot of finishes call for the use of a dry-shake color hardener," says Gabriel Ojeda, president of Fritz-Pak. "Most are made with cement, color, sand, et cetera. When you use a material that requires water to work and react, and not much water is left on the surface, where is it going to come from? Adding water to concrete when finishing is a big no-no. A product like Control Finish will release some of the water to the surface."
Jason Geiser, a decorative concrete contractor and supply store owner in Orrville, Ohio, has been using the product for nearly a decade.
"We use it on almost every job we do in the summer," he says. "It's something that's always on the truck. We have a separate sprayer just for that."
While Geiser uses it regularly for aiding in color hardener application, it's also proved beneficial on stamping jobs, he says.
"If that top quarter-inch of concrete is drying too fast and it feels like it's ready to stamp, if it's too soft underneath you'll get shrinkage. Control Finish eliminates that. By the time the top dries (when using Control Finish) everything else can catch up so it can support your weight," he says.
Available in powder form, Control Finish simply needs to be mixed with water and sprayed on. Ojeda was quick to point that the amount of water applied to the concrete in this instance is much less than the amount of straight water you'd need to sprinkle on to help workability.
Ojeda claims that the application process is essentially "foolproof." Contractors should note that using Control Finish will not retard the set of concrete as long as it is not applied too liberally. It's also critical to cover the entire surface to avoid color issues. The product itself doesn't cause variance, but different amounts of surface water might.
"If you use our material and only apply it to half the surface, you may end up with a difference in texture and color," Ojeda says.
www.fritzpak.com
Got more questions about your project?