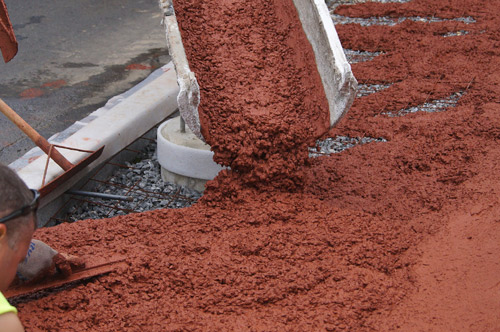 Maintaining consistent color in integrally colored concrete is crucial during a project using multiple truckloads. Based upon insights from technical experts and my own experience during the decade I worked in the concrete coloring business, these guidelines will help contractors avoid the most common problems seen with integral color on a relatively big job. A few tips are included on what to tell a new employee or a customer to avoid potential misunderstandings.
1. A pre-placement conference with your ready-mix concrete supplier is the best way to avoid costly, permanent errors. The general contractor and concrete contractor should meet with the concrete producer to discuss the selected color and review applicable standards and the color manufacturer's recommendations for best practices. It's helpful to discuss site access, the crew size, tools and the importance of batch-to-batch color consistency. Discuss any ingredients or logistics that could impact the job. Don't relax and skip this step.
During the pre-placement job conference, be sure it is understood that no water can be added while the ready-mix truck is in transit. Also, even a small amount of clean-out water left in a truck can cause the color to turn out lighter than desired. Inexperienced drivers or batch plant workers need to know these facts too.
2. Consistent materials content and consistent water-to-cement ratio are absolutely necessary to avoid color variations from one batch to the next.
"First, use consistent materials for each batch," insists L. M. Scofield Co.'s vice president of sales and marketing, Mike DeCandia. "Staying with the same type and brand of cement, sand and aggregates is critical for success. Taking delivery from different suppliers or different batch plants should be avoided."
Maintaining the water-to-cement ratio is a more delicate matter than you might think, he adds. "Even a wet broom will alter the water-to-cement ratio in the surface, and don't even think about sprinkling water on the surface."
The color manufacturer should provide data sheets that list the details necessary for achieving consistency in every step, with all content used from one batch to the next.
3. All color pigments are not created equal. Be aware that cost-cutting substitutions can lead to a costly tear-out. Inferior pigments may not be permanent. Only good-quality oxides should be chosen if the goal is to achieve evenly dispersed, nonfading, permanent colors. Pay special attention to the manufacturer's recommendations and list of things to avoid.
In particular, avoid any admixtures that contain calcium chloride, which often causes uneven color dispersion and discoloration. If an accelerator is required, a nonchloride admixture must be used with integrally colored concrete.
4. Clever project planning distracts the eye from minor variations and might add billable value. Most qualified contractors who have used a broom-and-band finish on gray concrete have learned that inconsistent finishing can alter the appearance. Finishing becomes more crucial with color.
Conversely, planned changes in the finishing method can disguise the start and stop points of pours. Accent bands can disguise control joints, emphasize traffic patterns or interrupt areas of solid coloring.
"Minor variations aren't noticeable when concrete is finished to a rough and rustic texture, which also provides better traction and safety when wet," says Randall White. His company, RTW Concrete Construction Inc., in Monticello, Ga., regularly works with integrally colored concrete, and he encourages using exposed aggregate finishes. He also warned about the risks of using terms like "consistency" and "uniformity" — uniformity is better associated with coatings or dry-shake color hardeners, not integral color.
Natural materials like leather, wood, stone and marble tend to have subtle color variations. Since the principal ingredients in concrete are natural sand and aggregates, their inherent color gradations will show up in any concrete slab. This tendency toward somewhat inconsistent shading appeals to some aesthetic tastes. Some designers want to see more of the aggregates, may even select sizes and colors of aggregates as a feature in the concrete surface, and are willing to pay for it.
5. Curing is the secret of full color development. "Curing really means to retain a portion of the excess water in the slab to fully hydrate the cement so that the intended properties can be developed," says DeCandia. "The average mix design contains twice as much water needed to hydrate the available cement. Without the extra water, the concrete in its plastic state would be similar to modeling clay — stiff, with no flow.
"If the excess water leaves the slab too soon after the concrete has been placed, several things will happen and none of them are any good," DeCandia says. "Surface cracking is one of them. These are small fine cracks that are very similar to a turtle-shell design. The cracks are small and shallow but very unsightly."
Efflorescence and carbonation can also affect color consistency. If water moves out of the slab rapidly because the slab is left uncovered to air-cure naturally, the water carries an impurity to the surface — calcium hydroxide. When it comes in contact with carbon dioxide, it forms calcium carbonate, also known as efflorescence. Carbonation is when, because the surface of a fresh slab is starved from oxygen, the cement hydration process slows down or even stops. This leaves a powdery surface that is weak and not very durable.
"Curing is best performed with a color-matched curing membrane," recommends DeCandia. "A color-matched curing membrane can minimize the potential for efflorescence formation and carbonation and promote full strength gain. The permeability allows the excess moisture to release at a very slow rate while still protecting the surface from unwanted contaminates. In the long term, a good, even cure will result in even wearing of the surface, which will minimize textural differences as the concrete wears."
The curing process doesn't just impact the final appearance. Proper curing is essential to increase the slab's abrasion resistance, improve freeze-thaw durability, and reduce surface cracking due to wind or direct sunlight, according to the American Concrete Institute.
6. In case of unexpected weather, know your choices for refinishing. Changes in weather, humidity and temperature can play havoc with your best-laid plans. There is no perfect solution when dramatic changes in weather conditions over the course of a job alter the curing rate and cause undesirable color variations.
Products developed for renovation can add color and cover up the integral color, but many don't have the natural look of concrete. Some might delaminate.
The better choice may be to apply a color-matched wax-modified finish recommended by the manufacturer of the integral color you have selected. Using the colored wax treatment as a finish coat on fully cured concrete enhances and intensifies the color and minimizes the appearance of variations. When applied to a clean, dry concrete surface, it creates a low-sheen, matte-type finish that allows the underlying matrix of aggregates to show through. This type of product can sometimes be diluted to selectively touch up light areas.
Some types of color-matched wax treatments are adapted for use as curing membranes on freshly finished concrete to improve color development while providing more complete hydration and promoting higher strengths, lower shrinkage and better overall durability long-term.
Use compatible curing materials and methods recommended by the integral color manufacturer. Not all are intended for use with colored concrete.
7. Avoid potential problems during the color selection process. Seeing hard samples and actual finished projects helps a customer understand concrete. Pictures can be useful sales aids to show a wide range of appearances and narrow down the options, but no picture or color chart gives a clear idea of the final product.
Specifications for commercial jobs often require creation of a job-site mock-up at a minimum size of 3 by 3 feet at least 30 days in advance, using the same mix and finishing methods planned for the final project. The approved mock-up remains on-site to provide a performance standard. This practice can eliminate a host of misunderstandings for any size project. Managing customer expectations can make or break the success of a business.
Here is a preemptive procedure that may help to avoid problems. Randall White of RTW Concrete Construction requires his customers sign a disclaimer before any work begins. It includes this statement: "I understand that the process of stamping and/or coloring concrete is an artistic form and therefore may have some variations in color and texture. Variations can be expected due to difference in cement, aggregates, weather, sand, temperature, humidity and light sources."
Last but not least, we don't all see color the same. Approximately 8.5 percent of United States residents have color blindness and cannot distinguish red from green. Now we are learning there is an opposite condition too. Researchers at Newcastle University in England have identified a small number of people with tetrachromatic "super vision" who may see millions of shades of color that are invisible to the rest of us. Both beauty and color are in the eye of the beholder.
Got more questions about your project?