Southwestern Paint and Supply's Hydro Guard, a sealer designed 22 years ago for secondary containment of chemicals and for sealing exterior stucco, has been discovered in recent years by decorative concrete fabricators who appreciate its thinness and praise its stain resistance and durability.
The polyacrylic topical sealant slightly penetrates the surface, emits a low odor, has no VOCs and resists ultraviolet rays. It starts out as a milky white liquid and cures to a nonyellowing, glass-clear coating that can be applied to provide as much or as little sheen as is desired. When properly applied and maintained, the sealant has a life expectancy of five to seven years.
Mark Venezia, production manager for Absolute ConcreteWorks in Poulsbo, Wash., says he's been using Hydro Guard for the last year and a half on everything interior from tub surrounds and shower stalls to countertops and sinks. And so far so good, he reports. During that time, "I haven't had any callbacks."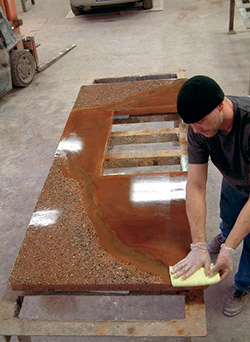 Before switching to Hydro Guard, he says, he had run into problems with other sealers. One he had used was very similar to Hydro Guard, but it was much more expensive and it was diluted in strength. "I decided to try the real stuff," he says. Side-by-side tests he conducted showed Hydro Guard to be 85 percent more stain-resistant to a whole host of things, including mustard, wine, salsa, egg yolk and lemon, he says.
Besides its superior stain-resistant qualities, Venezia says, Hydro Guard is simple to apply. "It's so easy a child can do it." Southwestern Paint literature notes you can use a roller, LP sprayer or brush, but he prefers to hand-apply the liquid film-building sealer with a microfiber towel.
He soaks the towel and wrings out the excess product, leaving the towel very damp, and gently strokes the surface, overlapping each wipe by half until the surface is completely covered. He lets each coat dry for an hour to an hour and a half and then puts on another coat, for a total of four to six coats. He then lets it sit overnight.
The next day, Venezia sprinkles the entire surface with baking soda. "You could use VCAS (a white pozzolan often used in countertops), but baking soda is a lot cheaper," he says. He puts on latex gloves and rubs down the surface to put microscratches in the topcoat of the sealer. "This lets you get a natural concrete look and achieve a matte finish," he says.
If a high-gloss or semigloss look is desired, Venezia then applies anywhere from two to four coats of carnauba wax, buffing in between coats.
Tommy Cook, a freelance artist and consultant for the precast industry who is currently conducting business as the Traveling Concrete Gnome, says he'd been using a weaker form of Hydro Guard for the last four years until recently when he switched over.
It's expensive compared to other acrylics, he concedes, but "it's definitely worth the money." While other acrylics typically run in the range of $30 to $50 per gallon, they don't offer anywhere near the stain and scratch resistance Hydro Guard does, he says. At the other end of the spectrum, "hard shells," his collective term for thickly applied sealers that include epoxies and modified urethanes, run upwards of $300 or $400 a gallon. Hydro Guard, with its $195-per-gallon price tag, falls somewhere in between, with the coverage rate running about 300 square feet per gallon.
Besides using it on countertops, Cook says, "I also use it on my (cast-concrete garden) leaves. It's a phenomenal exterior sealer as well."
Cook cautions users not to apply coats too thick and to allow coats to cure properly or they'll get a softer surface that easily scratches. "Apply the product as thin as you can in multiple coats," he says. "I typically apply two to three coats with an hour between them and then I slurry to fill pinholes." He then soft-sands to remove residue and applies another four to six coats.
Cook notes that while Hydro Guard is not as durable and scratch-resistant as hard-shell finishes, it's much easier to repair should the sealer fail or if the surface gets scratched or stained. "A lot of work and money are involved when you have to repair a hard-shell system. You can't just touch up an area that's scratched or delaminated. You have to strip it all off and sand it down because you won't get it to lay right," he explains.
Unlike thick hard-shell systems, Hydro Guard is applied so thinly you can easily spot-repair problem areas without having to redo the whole surface.
When he finishes a job, Cook says he gives homeowners a kit consisting of a pint of Hydro Guard, a 3M Scotch-Brite pad and a microfiber applicator pad. He walks them through the process of maintaining the surface and troubleshooting possible problems.
Unlike topical sealers such as epoxies that make surfaces feel and look plastic, Hydro Guard allows concrete to retain its natural characteristics with some maintenance effort from the end user. "If your customers choose to go with concrete, they need to know they are going to have to deal with maintenance," Cook says.
According to Brandon Showers, national outside sales manager for Southwestern Paint and supply in Tucson, Ariz., Southwestern is preparing a new set of application, maintenance and repair guidelines for Hydro Guard from information submitted by their clients. The new guidelines should be ready by early fall 2011.