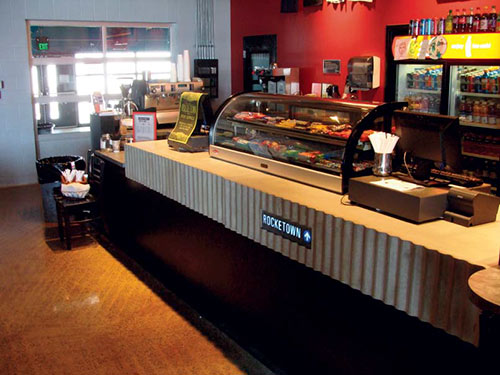 The Concrete Decor Show leaves its mark in the community. Instead of just working on a slab that will be thrown away, the event develops more than a half dozen hands-on workshops with the intent of providing a decorative concrete makeover for an organization in need. This year, popular Nashville youth center Rocketown was the lucky recipient. In just five days time, the facility was given multiple countertops, newly restored floors, an impressive carved wall in a musicians' greenroom and much more. Kicking off the week was a Craftsman Accreditation course led by Brad Burns and the Concrete Polishing Association of America. In order for students to receive accreditation, they had to complete hands-on concrete polishing work on the floors of Rocketown's coffee bar. The floor had endured years of abuse and neglect, but with the assistance of staff from various manufacturers and trainers from the CPAA, the floors are in tip-top shape. Participating companies included SASE Co., HTC Inc., Substrate Technology Inc., American Decorative Concrete Supply Co., Husqvarna Construction Products, Prosoco Inc. and Racatac Products Inc.
Also in the coffee bar area, Jeff Kudrick and the students for his workshop, "Advanced Technology: Fiber-Reinforced Concrete for Decorative Precasting," created a concrete countertop using Cheng Concrete's NeoMix D-FRC and sealer. The word "Rocketown" was written into the countertop using letters and LED lights from Infinicrete, and the background was colored with pigment from Concrete Countertop Supply by Fishstone.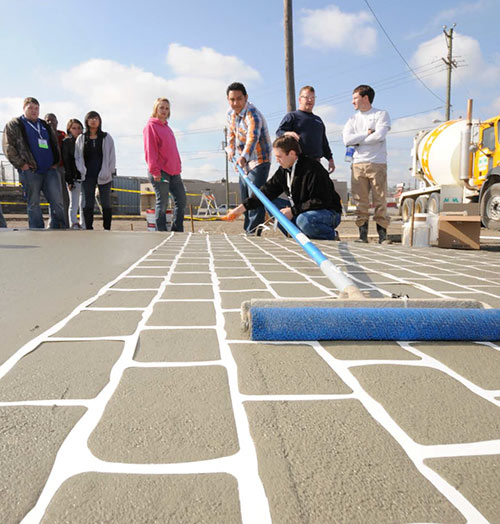 Next to the coffee bar is Rocketown's Flex Room. It can be expanded into additional space for the coffee bar, but it is also frequently used for meetings, classes and even break dancing. There, Bobby Watson and his students from "Polished Colored Concrete: Getting Color In and Keeping It There" restored the existing floor with American Decorative Concrete Supply Co.'s AmeriPolish SureLock Color System and Edge Tint.
A large component of Rocketown's offerings is musical entertainment. Before the makeover, artists would simply wait to go on stage in a small, ordinary greenroom. Thanks to Nathan Giffin and his "Learn Hand-Carved Vertical Decorative Concrete" course, the room is now outfitted with a one-of-a-kind carved concrete wall depicting Celtic knots and a guitar. To create the wall, Giffin used Specco Industries Inc.'s Speccrete Vertifaux, colors from Smith Paint Products, a Tru-Pac Mortar Convert Kit and tools from Contractor's Source.
Also in the greenroom is a "guitar sink" created by Nick Relampagos of California-based It's Concrete and Zac Coletti from Florida-based Coletti Concrete Studio. The pair fashioned the sink at the Artistry Demo area on the exhibit floor of the Show. Coletti created a sink mold with the shape of a guitar in the basin and gave it interest by shaping it so that water flows down the guitar's body and into the neck, toward the drain. The duo used Buddy Rhodes Concrete Products Bone White Spray Coat mix to spray the face coat, while Buddy Rhodes Concrete Counter Mix and Buddy Rhodes glass fiber and polymer were used for the backing. In addition, Ambient Glow Technology supplied glow-in-the-dark aggregate that was placed in the neck of the guitar, and ancillary tools were provided from Kraft Tool Co.
A second Craftsman Accreditation course was held later in the week, where attendees helped polish the upper mezzanine in the building. The equipment was hoisted upstairs with a crane. Substrate Technology Inc.'s Prep/Master grinders worked seamlessly with HTC machines to provide a consistent finish and look. Tamryn Doolan of Surface Gel Tek provided the layout, design and application of a logo with her Flattoo system plus AmeriPolish SureLock Dye from American Decorative Concrete Supply Co.
Located on an upper level in another part of the building is Rocketown's music classroom. There, Melanie Royals and Katrina Johnson added visual impact to the floor using stencils and microtoppings. Students worked with products provided by SkimStone from Rudd Co. Inc. and Modello Designs to place a large guitar image and Rocketown's name in their "Masking Patterns and Microtoppings for Ultra Decorative Finishes" course. Padco applicators and SP Systems sprayers helped them finish the job.
Rocketown didn't just receive interior work. Several exterior projects also took place there during the week.
Near Rocketown's coffee bar entrance is a dry grotto courtesy of Bruce Riley at RicoRock Inc. and attendees in his "Building a Waterfall" course. The space features several built-in seats and rock features. RicoRock donated the fiber-reinforced rock castings for the project. Tom Bench managed the installation, and Roger Brocker of Olympic Pool Plastering provided technical support to complete the project.
By an adjacent parking lot, Jim Mullins and participants in the "Stamping and Stenciling Concrete" course stamped two areas, each approximately 17 feet by 25 feet. Students got their hand at trying Butterfield Color's new Baltic Cobblestone pattern as well as the company's Brick Soldier Course. They also had the opportunity to color and seal the project with other Butterfield products.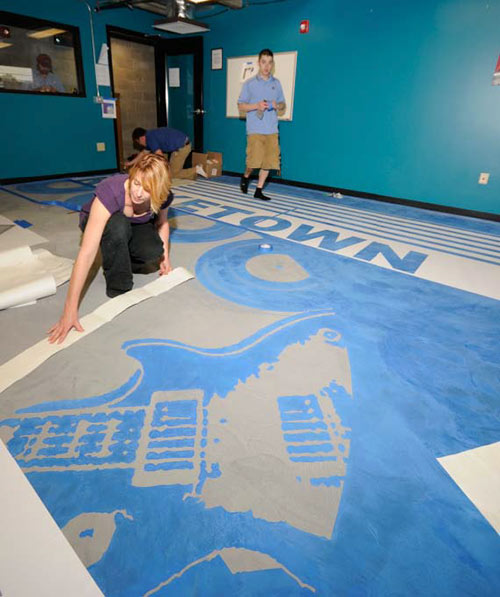 As part of a pervious concrete demonstration, Jim Miller of C2 Products Inc. and Alan Sparkman of the Tennessee Concrete Association demonstrated two different mixes, both supplied by Metro Ready Mix. The first mix utilized a small aggregate and was designed to be stampable — colorants and stamps came from C2. The second was a commercial pervious mix that was placed with equipment from the TCA with the help of Multivibe tools and Lura Enterprises' Lightning Strike Roller Screed.
Underfoot near the entrance to the coffee bar is an engraved guitar neck designed by Carri Hofaker of Nashville Concrete Artists. Hofaker and artist Mike Sims used Engrave-A-Crete Inc.'s Shark, Barracuda and Wasp tools to engrave the design, and stains and sealers came from Clemons Concrete Coatings.
Leading up to that guitar neck are stairs for which Rocketown staff wanted some slip protection. They got it, and then some, from stylized concrete "skateboards" that from a artisan's perspective are the crown jewel of the makeover. Jason Geiser, owner of Deco-Crete Supply, Orrville, Ohio, created and installed the steps. (He describes his process and the tools and materials he used in his own story — turn the page to read it.)
Last but not least, an enormous colored and stenciled job from Todd Rose and students in his "Decorative Effects with Stenciled Concrete" workshop features the Rocketown logo. The 1,435-square-foot job started with 19 yards of concrete from Metro Ready Mix Concrete Inc., which was poured into flexible forms from Plastiform and stenciled with a cobblestone brick stencil supplied by Granicrete International Corp. In order to match the vibrant blue in Rocketown's logo, Bart Sacco at Kingdom Products developed a custom color hardener. Kingdom Products also supplied Antique Release Agent and Regal Gloss sealer. Sacco, Glen Roman and Butterfield Color's Dave Blasdel filled in the white arrow late Friday after the Show ended.
In all, thousands of dollars were donated and hundreds of work hours volunteered to complete this unique renovation. Although the Concrete Decor Show & Spring Training was only in town for less than a week, its efforts will remain in Nashville for years to come.
Bent Mikkelsen, publisher of Concrete Decor magazine, pointed out at the Show's opening keynote that contractors can achieve similar sweeping projects in their own communities by developing relationships with high-profile organizations. These types of projects can help the public better understand the ways decorative concrete is used.
Got more questions about your project?