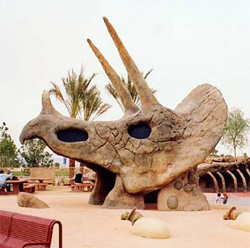 You might think that rappelling from cliffs, learning about orangutan habitats and studying the prehistoric skeleton of a triceratops are activities without much relevance to decorative concrete. But for the folks at Cemrock Landscapes Inc., they are all just another day at the office.
"When the phone rings around here you just never know what somebody's going to ask you to do — that's part of the fun," says Brian Olson, president of the Arizona-based company.
Specializing in concrete landscaping, Cemrock was founded in 1975 and is among the biggest names in the zoo and aquarium market for exhibit construction. They also do a steady trade in erosion protection along highways and coastlines. With 80 employees and two offices — one in Tucson and the other in Seattle — the company has done work in all 50 states, not to mention four different continents (North American, South America, Asia and Europe).
Cemrock was not always the globetrotting decorative concrete powerhouse it is today, nor was Olson, now 49, always its president. Back in the early '80s, Olson, armed with a newly minted degree in structural engineering, came to Tucson from Montana and found a job as a superintendent for a general contractor. His very first project was for the Arizona-Sonoran Desert Museum, and the GC he worked for had subbed out the artificial rockwork to Cemrock. Before that project, Olson hadn't been exposed to much decorative concrete work, and he was captivated, watching the Cemrock team come in and sculpt detailed, realistic natural environments out of bare concrete. "I'd never seen anything like it," he says.
Over the course of that first project, Olson became friends with Cemrock founder Rick Dyson and got a glimpse of what the work was all about. However, the pair lost touch when the project was completed. Olson didn't have anything more to do with decorative concrete until 13 years later. When Olson caught wind of the fact that Dyson was thinking about retiring and selling Cemrock, he called him.
"We went out to lunch," says Olson, "and two weeks later we had a handshake deal — my wife and I were going to buy the company." Two years of red tape later, in 1997, it was finally official, and Olson wasted no time getting to work.
When Olson bought Cemrock, it was pulling in about $1.2 million a year doing exclusively zoo and aquarium habitats, which served as a great foundation to build from. And build Olson did. Just eight years after he bought the company, it had added a full-service fabrication shop and a second branch in Seattle (by buying out a competitor), and annual revenues had increased tenfold.
This description of the company still holds pretty true today, although Cemrock has continued to evolve. In addition to growing in size and sales, Olson has also expanded the types of services the company offers. Concrete landscaping — for not only zoos and aquariums, but also resorts, museums, golf courses and others — still accounts for 75 percent of their projects, but around 10 percent to 15 percent of their workload is erosion control projects, and the remainder is fabrication work for playgrounds and parks.
The diversity of their services has proved to be quite an advantage, says Olson. Although the on-site work — the artistic landscaping and erosion control — certainly comprises the bulk of their revenue, it also has a lower profit margin than the fabricating work. With the former, you have to account for travel, lodging, per diems and on-site complications. The latter, on the other hand, is all done in-house in a controlled environment, where schedules are much easier to keep and costs much easier to control. Their fabrication work not only makes for a great low-overhead counterpoint to the higher-cost on-site work, but also keeps their in-house artisans busy and creatively challenged. From a GFRC triceratops skeleton for a dino-themed playground to authentic-looking logs and trees for an orangutan enclosure, their fabrication work really runs the creative gamut.
Extreme concreting
That said, it is Cemrock's erosion control and landscaping work that have earned the company an international reputation for artistry and high quality.
Look at the Seattle-based erosion control crew, which does many of its projects in the Pacific Northwest. Often, their task is to protect mountainsides from future mudslides (a considerable risk, in such drizzly climes). In order to accomplish this goal, the Cemrock crew places soil nails, 30-foot to 40-foot bolts that go straight into the slope, and uses those as a framework for a concrete facade, which is then hand-carved to simulate a native rock face.
What happens if that mountainside is a straight drop, hundreds of feet high? Armed with the drill and bolts for soil nails, plus rebar and framing supplies, a complete shotcrete rig and a whole arsenal of carving tools, the Cemrock crew will rappel from top of the bluff in question and do the job suspended from ropes and climbing harnesses. "They're a little crazy like that," Olson says, with obvious pride.
But while these auxiliary markets have added to Cemrock's portfolio, it's still artistic landscaping work that really showcases the full range of the company's decorative concrete skills.
Their portfolio includes a huge variety of techniques: rock faces, trees and other landscape elements created using either hand-carved shotcrete or GFRC fabrication and precast molds. There are installations that employ a specially formulated concrete mix, fiberglass rebar and plastic lath and are designed to hold up indefinitely underwater. Sea walls preserve the coastlines at parks and golf courses and can withstand saltwater and crashing waves.
No matter what they happen to be creating, the aesthetic bottom line remains the same. "The commodity that we sell is realism," Olson says.
Achieving that realism is something for which the Cemrock team has earned a reputation. Take, for example, the $5 million Russia's Grizzly Coast exhibit project that Cemrock did for the Minnesota Zoo. "The director is very knowledgeable about exhibits and what can be achieved," Olson says. "He made it known that he expected the very highest level of realism."
Cemrock was selected on the basis that they could deliver that, and deliver they did. The exhibit included habitats for bears, otters, leopards and boars. So the Cemrock team set about sculpting trees, geysers, beaches and many varieties of rock to mimic aspects of the animals' native environments. Thanks in part to the Cemrock team, Russia's Grizzly Coast has won multiple awards, including Top Honors in the 2009 Exhibit Awards from the Association of Zoos and Aquariums. "Even people in the industry struggled to distinguish it from real rock," Olson says.
Olson has no intention of letting Cemrock rest on its laurels. "We're constantly looking for ways to improve what we do," he says. "We're going to continue to grow the company and be there to provide unique solutions to people's problems." And with rappelling, orangutans and dinosaurs already part of the company's day-to-day, it will be exciting to see what else those unique solutions might entail.
www.cemrock.com
Got more questions about your project?