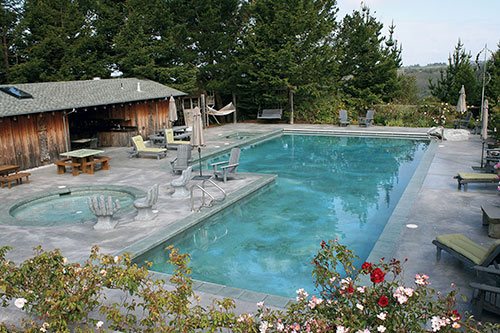 Imagine this: You own an estate in the California hills overlooking Monterey Bay. You are a lover of art and natural beauty. You want a swimming pool complex with a large concrete deck and pool house. You want it to accentuate the surrounding landscape and incorporate the feel of the bay, but you're not sure how you want to achieve that. Who do you call?
Tom Ralston Concrete.
Ralston bases his work on a few firmly held tenets:
Understand what the customer wants — even if the customer doesn't quite know what he or she wants.
Time spent on preparation and planning always pays off.
Appreciate your surroundings and, if possible, incorporate them into the job.
Nothing is impossible.
Ralston recalls the initial interview with these art-loving clients. "The couple travel frequently to Africa and often return with beautiful carvings and artifacts. They had already created a hilltop jungle of exotic plants and sculptures mixed in with indigenous growth, and they wanted the pool area to emphasize the setting. Their main request, however, was kind of vague but involved the free usage of color. They wanted us to use an artful and colorful approach."
Perfect, thought Ralston.
"Walking the property, I noticed that there are places from which you have a 180-degree view of the bay. It's really a stunning location," he says. "After brainstorming with the client we came up with a general idea of coloring the inside of the pool with colors that would mimic the array of colors in the bay. Though I'd never attempted anything quite like that before, I loved the idea. More importantly, so did the customer."
After several conversations, the project began to take shape, says Ralston. "A contractor friend of mine, John Wilgus, had cast a stamp from real trilobite fossils embedded in rock. A trilobite is a crustacean that has been extinct for about 245 million years. I also have a cast of baby Tyrannosaurus rex footprints from the La Brea Tar Pits that I obtained through another friend. We decided to incorporate the trilobite stamps in the deck, make several T. rex footprints to disperse throughout the surrounding gardens, and stick with the idea of broadcasting colors in the pool."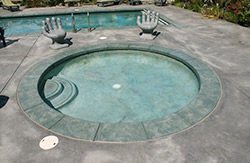 Lots of prep
All concrete jobs require prep work. This one was unique by virtue of the sheer volume of site preparation and underground work involved. The site had to be graded and compacted for 3,850 square feet of pool deck, footings needed to be dug for the 500-square-foot pool house and barbecue area, trenches for plumbing and electrical lines had to be dug, and the 2,125-square-foot pool had to be excavated and gunited.
Once the gunite work and the foundation for the pool house were done, Ralston and crew poured more than 450 square feet of coping (the edges that serve as a transition between water and deck) around the pool, the kiddie pool and the hot tub. They used Douglas fir two-by-fours attached to the pool's bond beam around the pool and 3/8-inch masonite lap siding around the kiddie pool and hot tub to provide simple cantilevered square edges.
The customer wanted a color that would be in keeping with the water color of the Monterey Bay — a green-blue that gets greener as fog rolls in. To achieve this, they blended three parts Matcrete Pacific Blue with one part Brickform Shadow Slate color hardeners. The coping was textured with the trilobite stamp and a Caesar texture mat from Doug Bannister's Stamp Store.
The pool deck came next. Ralston was going for a definite offset in color, but he also wanted to maintain continuity with the patterns inside the pool. He expected the colors in the pool to bleed into one another. He wanted a similar drifting of colors in the deck. "The drifts ended up looking a lot like wind-blown sand, like what you see at the tops of sand dunes on a windy day, especially with the L. M. Scofield color hardener that we used," says Ralston.
The deck was sealed with two coats of Super Stone clear sealer, between which Ralston used a 30-minus blend (about 100 grit) of glass from Heritage Glass, with equal parts Amber-9 and Forest Green colors. The glass provides slip resistance.
Throwing color around the pool
The coping and deck finished, it was finally time for Ralston to put his idea to the test. He had presented the customer with five color samples, the idea being that she would choose one or two. She liked them all.
"On the day of the plastering, I came to work with these colors," recalls Ralston. "The plasterers had been told what I would be doing — but it was quickly apparent that they weren't ready for how much color I was going to spread. I jumped into the pool and began to throw color hardener into the plaster — blue, green, platinum, weathered sage and so on. Like many plastering crews in my part of the country, these guys spoke only Spanish, but there is no language barrier when it comes to disapproving looks. They weren't overjoyed to have a guy throwing colors around while they were plastering. Finally, it seemed as if one of them channeled Roberto Duran in his bout with Sugar Ray Leonard as he emphatically said 'No mas.' I was able to convince them that this is what the customer wanted and they begrudgingly allowed me to continue."
To avoid cracking, pools are filled immediately after plastering. Ralston was worried about the colors adhering properly underwater. He contacted a chemist from Richard James Specialty Chemicals Co. who agreed that the colors would need to be sealed sooner rather than later. The chemist recommended draining the pool after two days, sealing the inside, and then quickly refilling the pool.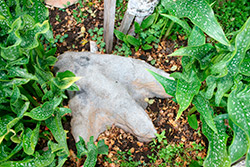 The finishing touches
Ralston cast the pool cover lids (to match the coping) and the dinosaur feet at his shop. The cover lids were cured for 10 days, brought on site, and fastened on top of the pool cover trough with stainless-steel mesh. Each pool cover lid has a 3 1/2-inch-thick front edge to match the pool coping and a 3 1/2-inch back edge to help hold it level, with the bulk cast at 2 inches thick to minimize weight.
The dinosaur feet were cast in a variety of earth-tone colors and strategically placed in the gardens surrounding the pool area.
Ralston is justifiably proud of the job. "A giant tide pool," he says. "I've never seen anything like this before or since. All in all, an incredibly fun job, great clients and a great general contractor to work with."
Project at a Glance
Client: A couple with a private residence in the hills overlooking Santa Cruz and Monterey Bay
Concrete Contractor: Tom Ralston Concrete, Santa Cruz, Calif. | www.tomralstonconcrete.com
Scope of project: Construct a pool complex, including 3,850 square feet of concrete deck, a 500-square-foot pool house and barbecue area, and a 2,125-square-foot pool colored to reflect the colors of the bay. All finished concrete was colored and textured.
Most challenging aspect: Color the pool and deck in such a way as to be harmonious with the surrounding landscape.
Products Used: Matcrete color hardener: Pacific Blue; Brickform color hardener: Shadow Slate; L. M. Scofield Co. color hardener: Stone Grey and Weathered Sage; Alcantar color hardener: Stone Green and Platinum Grey; The Stamp Store Caesar Stone texture mats; Super Stone Inc. Clear Concrete Sealer; Heritage Glass recycled glass aggregate: Amber-9 and Forest Green
Got more questions about your project?