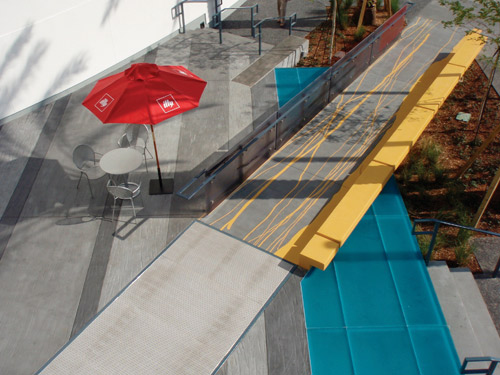 The Museum of Art/Fort Lauderdale likes to say "there is always something new and different at the Museum," but until recently, that claim did not apply to the building's exterior. The faded concrete pavers in the Museum's entry plaza were worn and tired-looking — they didn't create an inviting first impression of the high-energy, dynamic, creative space inside.
When Nova Southeastern University acquired the Museum of Art in 2010, they wanted to revamp the look. They asked their long-time master planning firm, EDSA, to help. The first phase was to rebuild the second-story terrace as a welcoming public place suitable for all kinds of functions. This lovely new terrace overlooked the old plaza, which EDSA associate Andrew Ferrara described as "a pink paver pad with dying palms." It was time to begin Phase Two.
The plaza had potential to be so much more than it was, and Museum management was committed to reaching that potential. They had several goals. One was to create a strong pedestrian environment. Another was to make the entrance, recessed under a breezeway, accessible and ADA-compliant. A third was to create a welcoming space that drew people in to the recessed entrance. But equally important, especially to the donors who helped fund the project, was to expand their mission of bringing art to the community. To that end, they commissioned an artist, Margi Glavovic Nothard, to turn the outdoor area into a piece of art.
Nothard and EDSA were convinced that concrete was an excellent medium to achieve all these goals. Technically it was an obvious choice for an accessible pedestrian area. Artistically, it gave Nothard the means to bring the Museum's art experience outdoors. Concrete is a material that could be shaped, colored and textured to fulfill her vision of evoking the Florida landscape in a durable urban environment.
The EDSA team, led by partner Kona Gray, acted as liaison between the Museum staff, its board and the university. They worked to put the artist's concepts into the construction documents and served as owners' rep to the general contractor, Stiles Construction. In turn, Stiles engaged Homestead Paving, a South Florida concrete contractor with whom they had already completed several successful projects. Homestead entered into the artistic give-and-take early, making suggestions and keeping an eye on the budget.
One idea that became central to the look was to cut saw grass from the Everglades and imprint the concrete in alternating and intersecting bands of yellow and grays, bringing a taste of Florida's unique natural environment into the city and harmonizing the hardscape with EDSA's landscape. The concrete was integrally colored using L. M. Scofield's Chromix Admixtures for Color-Conditioned Concrete in Charcoal, French Gray and Caution Yellow. Some bands were seeded with black granite and sandblasted to expose this dark, shimmery aggregate.
Nothard's concept also included bright "strings" to create energy and movement. Homestead Paving executed this idea by creating a stencil of Nothard's design. They used it to perform a deep sandblast and then filled in the area with Scofield Texturetop Stamp Grade in Caution Yellow. A bright yellow concrete bench completes that section. The result is a dynamic, dimensional space full of energy and movement, but level and smooth enough for everyone to access and enjoy it.
While the color of the bench is unusual, the construction is simply good concrete work. Homestead Paving owner Michael Rhodes explained that it was poured using normal smooth-faced wood forms. "You just have to make sure you have the appropriate release so the wood doesn't leach into the colored concrete," he says.
The whole project won the grand prize in the Scofield 2011 Decorative Concrete Awards competition.
The finished plaza could hardly look more different from the one it replaced. Now there is not a pink paver in sight. Instead the courtyard is alive with shape, color, and texture, inviting passersby to experience the art they are working through. "People are curious," Nothard says. "This entry, with lots of color, lights and concrete, draws you in to look at it."
Project at a Glance
Client: Museum of Art/Fort Lauderdale (MOAFL), Nova Southeastern University, Fort Lauderdale, Fla.
Concrete Contractor: Homestead Paving, Homestead, Fla. | www.homesteadpaving.com
General Contractor: Stiles Construction, Fort Lauderdale, Fla. | www.stiles.com
Master Planners and Landscape Architects: EDSA Inc., Fort Lauderdale, Fla. | www.edsaplan.com
Collaborative Artist: Margi Glavovic Nothard
Products Used: L. M. Scofield Co.'s Scofield Texturetop Stamp Grade System in Caution Yellow, Chromix Admixtures for Color-Conditioned Concrete in Charcoal, French Gray and Caution Yellow
Got more questions about your project?