Sixteen years ago, a couple moved from Colorado to Pennsylvania and brought with them tales of a mysterious new form of concrete work. When they approached Jim Bernardine, owner of Bernardine Construction Co., about building them a stamped concrete patio, Bernardine had to ask what that was. "Around here, there was no such thing as stamped concrete," he says. But he was intrigued.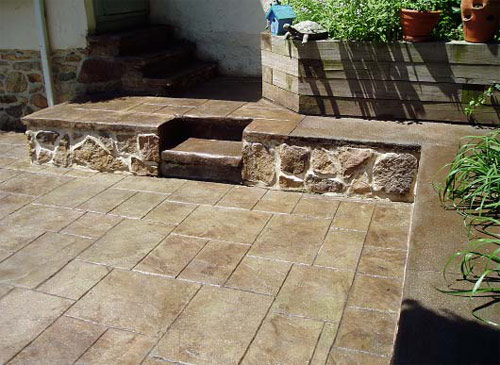 At the time, it was difficult to get stamping training or supplies unless you bought a franchise with a particular company. (Increte and Pattern-Crete were the big names, Bernardine says.) You couldn't just walk down to your local supply store and pick up a set of stamps and colors. After some research – trickier back then, without the Internet – Bernardine found Cobblecrete International Inc. They not only sold him colors and two sets of stamps, but they also sent a rep out to Pennsylvania for a two-day training session. These two days would prove pivotal for Bernardine's career
He'd been running BCC for four years, doing mostly residential basements, patios, walkways – "boring stuff," he says. "Everything was just flatwork." The two-day training session with the Cobblecrete rep changed all that. "It was great," he says. "Very hands-on." The first day they stamped a walkway at Bernardine's home, as a sort of trial run, and day two was the patio for the Coloradan couple. And that was it for Jim Bernardine. "I fell in love with the stuff," he says.
Bernardine used that passion to turn his company into a full-service decorative concrete operation specializing in stamping and renamed Concrete Oasis.
Based in Malvern, Penn., Concrete Oasis serves the entire Main Line region of suburban Philadelphia. Because stamped concrete was so rare in the area, it was a difficult sell at first, says Bernardine. But around 1998, things started to snowball. More and more people had heard of stamping and heard of Bernardine, and the work started coming in. Even as other contractors started adding stamping to their services, the years that Bernardine's company brought to the table were a big advantage. "We were always a step ahead because we'd been doing it so long," Bernardine says.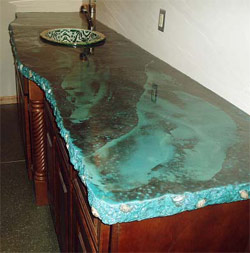 In its two decades, Bernardine's company has changed shape dramatically. When he started the company as BCC in 1989, its staff was a 22-year-old Bernardine and two employees. Now, Concrete Oasis has 10 employees total (including four two-man crews) and a fleet of four trucks, three Bobcat skid steers and one mini-excavator. Bernardine says that typically, a two-man crew will go out and excavate and prep a site to get a project going. When it's ready to go, all hands are on deck for the pour. The entire Concrete Oasis team shows up for a full day of placing the concrete, getting it down as quickly and efficiently as possible. Then the crowd disperses, and each crew goes back to their respective ongoing projects.
Concrete Oasis does an average of about 10 jobs a month, and Bernardine says he's pretty happy with that number. "I try to keep the company fairly small to keep the quality up," he says. "And I can only design so much." Bernardine directs the design of every project Concrete Oasis handles, delivering a signature old-world look that's been many years in the making. Drawing from his Italian heritage as well as years of research on Roman and Italian architecture, Bernardine's artistic style is very distinct. "We want it to look like it's been there for 100 years but still looks great," he says. "We're not looking for something that looks like plastic."
These guiding principles have driven Bernardine to experiment with every aspect of the stamping process in search of the best way get the look he wants. Bernardine's first rule is not to overwork his surface. "If you trowel too much, especially here in the Northeast," he says, "you're going to have the top pop off. You're going to have spalling." So after one pass with a bull float, Bernardine broadcasts about 80 percent of the color hardener he's going to use and lets it set for 30 minutes. The second round is another go with the bull float and then the remaining 20 percent of the color, typically in one shade darker or lighter than the first, to get a mottled look. "It gives it a nice little color variation – very subtle, but it works," says Bernardine.
He also goes out of his way to avoid saw cuts in his surfaces. They're a dead giveaway that you're looking at concrete, not stone, he says. He'd much prefer to let the concrete crack naturally, he says, as it will most often crack along the grooves of the stamp pattern, anyway. But that's not always something the client is ready to hear.
When doing a high-profile project at the Chester Valley Golf Club in Malvern this spring, Bernardine ran into problems talking the general contractor into skipping the saw-cut stage. "He was an engineer," says Bernardine. "He just couldn't come to grips with the fact that the concrete was going to crack." Bernardine even took the GC to two previous cut-free Concrete Oasis jobs and asking him to find some cracks. (He couldn't.) But in the end, Bernardine compromised, breaking up 4,000 square feet of patio into 8-by-8 panels with joints between. Bernardine's approach to color is also unusual. In addition to the mottled look he achieves with his hardeners, he uses acid stains to finish most of his work. "One of the reasons I like acid so much is that it never falls the same way twice," he says. He also never works from a color chart, preferring to match his colors to the house, a magazine, a photo – anything but an out-of-context swatch.
And Bernardine's personal touch does not stop at coloring. Concrete Oasis uses nine different concrete mixes – each of which he has personally tweaked – for the different patterns and looks they're going for. Starting with mixes from Buddy Rhodes and enCounter, Bernardine played with the amount of cement, stone and sand in each mix until he got just the effect he wanted. For example, for a flagstone pattern, Bernardine uses a mix with a higher amount of large stones, which helps get the surface flatter, as well as extra sand, lending it a rougher texture. By comparison, his fieldstone mix has less sand, to give the stones a slicker surface, and more cement, to give the pattern a nice depth.
So 16 years of stamping have obviously given Bernardine the chance to really master the technical aspects of the craft. But it's the art that keeps him going. "Once you get the stamp part down, it's really just being an artist," he says. And the chance to use that artistic talent to transform a client's space is the most satisfying part of the job for Bernardine.
In his entire career, the job Bernardine cites as the most rewarding wasn't a giant, high-profile gig like the country club. It was a 1,500-square-foot pool and outdoor kitchen area they did about three years ago. The client had had to replace his pool entirely, so Concrete Oasis got the chance to completely redo the entire space – pool decks, planters, outdoor bar and grill area, built-in seating, walkways, landscaping, the whole enchilada. "That was the most rewarding," he says. "We were able to put the whole package together for some great people and it looked awesome."
Bernardine does say that he'll be going after more high-visibility commercial jobs in the coming years – "the advantage of jobs like that is that the spaces are very well taken care of, but still a public forum" – but his passion for the trade will ensure that all of his clients, big and small, receive the same caliber of craftsmanship that his company has been delivering for 20 years.
Got more questions about your project?