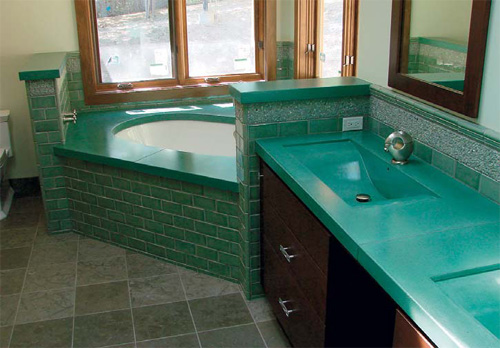 Dave Pettigrew first fell in love with construction in the sixth grade. His uncle, a carpenter, had just built his own home in Salinas, Calif., and Pettigrew thought, "That's how you do it." He began working in carpentry soon after, and at age 18, poured a concrete foundation for the first time. At that moment, Pettigrew found his true passion.
"There was something about pouring the liquid material into the forms, giving you a foundation to build on," Pettigrew says."It's always been a magical material for me."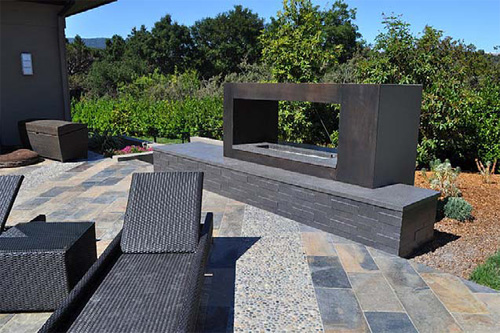 Today, 59-year-old Pettigrew heads Santa Cruz, Calif.-based Diamond D Concrete, a contracting company that designs and installs a vast variety of concrete projects in the Santa Cruz metro area. The company creates countertops and pool decks, places driveways and concrete overlays, and completes demolition, engraving, staining, cleaning and paving projects. Diamond D also offers concrete staining design and installation services nationwide.
Pettigrew and his nine-man team consistently have their hands full with jobs for residential, commercial and government clients.
Diamond D Concrete was established in 1989 when, after working on his own as a concrete contractor for two decades, Pettigrew hired several workers to assist him with rebuilding hundreds of homes destroyed by the Loma Prieta earthquake."I started this business with a wheelbarrow and a shovel," he says."I had the desire and will to succeed."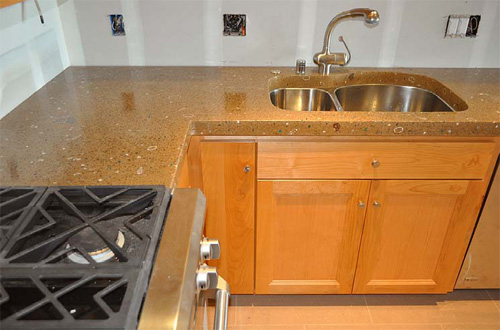 A year later, Pettigrew witnessed a technique that he says instantly struck a chord with him – acid staining. Ever since, he's preferred acid staining to all other methods of coloring concrete on interior floors.
"Acid staining is the old-school way," he says."It gives you that deep, lush patina color that you're looking for, and you can really see the character of the concrete."
One significant example of an acid stain job by Diamond D Concrete is "The Wave," a 14-foot-high ocean wave structure in a city-owned Santa Cruz skate park on which workers began decorative artwork three and a half years ago. After sandblasting the wave structure, they stained it a blue-green sea mist color and sealed it with an antigraffiti sealer from Surtec Inc. Finally, they created an intricate design – based on a drawing by Santa Cruz artist Jimbo Phillips – on the wave. Using a sandblasting mask as a stencil, workers sandblasted away parts of the stained surface to create an image of splashing, foaming water.
Pettigrew added finishing touches to the wave a year and a half ago by hand-applying a microtopping material in a white color, adding more detail to the foam design.
Cast-in-place stairs and big pours
Another Diamond D Concrete project that's caught the eye of many is the "Floating Staircase." Two were installed as part of an extensive luxury home project in Los Altos, Calif. The outdoor staircases are comprised of concrete steps that are held in place by walls on one side only.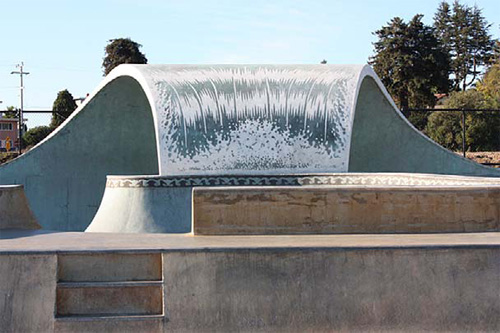 The steps were originally designed to be three inches thick, but Pettigrew suggested tapering their thickness from five inches on their supported ends to three inches on the ends that jut out into the air.
To create the staircases, workers drilled holes six inches into the 12-inch-thick concrete walls, then installed all-thread rods to support each step. Forms were built in Pettigrew's shop, transported to the site and set up on stair horses so the steps could be poured in place. Low-strength fiber-reinforced concrete filled the forms, and the forms and stair horses were removed after 28 days. To finish the job, Pettigrew ground the steps with 400-grit diamond pads, acid-etched, stained the steps in an auburn color and sealed them with a lacquer wet-look sealer.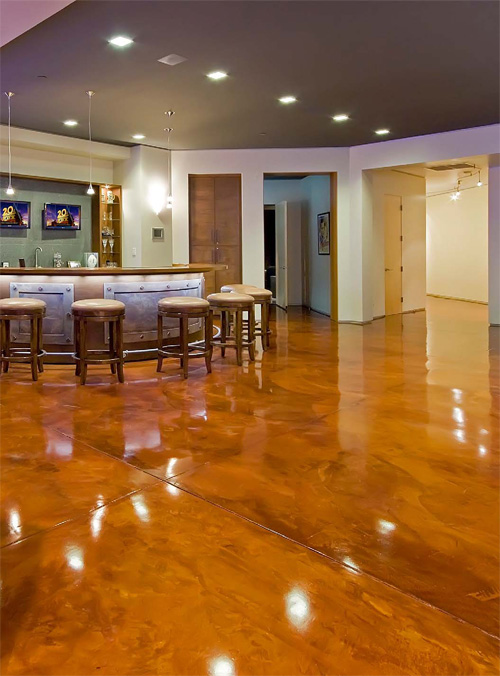 Pettigrew says he's proud of much more than just those at this job site. The project included radiant-heated concrete floors in the basement, a wine cellar floor, and countertops made using recycled glass pieces."That was one of my favorite homes to do," Pettigrew said."The recycled glass I used was hand-blown art glass, and the basement floors were microtopped and stained on top of the radiant heat technology in a breathtakingly beautiful auburn color."
Pettigrew says he's signed several interior projects for this winter, and next spring, Diamond D Concrete will take on another city project with an ocean theme. The company has been chosen to complete a project outside the Monterey Bay National Marine Sanctuary in Santa Cruz. It's a sandblasting and staining job on a patio that surrounds a full-scale whale's tail sculpture. Pettigrew says he'll use blue and green stains to make the concrete look like a splash of water.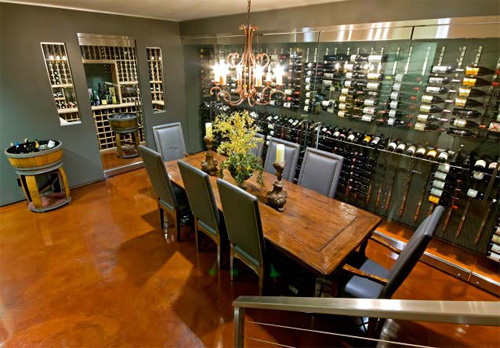 Contractor or artisan?
While this article honors Pettigrew as an "Artisan in Concrete," he tends to shy away from the term."I hear the word 'artisan' applied to Diamond D Concrete, and it's hard for me because I don't see myself as an artist," he says."I'm a good concrete contractor with an eye for color. My job is to listen to my customer, to see in my mind's eye what they see. Then I can truly build what they see."
Recently, Diamond D Concrete poured 332 cubic yards of concrete in a single day to create the foundation for a 7,400-square-foot home – an accomplishment that would impress any contractor."That's an epic amount to pour and finish in one day," Pettigrew says."Pouring this much concrete is like dancing with the demon. We are alright as long as we can keep tempo, but anyone who has ever poured concrete knows the feeling when you fall behind."
However, he obviously has an artistic side too. He's been inspired by cave art to develop decorative concrete designs, and he designed a large lizard for the floor of a client inspired by a gecko on a T-shirt.
Pettigrew attributes his success to his dedicated work ethic, the personalized attention he gives to every one of his customers, and perhaps most importantly, the diversity of his portfolio.
"I'm a finisher – I finish what I start no matter what it is," Pettigrew says."The reason why I've been able to roll through these economic upheavals we've had is because I've diversified when it comes to construction. We're always busy because we're always doing different things."
Why is concrete contracting work so satisfying for Pettigrew? Well, he knew from the beginning that it was destined to be his livelihood. But he also loves the satisfaction it brings to his clients. When the work is complete, a Diamond D Concrete client is left to enjoy a work of art, whether it's a dream home, relaxing public space or beautiful workplace.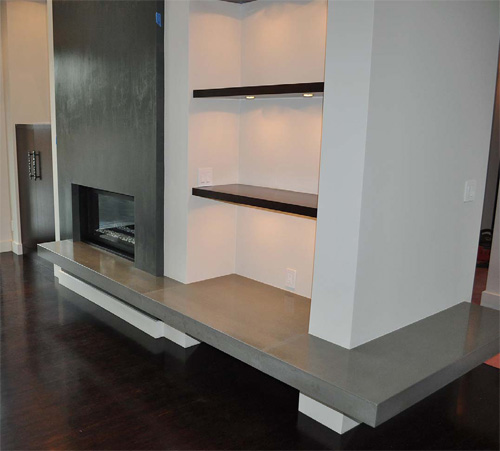 "I'm grateful to have a company that's so well thought of," he says."We get to help people make their dreams come true."
www.diamonddcompany.com
Got more questions about your project?