The Decorative Concrete Hall of Fame announced its first group of honorees at the 2010 Concrete Decor Show, in Phoenix, Ariz. It was only fitting that the Hall of Fame welcome its 2011 inductees at the 2011 Concrete Decor Show, held last March in Nashville, Tenn.
The new members were chosen by Hall of Fame members and owners and staff of Concrete Decor parent company Professional Trade Publications Inc., which manages the Hall of Fame.
The Decorative Concrete Hall of Fame was established to honor individuals and companies who have gone beyond the call of duty to help promote decorative concrete as a thriving business and a constantly evolving art form. These individuals' achievements and their commitment to excellence and innovation have helped the decorative concrete industry grow.
---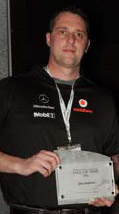 John Anderson
Since he was 15, John Anderson has been involved with decorative concrete. He's worked in some capacity for a number of well-respected companies in the business, including L.M. Scofield Co., Lafarge, Bomanite and Brickform, and has consulted for contractors around the world.
Currently he heads up the international sales division for Ideal Work Srl, an Italian-based manufacturer and distributor of decorative concrete products that has dealings throughout Europe, Africa and the Middle East. Besides sales, Anderson is a source of support for the company's product development. Anderson is also managing director at Ideal Work Elite Crete Ltd., based in the United Kingdom.
Although young in years, this Englishman is rich in experience. He has been instrumental in bringing decorative concrete to the U.K. and other parts of Europe. A talented decorative concrete artisan himself, Anderson has made a significant impact on the European marketplace by educating contractors on the many different decorative options they can offer their customers. Thanks to his efforts, more and more supply stores and contractors throughout Europe are getting involved with decorative concrete.
At Ideal Work's 3,000-square-foot training facility in Italy and 2,000-square-foot facility in the United Kingdom, Anderson tirelessly works to demonstrate to the European market how everything from acrylic stains and exposed aggregates to various stamping techniques and chemical interactions can be used to produce beautiful yet practical applications. Whether customers want a modern look or are seeking to mimic an old-world treatment, Anderson is showing them the way with products and techniques that create low-maintenance surfaces.
Anderson joined forces with Bob Harris and Ideal Work's Luca Seminati and Maurizio Pontello to produce Paladiano, the "Wonders of the World" line of stamping tools cast from textures discovered in historical regions around the world. The tools are manufactured and distributed by Brickform.
---
Tom Ralston
A third-generation concrete contractor out of Santa Cruz, Calif., Tom Ralston has the uncanny ability to understand concrete by recognizing its underlying beauty. He's taken his family-owned business to a whole new level by venturing outside long-established boundaries and discovering new uses for an age-old medium.
From building homes out of concrete and crafting concrete countertops to acid-staining a public skate park and creating a rock wall and staircase that won him a historical restoration award from the Santa Cruz Historical Society, this artisan time and time again pulls the uniqueness out of a concrete slab and exposes its characteristics in a very beautiful way.
And the best part is he doesn't keep his findings to himself. When Ralston learns something new about concrete, he reaches out to his constituents to share his knowledge. For more than 15 years, he's conducted seminars and delivered hands-on training at events sponsored by such organizations as the American Society of Concrete Contractors Decorative Concrete Council, the American Institute of Architects and the National Ready Mix Association.
For the past seven years, Ralston has addressed various topics at World of Concrete seminars. He was awarded a first-place ASCC Decorative Concrete Award in 2011 for Best Cast-in-Place Concrete. In 2009, he also received first-place Decorative Concrete Award honors for Best Structural Decorative Concrete, Best Concrete Countertop and Best Artistry in Concrete.
In 2008, Schiffer Publishing published his book, "Cast-In-Place Concrete Countertops." A recognized expert in the field of decorative concrete who is certified by the American Concrete Institute, Ralston has had his work featured on the covers of seven magazines and has appeared in numerous architectural, trade and design publications.
Ralston currently serves on the Advisory Committee for Construction Education at Cabrillo College, in Santa Cruz, Calif., and has served on the ASCC Decorative Concrete Council board. A graduate of the University of Santa Cruz, Ralston has been at the helm of Santa Cruz-based Tom Ralston Concrete since 1989. He oversees 27 employees who tackle projects in structural, decorative, masonry and specialty concrete.
---
Michael Miller
Michael Miller, "the concretist." The names are synonymous.
The son of a cement salesman, Miller was exposed to the industry before he could speak. He has spent his entire career exploring the possibilities of what can be done with concrete-based materials, which has led him to collaborate with other artists so he could develop his own art through his work. He credits his success in the industry to his ability to look at concrete closer, longer and harder than most in the business.
Before founding his own company — The Concretist Inc. — in Benicia, Calif., in 1990, he worked for several others in the business, including L.M. Scofield Co. and Symons Corp. In subsequent ventures, he founded Sensory Concrete in 2003 in Clayton, Calif., along with his co-principal, Kelley Burnham. In this capacity, he developed the philosophy and genre of decorative concrete work known by that name.
Miller and his team of artisans have influenced the design community about the exciting possibilities afforded by decorative concrete. Through numerous high-profile projects around the world, they have demonstrated their unique design approach and brought their creative impulses to fruition, often creating their own tools to push the envelope on where people could go with new or existing concrete.
While he could be called a contractor or installer, the terms catalyst, provocateur and visionary would also sum him up. He has a way of aligning a company's philosophy with its uniqueness of products and underscoring those attributes with concrete. He excels as a colorist.
Over the years, Miller has become increasingly interested in sharing his knowledge with others. He knows unexplored territory awaits concrete artisans everywhere and that sharing will help them conquer the unknown.
---
Rod, Gerry and Bart Sadleir
Since 1986, Concrete Solutions Inc., based in San Diego, Calif., has been a pioneer in the decorative concrete industry. As contractors, Rod Sadleir, the owner of Concrete Solutions, and his brother Gerry were among the first to resurface concrete with a very thin polymer cement overlay. Today, Concrete Solutions manufacturers and distributes the products and systems they developed for the restoration, protection and beautification of concrete surfaces.
At World of Concrete in 1997, they unveiled their first claim to fame, their quarter-inch thick stamped concrete overlay. Its introduction stimulated much interest as others realized what could be done over existing concrete. Today, hundreds of companies around the world offer their own version of this revolutionary stamping system, which allows a decorative concrete finish in a variety of patterns and colors.
The Sadleirs' innovations didn't stop there. In 2002, with credit to Gerry's development efforts, Concrete Solutions launched Spray-Top and its accompanying equipment. This product system allows a very thin cement coating over stamped concrete surfaces for restoration without losing the stamped texture, and it provides a surface that is uniform in color for acid staining or a color dye treatment.
Concrete Solutions has been outstanding in providing educational and hands-on monthly training classes for contractors at the company's main training facility in Las Vegas since 1997. They also teach classes in San Diego and across the United States, and even internationally for distributors. The classes are largely taught by Gerry, Ernie Archuleta and Rod's son, Bart, who joined the company in 1997 after graduating from BYU. Gerry and Ben Ashby provide instruction and training for the Ashby Countertop System, to which Concrete Solutions has exclusive rights.
To add yet another dimension to the business, Bart is currently involved with "Project Overlay," for which he is filming and documenting projects and international visits that promote Ultra Surface Product Systems. He plans to provide contractors with step-by-step instructions for success. Videos will be posted on the company website and distributed on social networks.
Recognizing the outstanding contributions of Gerry and Bart, Rod gave them part ownership in Concrete Solutions, so you can truly say that it is a family-owned business. The three Sadleirs head up a company that is always looking for ways to improve the integrity and the look of concrete surfaces.
Concrete Solutions has been a steady voice in the industry, touting concrete and their ability to repair and resurface it in a natural finish or create a beautiful, durable finish in a variety of textures, patterns and colors that will last for many years.
Got more questions about your project?