The work of Preferred Specialist Services LLC, a Dubai-based floor installation company and Elite Crete products distributor, is nothing short of whimsical. Take this example: At the Dubai offices of candy manufacturer Mars Inc., the company embedded Snickers bar wrappers into a conference room's epoxy floor coating for a truly tasty look.
The floors at BoHouse Café, which Preferred Specialist Services installed in spring 2010, are just as mouth-watering. Located along "The Walk" of Dubai's Jumeirah Beach Residence, the BoHouse Café gives off an artsy vibe with its eclectic crowd and creative dishes, and the restaurant's decor is right in line. On the café's ground floor, swirling rainbow stripes, sparkling clouds and colorful disks and hearts pop against a radiant white background. The mezzanine level floor shows off a fiery pattern of ripples and swirls in blue, red, green, yellow, pink and brown. Furniture in colorful patterns and modern shapes pulls the entire look together on both floors.
The Preferred Specialist Services team, along with BoHouse Café owners and interior designers from Dubai-based interior design firm Osama Shaar Décor, developed the eye-catching floor surfaces to match the restaurant's playful feel.
"The café is based on a young, funky and hip culture, and the colors are supposed to reflect this image," says Preferred Specialist Services general manager Karl Vaughan.
Beirut, Lebanon-based holding company Pragma Group, which owns the BoHouse Café, had been struggling to locate a specialist that could act as both installer and material supplier for the café flooring project, Vaughan says. After receiving a positive reference, Pragma Group contacted Preferred Specialist Services.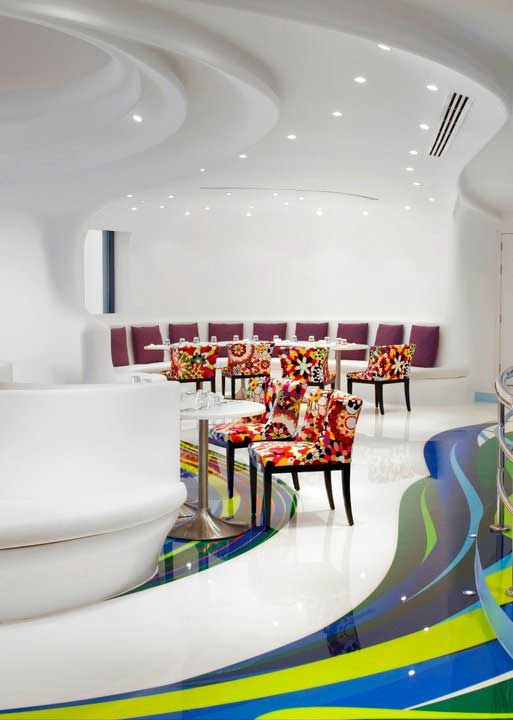 The installers faced specific requirements and a few challenges at the cafe. First, Pragma Group required concrete substrate surface coatings 120 millimeters (about 4 3/4 inches) thick, a luminous white base, application of intricate designs and a finish that would produce a three-dimensional look. Second, the finished surfaces had to be completely smooth and seamless, with no joints whatsoever. And third, due to the excessive sunlight that pours into the café through its ample window space, products that would reduce surface yellowing were essential.
To meet these key requirements, Preferred Specialist Services first chose a beige Elite Crete epoxy and a white polyurethane from Dubai manufacturer Corrotech Construction Chemicals to create the white background. Then, they chose to print colorful designs on vinyl material, apply them to the floors and emphasize several of the shades with Elite Crete's Reflector Enhancer. Finally, they chose Elite Crete's E100-UV1 Clear Epoxy to finish the floors, achieving the depth, seamlessness and antiyellowing effect the client needed.
The floors' colorful, fantasy-like graphics were created collaboratively by the installers, the client and Osama Shaar Décor designers, who were also responsible for the café's other interior design elements, Vaughan says. For a gender-appropriate touch, Vaughan says his team suggested the inclusion of a pink band of color that leads to the women's restroom and a blue band of color that trails into the men's restroom.
Vaughan and his crew kicked off the eight-week project by installing a fiber-reinforced concrete base 120 millimeters thick, allowing it to cure for 28 days, and prepping the surfaces with planetary polishers. Then, they applied two coats of Elite Crete Thin Finish, a premixed overlay that helped smooth the surfaces' irregularities, Vaughan says. They followed with one coat of Elite Crete's E100-PT4 Pigmented Epoxy in Beige and two coats of the white polyurethane, which Vaughan says was chosen for its quick drying time (40 minutes) and defense against the sun's rays.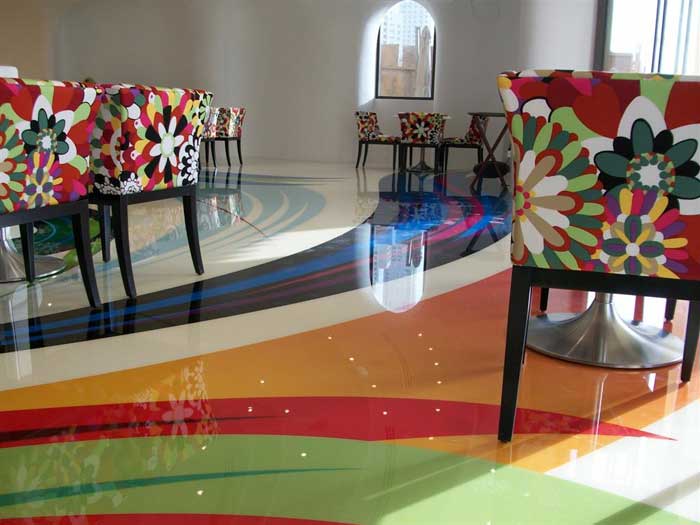 "A (white) epoxy would have taken six to eight hours to dry, increasing the risk of contamination," he says. "And the UV stability of polyurethane is far greater, reducing the risk of yellowing."
Next, workers spent 12 days applying the vibrantly colored vinyl "intrinsic decals," which were manufactured in pieces 4 meters (about 13 feet) long by Dubai sign manufacturer Champion Neon LLC, to the floors. Vaughan says two copies of each decal were ordered, just in case of application errors.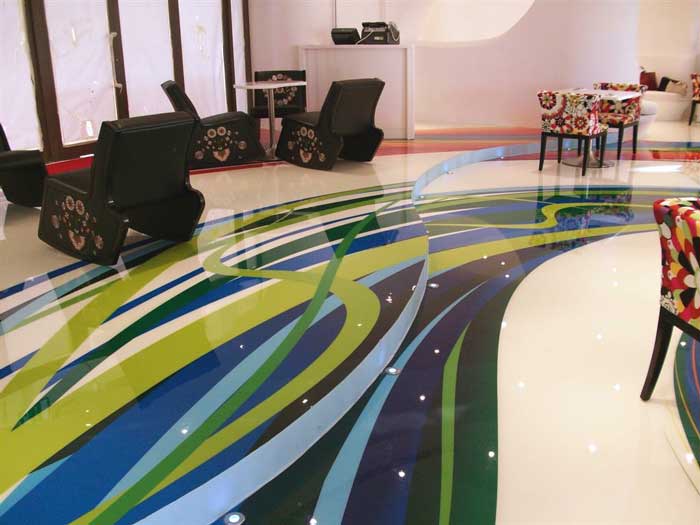 "This is where we experienced major challenges," he says. "Due to the size of the decals, maintaining a consistent, bubble-free finish was very, very difficult. (Ordering duplicate decals) turned out to be a good move as several sections were pulled up and reapplied due to bubbling and general distortion."
To add depth to the graphics that were printed on the vinyl decals, workers lightly coated the red, blue and green sections using Elite Crete's Reflector Enhancer in custom-blended red, blue and green shades, which emphasized and added a shimmering effect to those hues, Vaughan says.
The Reflector Enhancer, a nonmetallic admixture containing reflective nanoparticles that produce a three-dimensional look on epoxy floors, was developed "by accident" in Elite Crete's laboratories, says Ken Freestone, Elite Crete's director of technical engineering and market development.
"We were shipped pigments from some chemical companies and blended them together, and the result was a look you can't normally achieve with a mica-based metallic epoxy," Freestone says. "With Reflector, people think the floor is 6 inches deeper than it really is because of the effect."
With all the colors in place, workers then buffed the white portions of the floors, where vinyl decals had not been applied, using 80-grit sanding screens. Finally, they tackled the challenging step of covering every inch of the floors with Elite Crete's E100-UV1 Clear Epoxy. Workers poured the material in two 5-millimeter layers, waiting 12 hours in between.
"This was possibly the most nerve-racking stage of the floor as contamination from dust or insects can ruin the entire finish," Vaughan says. "The UV1 itself performs amazingly well and there was never any doubt about its self-leveling abilities. Once it cured, we were delighted to see that we experienced absolutely no contamination or foreign bodies."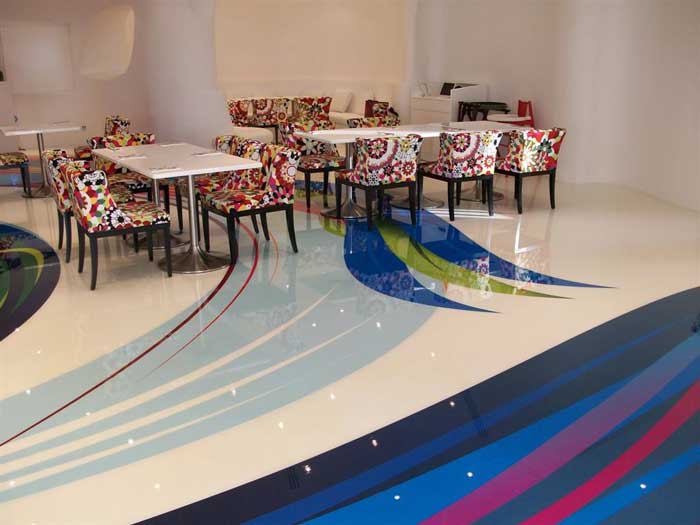 After 12 hours of curing, workers completed the job with four coats of National Chemical Laboratories' ONE Labor Saving Sealer/Finish.
In the year since it was completed, the vivid BoHouse Café floors have held up well in heavy foot traffic and attracted plenty of attention, Vaughan says.
"Aside from the usual scuffs associated with resin floors, it appears to be as good as the day it was handed over," he says. "It's been a point of reference for us throughout the region and has initiated so many inquiries. It's certainly a floor we are proud of."
Project at a Glance
Client: Pragma Group, Beirut, Lebanon
Decorative Concrete Installer/Designer:Karl Vaughan, Preferred Specialist Services LLC, Dubai, United Arab Emirates | www.pss.ae
Designer: Osama Shaar Décor, Dubai, United Arab Emirates
Scope of project: Two epoxy-coated floors with embedded vinyl "intrinsic decals" (6,400 square feet total)
Duration of project: Eight weeks
Material suppliers: Elite Crete Systems, Corrotech Construction Chemicals, Champion Neon LLC, National Chemical Laboratories Inc.
Materials used: Elite Crete Thin Finish, Elite Crete E100-PT4 Pigmented Epoxy: Beige, Corrotech Construction Chemicals white polyurethane, Champion Neon custom-made vinyl decals, Elite Crete Reflector Enhancer, Elite Crete E100-UV1 Clear Epoxy, National Chemical Laboratories ONE Labor Saving Sealer/Finish
Got more questions about your project?