Some people think this soaring 18-foot fireplace in a Modesto, Calif., has a leather-like appearance. But to its creator, Mat Rogers, it looks like a lakefront with the moon shimmering on the water as night falls and the tree line recedes from view.
It's pretty, poetic, and just what Gordy and Lynn Fluker dreamed would replace the old, featureless white stone fireplace that was installed when their home was built.
The couple's interior decorator, Jodi Jenson, came to Rogers, owner of Modesto-based Flying Turtle Cast Concrete, after seeing examples of his creative concrete work in the Flying Turtle showcase home (his own). She invited him to bid, design and build a new fireplace for her client.
Jenson suggested some colors she liked, and Rogers ran with it. "I had begun pouring against fabric for some other jobs and she liked the look of the texture," he says. "At the shop we integrated some of that technique and created a design rendering, which I presented with some color swatches to her and the owners."
At first the clients were reticent about the black, but Rogers explained how he would balance it with warm color and showed a small sample of how he would create a "watery" effect in the black. They approved it and the project went from there.
Rogers explains that there were three concrete techniques employed in designing and constructing this fireplace.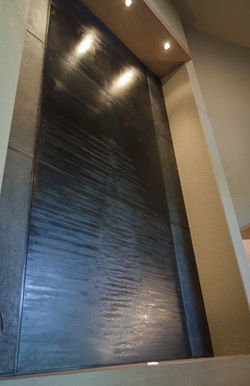 Fabric-forming the side panels
Twelve feet high when stacked and installed, the black panels on either side of the center were poured against fabric. They look somewhat like roughened metal or steel. After pouring and letting the concrete cure for two weeks, Rogers rubbed in Bronze powder from Blue Concrete to achieve a slightly warm, metallic shimmer. This black was completely different from the black of the center panels, Rogers explains.
At the major joints, the team placed cold-rolled steel buffed with steel wool. They wiped Black Magic Patina finish from Sculpt Nouveau onto the steel and waxed it with carnauba wax.
Each panel was poured in three 11-inch by 4-foot pieces. The steel was placed into "rabbits," grooves in the panels, and epoxied into place in the Flying Turtle shop. The steel rails kept the panels perfectly aligned when they were installed on-site.
Molding the center panel
The center panel consists of three blocks, each about 3 feet by 4 feet. "Each incorporates a subtle art technique achieved by carving the mold panel," Rogers explains. "Bits of charcoal and shards of clear glass were set into the pour, so when the casting released, it shimmered, like rippling water." The idea of making this dramatic black statement came after looking at the ceiling, which was very white and busy with lots of sheetrocked beams. Everything else in the room is white or very light.
"Instead of the really ugly white stone fireplace that existed, I wanted to make a powerful focal point which would make the ceiling irrelevant and pull your eye to the fireplace," Rogers says.
On the lowest of the three blocks, the one just above the mantle, where the concrete is brown, Rogers did what he calls "pour lining." To achieve this look he used the Lancelot 4-inch chainsaw attachment (from King Arthur's Tools) on a grinder — "a very, very scary tool," Rogers says. This enabled him to carve and grind a heavy horizontal linear pattern into the mold.
Then the mold was tilted and concrete was poured. "We waited a few moments, poured another segment, and so on. It resulted in the formation of linear striations, so when it came out of the mold it looked like striated concrete, layered one on top of the other. It gives it a more earthlike impression."
Using a variant of this mold method, a very subtle tree line was created along the top, across the uppermost panel. "In addition to carving the panel, when we poured it we set in flecks of charcoal and clear glass, so that when the casting was released it would have these subtle bits of glass embedded in the concrete that would shimmer horizontally," Rogers says.
They got the glass and broken mirror out of a dumpster in the back of a local glass shop, then hit it with a hammer to get the right sizes. Notes Rogers, "I did this on an earlier job when a supplier wanted $1,200 for a box of tempered glass bits. I bought a sliding glass patio door, hit it with a hammer and presto — plenty of tempered glass!
Pour-lining the surround
As counterpoint to the dramatic darkness above, the mantle, surrounds, arch below the mantle, and hearth are all colored with a marble-toned integral color from Davis Colors and given a satin finish.
In order to show off the moonlight shimmer on the length of the piece, the lighting had to be perfect, which proved to be a challenge.
Light shining upwards hits the little flecks of glass and mirror and encourages the feeling of looking at water. However, Rogers realized that anyone sitting on a couch would see the glare of the bulb under the mantle. "We were able to recess the bulb far enough into the underside of the mantel so as to hide most of the bulb and eliminate the glare."
To finish the job, Flying Turtle used an enhancing penetrating sealer — Miracle Sealant Co.'s 511 Seal & Enhance — on all the concrete. "We don't normally put a coating onto fireplaces, since nobody is going to eat off it," Rogers says. "The penetrating sealer gives it a more natural look and seals perfectly well for its use."
Did the somewhat reluctant clients like the finished project? Lynn Fluker wrote to Rogers: "We not only have a spectacular fireplace but we have a piece of ART. We put the whole design into Mat Rogers' hands and had no idea of what he was going to do. … To this day we see more and more hidden concepts in the design. Thank you, Mat."
Since finishing this project slightly more than a year ago, Flying Turtle has also created a bar in the same room for the Fluker's.
And on a more Hollywood note, they're about to begin a kitchen and powder room for actor Robert Redford after designing kitchen countertops and a fireplace for him a few years ago.
Project at a Glance
Client: Lynn & Gordy Fluker, Modesto, Calif.
Decorative Concrete Contractor: Flying Turtle Cast Concrete, Modesto, Calif. | www.flyingturtlecastconcrete.com
Designer: Jodi Jenson, Modesto, Calif.
Scope of project: Demolition of a stone fireplace and design and construction of a floor-to-ceiling concrete fireplace to act as a design focal point of a great room.
Project specifications: 18 feet high by 11 feet wide by 1 1/8-inches thick.
Most challenging aspects: Because of the 18-foot height, a scaffold had to be built to allow installation of the two 1-1/8-inch thick concrete side panels, which were 12 feet high by 11 inches wide, including the steel joints. Heavy!
Duration of project: 7 weeks, including deconstruction.
Crew: 6
Materials Used: Bronze color from Blue Concrete, marble integral color from Davis Colors, 511 Seal & Enhance from Miracle Sealant Co., Black Magic Patina finish from Sculpt Nouveau, Lancelot blade from King Arthur's Tools
Got more questions about your project?