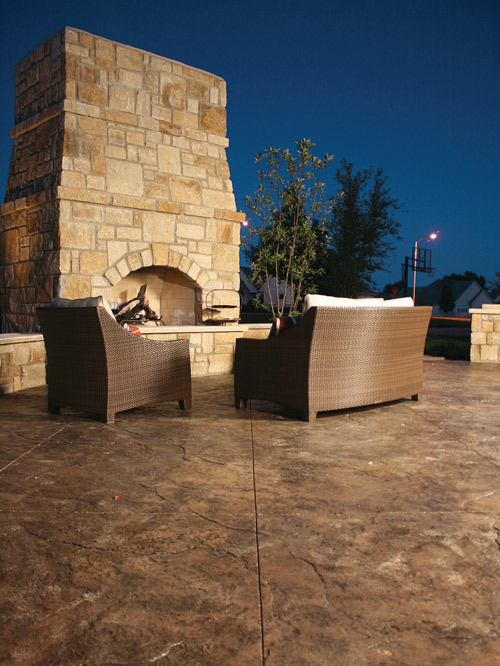 The advice Mike Denny offers to aspiring decorative concrete contractors is simple. "Underpromise and overdeliver," he says. "I've seen a lot of people do the opposite and it comes back to bite them later."
The president of Artistic Concrete Surfaces, an award-winning company in Olathe, Kan., Denny confesses that his commitment to quality sometimes drags on the business. "I'd rather lose money on a job instead of doing a job that didn't look right. I have a good reputation for making sure everything is done above and beyond what people expect. Unfortunately, this isn't always good for the bottom line."
On the other hand, it's great for repeat business.
Denny founded his own company in 2005 when he was just 22, forgoing college to become his own boss at an early age. "I knew I wanted to own my own business and couldn't wait to get started. I used to skip high school to go to work," he says. "And I also would sneak onto big commercial sites to watch flatwork crews ride on trowels and place concrete with laser screeds. I guess I've always been fascinated by concrete."
He comes by this fascination honestly. "My father and I have been working next to each other ever since I was old enough to bend a nail," Denny says. Back then, his dad, Don Denny, who is now his partner at ACS, was a general contractor, a custom builder with a penchant toward concrete.
When the younger Denny first opened his business, it largely dealt with concrete placement for homeowners and local businesses, with an emphasis on stamped and colored concrete and overlays, which still remain the company's bread and butter. At first, Don only offered his guidance and helped out when needed. But business took off after the first year and he soon came on board full time.
As time progressed, Mike headed up sales, marketing, designing and various office duties while Don managed the crew in the field. "And it's stayed this way ever since," Mike says. However, he adds, he still schedules time to go daily to every one of their jobs. "It's very important to me to keep involved in our projects. At one point I got away from this and I noticed a major disconnect between me, the customer and the project." And he didn't like the distance.
The power of 3-D
Denny, whose company has about 20 employees, diversified the business back in 2008 when new construction started to drop off and outdoor living spaces began to gain popularity in the Kansas City area. "We reconfigured our marketing to offer not only concrete but a full design/build contractor service for anything outside the home," Denny says. Within a few months, ACS was buried in work.
"Needless to say the old spray-paint-on-the-ground method of designing a job would no longer suffice," Denny says. He subcontracted with architects to help design the larger, multifaceted projects — but they all worked too slowly, he says. To remedy this problem, he literally decided to take matters into his own hands and learn how to use AutoCAD.
While it took more than the few days he predicted it would, he eventually became proficient with VizTerra, a 3-D outdoor-living design software program. "I started turning out three to five additional designs per week and our closing ratios doubled," he says. With extremely lifelike renderings, "Our customers can see what a project will look like before it's even started."
Fire, water and lighting
Several years ago, Denny began tinkering with fiber optics in countertops, which he now views as old hat. He says he's most attracted to decorative concrete projects that others don't want to attempt, such as stamping concrete that also contains fiber optics or installing fiber optics in slab-on-grade.
"I love figuring out ways to incorporate new things into concrete, whether it's fire, water or lighting. The more difficult, the more it draws my attention. I love running across clients interested in trying new ideas. It's fun to experiment when someone else is covering the costs."
For instance, in 2012 ACS completed one of its largest residential projects in company history. To the tune of about $600,000, the project included a gunite swimming pool, pool house, swim-up bar with convection-cooled cup-holders, deck laminars, fiber-optic concrete, flagstone reef-stamped concrete patio, exposed aggregate stairs, waterfall, concrete water slide, outdoor kitchen and pergola.
There's little demand and a huge learning curve for these elaborate projects, he cautions. "Realistically, there is probably only a handful of these jobs that we actually turned a profit on." He urges contractors to carefully research what they are getting into when entering uncharted territory. "If not, things can go south very quickly, and when concrete goes south, it usually costs a lot of money."
Recently, an architectural firm subcontracted ACS to create an accurate presentation in concrete of a constellation with about 500 stars and planets for the Dick and Dotty Hanger Family Preserve, a small state park in Shawnee County, Kansas. "We'll be using different gauges of fiber optics for the stars depending on their size, and we'll use an assortment of transparent gemstones to represent different planets."
The completed project will feature a walkable, exposed aggregate concrete surface, complete with plaques that offer facts about the individual stars and planets.
Learn before you earn
Denny, who's certified as a Master Concrete Finisher by the American Concrete Institute, says that to succeed in this business you need to learn as much as possible about the products you're installing.
"If I could go back in time, I'd rather learn the easy way than the hard way (through mistakes on a job). There are so many events and seminars for concrete contractors that there's no good reason why someone shouldn't take advantage of some of them. You can always learn something new."
To keep up with the latest concrete trends and techniques, Denny participates in trade associations. He's been an active member of the American Society of Concrete Contractors for going on six years. He's also on the board of the Concrete Promotional Group of Greater Kansas City and chairs its Decorative Concrete Board, for which he helped create a specifiers' guide for both decorative concrete and polished concrete placement.
artisticconcretekc.com
Got more questions about your project?