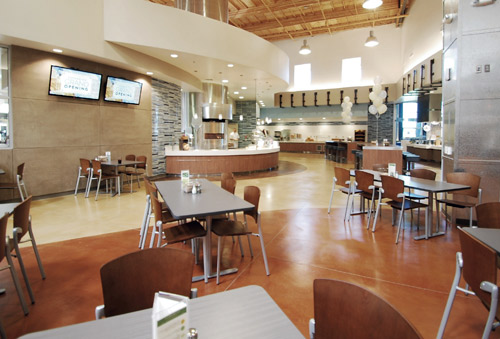 Contests that showcase handsome decorative concrete projects are helpful twofold — they promote quality craftspeople and they provide bona fide examples for companies that make or distribute the products. Either way, they're good for business.
"Our contest provides us with material we use for a variety of marketing efforts," says Cam Villar, director of marketing for L. M. Scofield Co., noting that the company uses pictures in print ads and posts them on Facebook. For their grand prize winners, Scofield makes professionally designed fliers that the winners can use to market themselves.
During the company's recent contest, Villar posted a picture on Facebook of an artist painting a huge flower on a polished concrete floor. "And within two days, that picture was shared 79 times from our page and 98 times from Concrete Decor's," he says. And who knows where it went from there.
Quality photos are the most important thing to nail down if you plan to garner some of this contest exposure for yourself.
Hiring a professional photographer can be well worth the investment, Villar says. "Budget $500 to get photos professionally taken. Then you know you will have quality photos to use for marketing."
When budgeting, keep in mind that many contests, like Scofield's, don't have entry fees. "We don't charge anything to enter our contest. And if you win, you'll get a lot of free exposure from magazines that feature the winners and your pictures will be posted on their websites," Villar says.
Also, get customers to sign release forms giving permission to use photos of their property. "We have release forms contractors can use if they need one," Villar says. "Sometimes customers don't want their names used but will still allow you to show the project."
Top-notch photography is essential to winning a decorative concrete contest, Villar stresses. "You can have the most beautiful floor but if you take a picture when the walls aren't painted or there's a ladder or bucket in the background, you're not going to win. If it's an outside patio and there are no plants, just dirt, or there are forms off to the side, you're not going to win. People expect quality photography these days and you have to be mindful of what you're shooting."
And don't think that somebody is going to use Photoshop to get rid of a rag or extension cord you left behind. "I can't tell you how many potentially beautiful shots were ruined because someone neglected to remove these types of items."
One of the biggest mistakes contractors make when taking pictures themselves is setting the camera to take the maximum amount of pictures a memory card can store. "These little shots look fine on a website but print publications won't run them," Villar says, because the low resolution results in fuzzy photos.
Don't worry about a larger-sized picture limiting your sharing capabilities. In the past, load times for the larger attachments were very long, "But today you can easily email 10 MB." What's more, online storage sites such as Dropbox and YouSendIt allow you to upload big-sized files so contest runners and print publications can obtain them.
Photo Tips
• Get professional photographs taken when possible.
• If taking pictures yourself, set the camera to take the highest-resolution photos it can. Bigger is always better. If you're not sure how to do this, ask the nearest kid to help you.
• Pictures taken after the location is furnished, open or in use are best.
• If taking pictures when walking off the job site, clean up trash and remove equipment first.
• For outdoor shots, sunny days are bad. Cloudy overcast days are best.
• Take a lot of pictures and send them all. Too many is better than too few.
• Do not send blurry or out-of-focus pictures.
• Take some close-ups and take some long shots. Try to capture all angles.
Got more questions about your project?