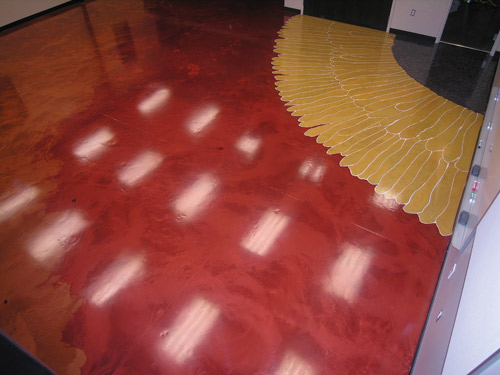 What better place is there to experiment with various decorative concrete techniques than in a high-school art classroom?
That's the question Troy Lemon, president of Cornerstone Decorative Concrete, asked himself six years ago when he came up with a plan for the classroom in the high-school section of Calvary Christian School, in his hometown of Holland, Mich.
He was just itching to try out some of the things that Bob Harris of the Decorative Concrete Institute in Georgia had showed him. After Lemon finished a class on decorative overlays, Harris pulled him aside and showed him some metallic colorants Harris had been playing with. Soon after, Harris sent over some samples so Lemon could play on his own.
And Lemon liked his results.
So a little later, when the opportunity came up to do some pro bono work for the Christian school, he showed the art teacher, the principal and the board of directors some metallic sample boards and some rough sketches of what he planned to do. "And they got really excited and told me I could do whatever I wanted," he remembers. "Sometimes when you're working with a board, it's like pulling teeth to get them all to agree to something. But this project was decided on in less than an hour."
It would be his first real experience with metallics, a material he's since mastered. (His metallics work was featured on the cover of the July 2012 edition of Concrete Decor.)
Putting the metal to the petal
After priming the floor and letting it cure, Lemon and his three-man crew started at the door and worked their way into the classroom. First, they troweled an area with 10 to 15 mils of Key Luster Metallic Antique Silver, a dark silver metallic epoxy blend from Key Resin Co. Then, wearing spikes, they randomly squirted heavy lines of black epoxy using plastic ketchup bottles while the silver was still wet, allowing the black squiggles to flow and form nondescript shapes. Beyond this section, the men squirted a lighter application of the black epoxy to form overlapping circular shapes. They also applied additional silver as needed.
"As we went out, the gray and black section became more defined," more closely resembling the look of tightly packed sunflower seeds, Lemon says.
As a final touch, Lemon troweled a color-shifting product from the Decorative Concrete Institute called Viola Fantasy over the silver section after it had dried. "When you walk by, the silver changes into various hues ranging from purple to brown," he says. Harris calls it a "flip-flop" effect.
Next up was the section Lemon devised to look like the yellow petals of a sunflower. He mixed silver metallic powder made for plaster finishes with a white-tinted epoxy to create a pearlescent white. He put this mixture into a ketchup squirt bottle and outlined the petals. Then he and his men painstakingly filled in each petal with a very yellow metallic coating, Key Luster Metallic Brass.
Finally, the section that looks orange and red was poured using Key Luster Metallic Copper and Bronze. While the coatings were still wet, "we pulled them back and forth into each other so we would get uneven lines," Lemon says. They also spritzed the surface with acetone to get a hammered look.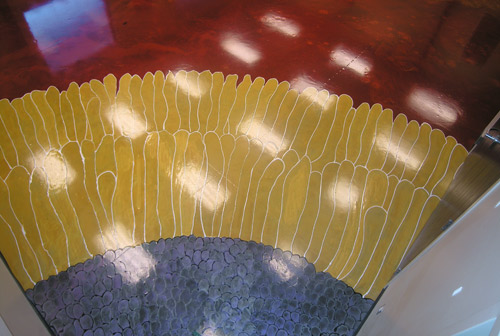 In hindsight
The classroom project took about four days to complete, Lemon recalls: a day of prep, a day and a half for the yellow section (ouch!), a half day for the other sections and a day to "clear it out" (put on the topcoat).
If he had it to do over, he would have done the yellow section differently. "We outlined the petals first and then filled in every one by hand. That, literally, was a pain in the butt," Lemon says. "Our muscles started aching after an hour of having to squat and paint. We should have done a base color first and then went over it with the outlines. That would have saved a ton of time." He estimates that it took a whopping 14 man-hours to color the petals.
What made the process even more uncomfortable, he continues, were the crew's platform spike shoes. "They didn't move with our feet at all," he laments. "We were miserable." Since then, they've discovered flexible spike shoes from Midwest Rake Co. "And they make such a difference."
Lemon was recently called back to the project he completed in 2006 to sand down scratches caused by classroom chairs and apply a new clear topcoat. "We just sanded and recoated. There were no repairs," he says.
All in all, the floor today looks just as good as it did on day one. "It's a blessing that we're able to do fun things and be creative while doing them," Lemon says.
"And while we appreciate all the attention we get from using these amazing products, it wouldn't be possible without the chemists behind them. They're really the ones responsible for all this stuff and they never get any credit."
Project at a Glance
Client: Calvary Christian School, Holland, Mich.
Decorative Concrete Contractor: Troy Lemon, president, Cornerstone Decorative Concrete, Holland, Mich. | www.cd-concrete.com
Scope of Project: To finish a high-school classroom floor using metallic coatings and various manipulation techniques
Most challenging aspect: Staying squatted so long while filling in the yellow petals
Products Used: Key Luster Metallic epoxy in Antique Silver, Brass, Bronze and Copper from Key Resin Co., Viola Fantasy colorant from the Decorative Concrete Institute, polyurea from Versatile Building Products
Got more questions about your project?