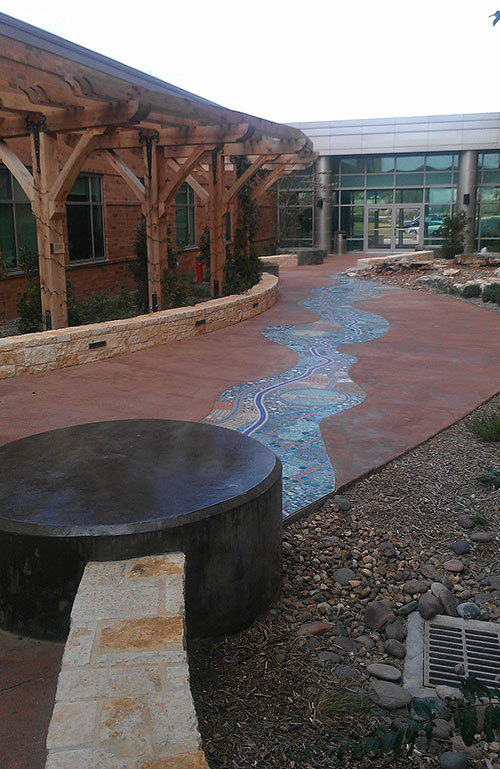 Wanting attractive outdoor concrete that would hold up to heavy use, San Antonio's brand new Mission Trail Baptist Hospital called upon Ramiro Chavez and San Antonio-based All Ready Services.
"They predicted a high volume of traffic and didn't want to have to seal the surface all the time," Chavez says.
In addition to a durable surface, the hospital wanted to feature a river theme representing the San Antonio River and utilize different textures and colors covering almost 26,000 square feet of concrete.
To create the river, Chavez and his team embedded glass into the concrete. Their river winds through the courtyard, in front of the emergency room and past the front of the hospital.
For the rest of the job, All Ready Services applied a variety of textures to the freshly poured concrete using a spray-and-etch method, smooth troweling and a light broom finish.
"That was probably the biggest challenge, was making it look pretty and still be functional. It has to stand up to a lot of foot traffic and vehicles," Chavez says.
The surface was then colored with a combination of Water-Based Stains and Fast Stains from Westcoat Specialty Coating Systems. A layer of EC-95, a polyurethane topcoat also from Westcoat, sealed the job.
Although the project has been complete for less than a year, the Mission Trail Baptist Hospital is so pleased with the results that they have contacted All Ready Services to complete a second phase of the project.
www.allreadyservices.com
Got more questions about your project?