When J&M Lifestyles LLC was contacted to create a hunting-lodge theme in a New Jersey home, product manager Jeff Kudrick figured the creative possibilities were endless.
Kudrick did work on the home's kitchen countertops and two bathrooms, but it is the trout sink in one of the bathrooms that leaves the biggest impression.
"Jeff thought some sort of physical detail in the sink would match the hunting lodge theme of the house and blend well with the textured tiles in the shower," says Michelle Radley, managing partner for J&M Lifestyles.
The sink, which contains three-dimensional depictions of a brook trout and a rainbow trout, was created by carving a mold from clay.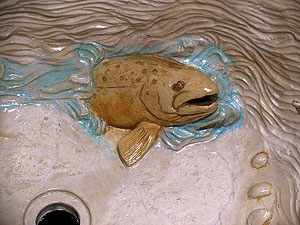 Originally, Kudrick had planned on simply creating a relief carving of a trout and placing it in the back of the sink. However, the project quickly took on a life of its own. "It's really hard to make clay perfectly smooth," Kudrick says, "so I started adding water and stones."
Once the water and stones were added, he decided the relief was still too boring and the sink needed imagination.
"I went over and above just because I didn't think the relief carving would do it justice," says Kudrick. "We had the opportunity to do something that was very special."
Kudrick went all out, even adding a fly lure and fishing line near the mouth of the large brook trout.
Because of all the detail in the sink, one of the challenges Kudrick faced was making sure water wouldn't collect anywhere. Also, he had to make sure the mold would be strong enough to keep its shape despite the weight of the cement, but also be flexible enough to pull off and not ruin the mold.
Both Radley and Kudrick say there was a lot of finger-crossing when it came time to pour the mold. But it turned out perfect.
A subtle acid stain was given to the scene to give it the final touch.
Now that the sink and the rest of the lodge are complete, the owners couldn't be happier with the work. "The client and the designer both went out of their way to call and leave detailed voice mails to tell us how impressed and happy they were to have this artwork in their home," Radley says. "That is what is most satisfying for us, to have people see it as art."
www.jmlifestyles.com
Got more questions about your project?