Decorative concrete contractors are an inventive lot. They are always finding ways to add sizzle to their work. Sometimes they improve on time-honored practices. Other times they come up with entirely new ideas and the methods for making them happen. These are just a few examples of unique upsells that demonstrate this industry's outstanding creativity. Some of these examples are unique finishes, as you might expect. Others go much further.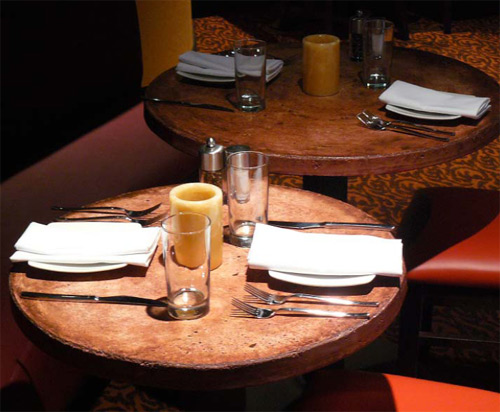 Artisanal concrete is a treat for the eyes, but what about the other senses? Bill Kulish, owner of Quintechs LLC in Wilmington, Del., and self-described "foodie," asked himself that question. He put his chef's skills to work to devise a way to add delicious-smelling, long-lasting fragrances to concrete.
Kulish started experimenting with vanilla about five years ago. His current "recipe" is to cook black Madagascar vanilla beans in water, simmering them into a thick oily substance. "It's like a reduction for a sauce," he says. Then he adds a scent-free carrier like isopropyl. Smaller pieces, like sculptures or stands for animal dishes, can be immersed in the mixture right in the pot and left on low heat for three or four hours.
For larger surfaces like kitchen counters or tabletops, Kulish puts the concoction in a spray bottle. He sprays the underside of the cured piece before it is installed because the oil could interfere with a countertop sealer. The natural wicking ability of the concrete pores draws the mixture into the slab. He recommends spraying multiple times, paying special attention to the edges that will become the counter overhang, as that is where the underside is most exposed. He also recommends concentrating the scent in the part of the counter that will be over the dishwasher or near the stove, because warm concrete releases more of the fragrance.
Building on his early successes, Kulish has branched out into other fragrances. For example, thyme or lavender is nice for a powder room or a bedside table. "Any essential oil will do," he says, "and they are already reduced, so they only need to be diluted with alcohol to be ready to use." Essential oils can be purchased at bath shops or home decorating stores.
The smells of hot drinks are popular too. Kulish made two round "coffee tables" using a Buddy Rhodes colored brown with an Elite Crete integral color. Once they were in the forms, he added a cream-colored mix and stirred it in circles through the brown to get the look of cafe au lait. Then he completed the effect with a scent created from an espresso reduction. Another time he combined coffee and cocoa scents. "Concrete can feel cold, hard and boring," he explains. "These scents make it warm and fuzzy."
Of course adding scents only increases the importance of samples and mock-ups. Kulish has samples of each of his scents in the Quintechs showroom. "Customers look at me like I'm a mad scientist when I invite them to smell it," he admits. "But once they do, they love it. They ask, "Why doesn't everyone do this?'" He has never been asked to try to remove or mask a scent. Usually he is asked to make scents stronger. In these cases, or if the scent starts to wear off, another round with the spray bottle usually does the job.
Family and guests gather in a kitchen full of wonderful aromas. People love to luxuriate in a bathroom or spa smelling of relaxing herbs. Now they can enjoy these scents even when there are no cookies baking or there's no fresh potpourri on the shelf.
Got more questions about your project?