For years, officials with the Clark County Department of Aviation knew Terminal 1 at the McCarran International Airport in Las Vegas was in need of a fresh concrete overlay job. Wide, deep expansion joints placed long ago posed dangers for travelers, and the airport was paying for it, according to Stephen Ziegler, sales and marketing manager for RPM/Belgium Group's Alteco Polymer Systems, a key material supplier for the project.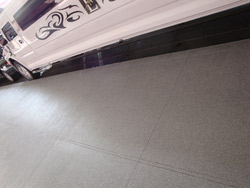 "Terminal 1's exterior concrete had some severe spider cracking. However, it was the 40-year-old joints throughout the concrete plazas (just outside the terminals) that were driving the Clark County Department of Aviation wild," Ziegler says. "It was breaking shoe heels, taking the wheels off of suitcases and sometimes causing bodily harm. The airport was compensating claims worth thousands of dollars every year with no end in sight."
The Department of Aviation requested a nonslip, monolithic acrylic overlay in a grey-blue color — 200,000 square feet of it, to go indoors and out. The project included surfaces in Terminal 1's parking lot connector bridges and exterior plazas, including the shuttle, limousine and car islands, as well as Terminal 3's exterior departure and ticketing area and lower parking-lot connector bridges.
Las Vegas-based Stuart & Sundell Concrete refinished the surfaces over a period of roughly six months, finishing in June 2012.
Using Alteco Polymer Systems' PUMA (polyurethane methylmethacrylate) resin Matacryl, a waterproofing, crack-suppression membrane system, and the manufacturer's acrylic MMA (methyl methacrylate) Monacryl concrete overlay system, Stuart & Sundell workers made a 200-square-foot sample of the proposed concrete overlay.
The sample was installed at the busiest Southwest Airlines exit door, and during a nine-month test run, performed well under the feet of an estimated 40,000-50,000 people daily, Ziegler says.
To execute the job, the installation team shotblasted the existing concrete, re-engineered the joints in the concrete, primed the surface with Monacryl Primer 101 and filled the joints with Matacryl LM. Next, they applied Matacryl 230, a crack- and joint-bridging membrane, and two coats of Monacryl Body Coat 215 with a full broadcast of trowel-grade colored quartz from Estes. Finally, they sealed the surface with Monacryl 319, recut all joints using diamond blades, and added another coat of the sealer.
Working amidst high winds, fluctuating temperatures and numerous engineers who were on-site to oversee the job, the team successfully got the concrete deck surfaces at Terminals 1 and 3 in tip-top shape for future swarms of Las Vegas visitors, including 2013 World of Concrete attendees.
"Watching the flow of this large crew complete somewhere near 200,000 square feet was the most interesting part of the job," Ziegler says. "In a way it was like watching a seamless dance."
www.stewart-sundell.com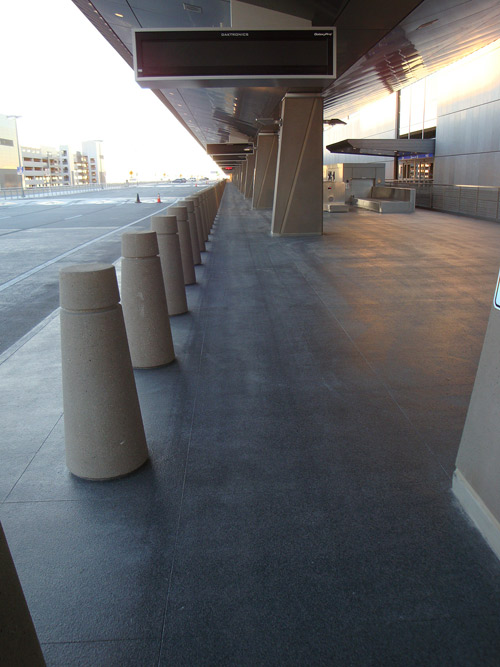 Got more questions about your project?