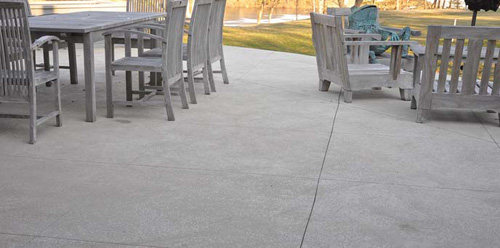 Step-by-step instructions on how to make concrete look like travertine. Intended to mimic the look of travertine, this microexposure finish leaves the surface with a subtle texture that complements integrally colored exteriors beautifully.
Submitted by: Hyde Concrete LLC, Annapolis, Md.
Ingredients:
Any air-entrained concrete mix
Prism Pigments Five for Twenty Concrete Colors: Wheat Light
Grace Construction Products Top-Cast 05 top-surface retarder
Elite-Crete Systems CSS Emulsion sealer
Directions on how to make concrete look like travertine:
Combine your air-entrained concrete mix and Wheat Light integral color and mix thoroughly.
Place the concrete in the desired area. (This finish is best for exterior projects such as patios, sidewalks or paths.)
Once you've placed the concrete, finish the surface with a steel trowel. Be careful not to overwork the surface, so your concrete retains as much of the entrained air as possible. You want an even surface without too tight a finish.
To get the slightly eroded, natural stone look you're after, the next step is to apply a surface retarder. As soon as the concrete is strong enough to walk on, spray a coat of Top-Cast 05 across the surface. You can experiment with your spray pattern and coverage rates to achieve different effects, but the look pictured here was done by spraying an even coat across the entire surface at a coverage rate of about 50 percent.
Let the retarder sit on the surface overnight, and then come back and power-wash the surface thoroughly. At this point you'll also want to saw-cut your control joints and any other decorative cuts you desire.
Let the surface dry thoroughly, then seal with two coats of the CSS Emulsion sealer.
---
Looking to replicate this look?
Offered by Concrete Decor Store
Got more questions about your project?