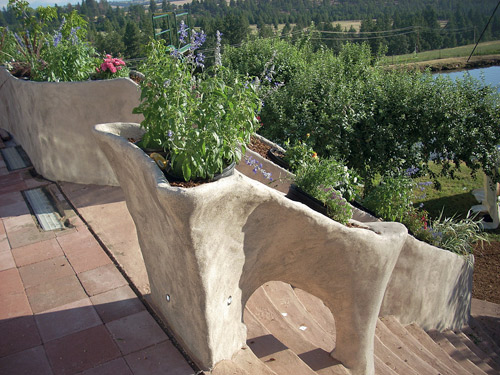 This sweeping outdoor staircase and wraparound deck at Azure Standard, in Dufur, Ore., is more than just an update to an old warehouse on a rural Northwest farm. It's the latest chapter in the story of a business that has spanned four generations and was built on a strong foundation of organic farming, sustainability and close-knit family ties.
Azure Standard, a natural foods grower and seller that runs one of the largest biomass generators on the west coast, got its start in 1971, when the business' founding family, the Stelzers, stopped using chemical fertilizers on their farm's crops. The business officially launched in 1987, soon after the family expanded their organic and natural food offerings to meet the demands of their growing customer base.
They renovated the farm's original warehouse — the site of the new staircase and deck — 20 years ago, adding a second building and turning the space into a distribution center. Fifteen years later, they transferred their distribution activities to a new location, leaving the original space abandoned, explains Benjamin Brewer, a third-generation Azure Standard co-owner and project manager. Brewer says the staircase and deck, constructed between May and July 2012 for a family member's wedding, has transformed the backside of the old, two-story building into an inviting special events venue.
"We wanted an upgrade that would be customer-friendly and pleasing to the eyes, and to turn it into a place where we could hang out and hold events," Brewer says.
The Azure Standard family met Robert Merrill, a Northport, Wash.-based independent consultant, designer and installer who specializes in sustainable construction, when Brewer invited him to tour the facility and examine the biomass generator. When it came time to plan the staircase and deck project, Brewer reached for Merrill's number.
Going against the grain when it comes to typical staircase designs, Merrill says he and his client chose a large, curvaceous shape to match the unique business philosophy of Azure Standard.
"The predominant thought was to get away from the box look," Merrill says of the design. "An organic appearance was needed to reflect what the family and their business stands for. For example, the railing is a large, sweeping feature that looks alive."
To build the staircase and deck, Merrill and a crew of Azure Standardites (who, having built their own homes and farm structures, had ample construction experience) constructed a post and beam skeleton in a pattern of opposing arcs, to which they attached a rebar grid. David Brow, a welder with a background in boat construction, played a key role in building the staircase and deck foundation, Merrill says. The final step in the foundation construction process was the installation of SpiderLath, a fiberglass lath system that Merrill says is more lightweight and durable than other mesh products.
The ferrocement product used to coat the structure's foundation can't be purchased in a store — it's Merrill's own custom mix, which he makes using cement and natural materials such as sand, fibers, lime, and in this case, soil taken straight from Azure Standard farmland.
"The cool thing about working with Bob is that we could use our native soil (in the ferrocement product)," Brewer says. "A good percentage of the dirt we used came right off the farm."
The crew sprayed on Merrill's ferrocement using a mortar and stucco sprayer manufactured by Mortarsprayer.com, then troweled the material smooth. The staircase has room underneath that serves as storage space for the business, and the overall structure gave workers a lot of surface area to cover with material (about 4,000 square feet total), Merrill says.
Adding character to the structure are round windows in the walls that support the wraparound deck, which Merrill bordered with curved pieces of Styrofoam coated with his ferrocement, and the staircase's wide railings, which double as plant and flower beds. He used a brick red powder pigment to add a layer of solid color to the steps, and he installed colored pavers and tiles in a cross pattern on the deck to symbolize the group's commitment to Christianity.
Throwing a curve ball into the process was the location of a fruit tree that had been planted by a second-generation Azure Standard owner. Because of its close proximity to the building, workers were forced to split the bottom portion of the staircase into two separate staircases so as not to interfere with the tree. Rainwater drainage was also a consideration in the structure's design. Brewer says the deck sits on a slope to allow for water runoff. Several drainpipes were installed on the edge of the deck and a roof membrane was added underneath the deck's pavers and tiles.
At the tail end of the project, the crew worked 14-16 hour days, finishing just in time for the wedding, the remodeled venue's first official event, on July 14, 2012. This summer, Brewer says the company plans to have a similar structure built on the front side of the building.
"This was a family dream, and unlike for most of my projects, a lot of family members were involved in a consensus-based decision-making process," Merrill says. "They were most gracious and as I met more of them, the story of a hard-working group of people unfolded before me. No doubt, I was blessed to be a part of their dream come true."
Project at a Glance
Client/Designer/Installation Crew Provider: Azure Standard, Dufur, Ore.
Consultant/Designer/Installer: Robert Merrill, Northport, Wash.
Scope of Projects: A ferrocement staircase and wraparound deck with a surface area totaling 4,000 square feet
Timeline: Two months
Products Used: Merrill's own custom-mixed ferrocement system, Mortarsprayer.com Mortar and Stucco Sprayer, SpiderLath fiberglass lath system
Got more questions about your project?