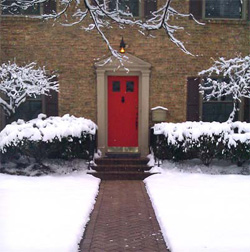 Have you come across clients who are considering polished, stamped or stained concrete flooring, but who hesitate because concrete is a naturally cold surface? How about clients that love the look of stamped concrete for a walkway, patio or driveway, but are worried about the potential havoc that a snowplow or melting agents can have on a stamped surface?
There are two kinds of radiant-heat solutions available to address these issues: hydronic and electric heating systems. Either solution can be a perfect way to satisfy your client's needs, adding revenue and profit to a project.
Hydronic heating systems are best suited for large areas. To install them, workers embed specialized tubing in a concrete slab or in a thin concrete mixture over an existing subfloor. Water (or an antifreeze mixture) is heated by a boiler and pumped through the tubing, warming the concrete. A hydronic heating system is an excellent choice for a very large area or when there is an existing boiler that can be utilized for heating the water. It is not economical in small areas, it can be very complicated to install, and it requires long-term maintenance. In general, hydronic systems require a professional design and an experienced crew to install.

When heating smaller areas such as a bathroom, kitchen, patio or sunroom, an electric heating system may be the best solution for your clients. Electrical heating systems tend to be much simpler to install and do not require long-term maintenance. Electric heating cables can be designed by the company you decide to purchase from, and they can be installed easily with a little help from an electrical contractor.
Once you've decided which system is best for your client, you have one more hurdle to jump. There are a myriad of additives, stains, sealers and coatings that you could use during your project. Which of these are compatible with the heating solution you are working with?
The simple fact of the matter is that most decorative concrete products and methods are compatible with both hydronic and electric heating systems. That being said, there are so many choices available that it makes sense for you, or the supplier of the heating system you choose, to spend some time talking to the manufacturers of the decorative products you use. Once you have decided on the combination of products that you need to give your client the perfect look, it's time to pick up the phone. Most manufacturers are very responsive when you call their technical line with questions, as they want their products to be used in as many projects as possible.
Next time you come across clients who are interested in decorative concrete but concerned about the natural coldness of concrete indoors or the complications of removing snow outside, hopefully, you can turn those concerns into an opportunity. Your clients will enjoy the beauty of their new floor with the added enjoyment of the warmth that radiant heat brings. Or, they might get a stunning new walkway and drive that they never have to shovel or plow.
For your part, you'll enjoy some added profit margin and the satisfaction of a job well done.
Got more questions about your project?