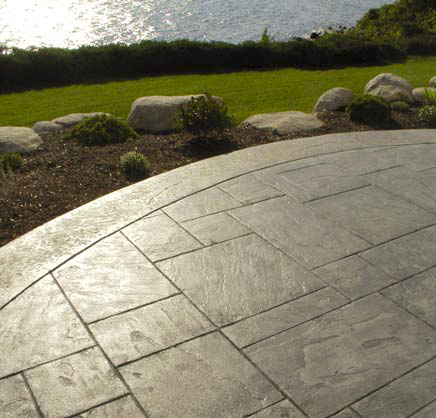 Michael Littlefield founded Mlange Studio in 2006, so he could transition his business away from stamping and into interior applications, furniture and decor.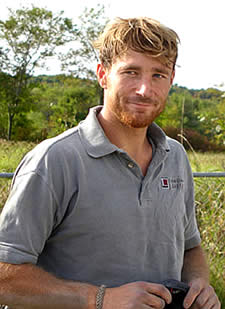 Michael Littlefield's first close encounter with concrete happened in the spring of 1980 when he was just 5 years old. His family was building a new house, he remembers, and he was mesmerized by the goings-on of the concrete contractors as they poured the garage floor.
"I had never seen anything like it. I was fascinated with how the concrete flowed out of the truck," he says.
For the rest of the day, he kept sneaking back to check on the floor. "I kept touching it with my fingers as it set. I suppose it was a little obsessive," the Maine native admits, adding: "Not much has changed."
Back then, just like now, once he touched the liquid stone, he couldn't keep his hands off of it. Today, he is the owner of Custom Concrete Design, a company he founded in Wells, Maine, almost 10 years ago.
Finding his niche
When Littlefield was 15, he worked for his older brother's flatwork company doing pool surrounds, garages and basement floors. He continued the job in the ensuing summers and during college breaks, mastering the basic skills.
After two years of studying business finance at the University of Maine, he decided he wasn't cut out for a white-collar job, being that he was, as he says, "more of a hands-on type of guy." Rather than immediately returning to work for his brother, he decided to commemorate the break and spend some of his hard-earned money on a backpacking trip to Australia and New Zealand.
Four months later when he returned home to Maine, Littlefield was up for another challenge. While again working for his brother, he discovered decorative concrete was in demand and no one in the area near his small town in the coastal Northeast was offering those services. "I had been around the product enough to know what was lacking in the industry, so I decided to break away and try something creative and new," he says.
Before starting his own business in 1998, he was fortunate to be invited to Illinois to work with a company that specialized in stamped concrete, and lucky enough to be coached by one of the masters, Steve Johnson, before Johnson went to work for Solomon Colors. "He's helped me out of a lot of jams over the years," Littlefield says, adding: "When first getting into the industry, I highly recommend having a mentor — someone who has seen and dealt with it all."
Getting down to business
In addition to Custom Concrete Design — Littlefield's company that specializes in stamped concrete — there's Mélange Studio, which Littlefield founded in 2006, so he could transition his business away from stamping and into interior applications, furniture and decor. Mélange offers creations such as concrete countertops, tables, lampposts, sinks, fountains and fireplace surrounds for residential and commercial applications. "Every piece is one of a kind," Littlefield says.
He set up this new business because he was getting tired of the repetition of stamped concrete. "Stamping in the Northeast has taken its toll on my body. I needed to pursue a creative outlet that allowed me to work year-round and gave me the freedom to explore the product in a controlled environment."
Littlefield says his companies were founded on the philosophy that in nature, all matter takes unique and individual forms. He strives to translate that into all of his work. "I'm fascinated with the idea of building something original, indestructible and incredibly unattainable by the means of the average individual," he says. "Thought, meaning and permanence, that's the level of work I want to do — that's the mark I want to leave."
His goal now is to create products that are more natural-looking, with less of a synthetic finish. "I want my designs to show movement and flow — to represent the product's mostly organic composition," he says. "I'm trying to get away from making concrete look like something it's not and, rather, celebrating it for what it is."
Creating furniture is really rewarding, he says, and it allows him to really push the limits of what concrete can do. "I really enjoy creating the illusion of mass, like coffee tables that look mammoth. Though they are heavy, our creative mold-making techniques actually make them quite manageable."
Between both businesses, Littlefield employs between two and five employees. "We keep it small because I'm on every job and I'm limited to how many places I can be at one time. This has hindered the growth of the business," he admits. "But it's hard for me to let go and allow someone else to do the work."
The work will be hard, he continues, but challenging and rewarding. "You're in for a beating and you will have to make sacrifices," he says, adding there are days he's so involved that he doesn't take breaks or stop to eat, so he can finish a project.
He also offers this advice to those just getting started in the business: "Be sure to have a good accountant, a great lawyer and an amazing masseuse."
A complex relationship
Littlefield describes his relationship with concrete as complex. "There are times that we argue," he explains. "Sometimes it doesn't want to cooperate with me. When I think I have a handle on the product, it surprises me once again. When I think I've finally got it figured out, then something goes wrong and some new obstacle arises. Concrete is a very rewarding product to work with, and I'm not satisfied unless we're getting along."
In many ways, Littlefield continues, he feels like he's competing with concrete — almost as if he's in a race. Sometimes, he's just trying to keep up with it. Other times he's trying to get ahead of it.
And still other times, he's trying to conquer it, trying to make it do something it hasn't done before, trying to make it take a shape that's out of its comfort zone.
Over the years, the relationship has mellowed. "I'm much more relaxed when the truck pulls in than in the past," he says. "I used to feel very anxious."
The night before a job, he recalls, he'd lie in bed trying to figure out how he was going to pull off doing some huge section that had to be done in one pour, and he wouldn't be able to sleep until he came up with a solution.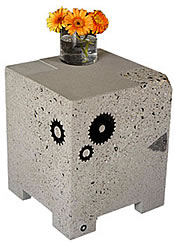 But then he came to grips with a fact experienced concrete workers accept. "There's no constant in this industry," he says. "Every job is different and there are always varying obstacles to overcome."
And one way or another, he always finds a way to overcome those obstacles.
Working with concrete, says Littlefield, has kept his life interesting. "It's all I know; it's all I've ever done," he explains. "I'm always trying something new, and I'm never totally satisfied. What other product gives you that freedom? The freedom to continue to progress and evolve?"
Got more questions about your project?