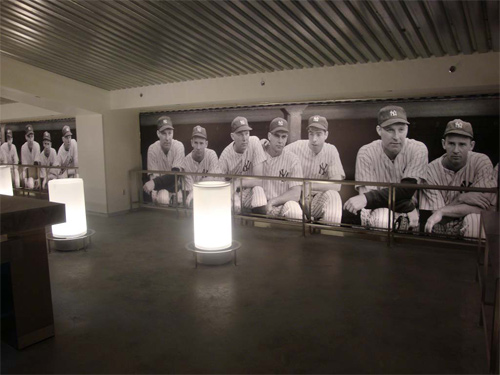 Yankee Stadium, New York City
Flooring subcontractor: Ameri-Can Concrete Solutions
Scott Griffin and his partner Dominic Puglese of Ameri-Can Concrete Solutions in New York City credit their listing in The Blue Book of Building and Construction for helping their company land work at the new Yankee Stadium.
"We had never worked on a stadium before," Griffin admits, but that wasn't a criterion for Commodore Construction Corp. Also a New York City-based contractor, Commodore needed to sub out some specialty work for the new baseball stadium that involved both self-leveling and decorative concrete.
Ameri-Can Concrete, which has been in business since 2007, had experience in both. Griffin met with Commodore's project manager, Michael Kennedy, and the men came to an agreement. Ameri-Can would rub, patch, grind, densify and seal all of the concession, kitchens and storage areas throughout the stadium – about 80,000 to 100,000 square feet – and also handle the stained concrete in the dugout lounges, which encompassed almost 5,000 square feet.
These two lounges, one for visitors and one for the home team, Griffin explains, are ground-level private bars that overlook the field. They are prime areas for game-goers… if you can afford the $2,500 seat nearby.
A certified Pinnacle installer for Mapei Corp., Ameri-Can is one of only two such contractors in the Tri-State area. For the lounge floor, the company first pumped in Mapei's Ultraplan M20 Plus, a self-leveling underlayment concrete. "We had to work with some very unlevel surfaces," Griffin says.
Once that set, his crews prepped everything and then sprayed on Lithochrome Tintura, a low-VOC, environmentally friendly reactive concrete stain. The water-based product made by L.M. Scofield Co. leaves no residue behind, yet the finish strikingly resembles an acid stain. The color chosen was 2626, which complemented the Yankee colors.
Finally, the floors were sealed with Scofield's Selectseal-W, a one-component clear acrylic-polyurethane sealer that's recommended to be paired with Tintura, and then buffed and polished. Both Scofield products can be used to earn LEED credits for indoor environmental quality.
Griffin says they began working on the stadium in May 2008, but most of the dugout work was done at the tail end of the project. "We worked around the clock day and night to finish up our part" by the March 25, 2009, completion date, Griffin says.
"I feel proud to know that this is the house that Ameri-Can helped build," Griffin says, alluding to Babe Ruth's association with the stadium's predecessor. Griffin credits his successful install to his reliable suppliers, Atlas Industries of New Jersey and Buffalo Concrete Accessories of Buffalo, N.Y., for going the extra mile to deliver needed products necessary to meet a difficult time frame.
The $1.5 billion Yankee Stadium, located on East 161st Street across the street from the old stadium, was designed by Populous, formerly known as HOK Sport Venue Event. The four-level stadium is 63 percent larger than its predecessor and is able to hold about 52,000 fans. It officially opened April 16, 2009, with the first game of the season, against the Cleveland Indians.
www.ameri-canconcretesolutions.com
---
Dr Pepper StarBar at Cowboys Stadium, Arlington, Texas
Concrete bar contractor: Dex Industries
A new bar at the Dallas Cowboys Stadium in Arlington, Texas, is literally "just what the doctor ordered." The 17,000-square-foot Dr Pepper StarBar is one of six party decks at the east end of the stadium's upper concourse.
Seven huge flat-screen televisions and six concession stands help raise the bar for the ultimate game-day experience for Cowboys fans. Big and bold, the state-of-the-art Dr Pepper StarBar, which is visible from inside and outside the stadium, features 15 aluminum arches covered in tensioned fabric that light up each time the Cowboys score, acrylic ice-cube lounges, a "fizzy" bubble-shaped custom-made chandelier from Italy, a colossal Dr Pepper logo and a concrete bar top featuring backlit vintage Dr Pepper bottles.
Atlanta-based Dex Industries, which is co-owned by Craig Smith and his wife, interior designer Lauriel Leonard, helped create the bar top.
Smith was brought into this job by Exhibitgroup/Giltspur, an award-winning experiential marketing agency headquartered in Chicago with offices in the Dallas area. He says the bar top itself is average in size, about 100 square feet. "It's a basic rectangular top, with the main design feature being the dense pattern of backlit Dr Pepper bottles with red glass pouring from the mouths to emulate Dr Pepper," he says. The bar top comprises more than 100 vintage bottles, which pass completely through the concrete from top to bottom.
To make the overall bar top more durable and to maintain the bar's structural integrity, he says, each section was made with a thick 2-inch border that was structurally reinforced. "And the seams were laminated with aluminum edging to eliminate potential chipping during handling, as the bar needs to be moved occasionally."
It took three weeks to produce the concrete bar top, which included cutting and inlaying the bottles. Smith says he used his company's own blended engineered cement binder and fines along with recycled Dr Pepper bottle glass. The completed bar top was shipped at the end of August 2009, and dry-fitted and assembled by Exhibitgroup in Dallas. The group installed it in September just before the start of the football season.
The Dr Pepper StarBar was designed by HKS Brandspace, a division of HKS Architects, which designed the Cowboys Stadium, and HillebrandCory, a local Dallas design firm. The full bar has to be broken down and moved at least twice a year, so it had to be modular.
Dex Industries, which was incorporated in 1999 and specializes in precast concrete products, has worked with Exhibitgroup and HKS on previous projects. "Much of our main business comes from relationships with the design and architecture communities," Smith says. "Plus, we have several private-label agreements where we produce products for manufacturers and retailers as well."
www.dexindustries.com
---
Lucas Oil Field Stadium, Indianapolis, Ind.
Flooring contractor: American Concrete Concepts Inc.
Less than a year after the Lucas Oil Field Stadium opened, American Concrete Concepts Inc., in Springdale, Ark., got a call in February 2009 from Hunt Construction Group Inc. of Indianapolis and HKS Architects of Dallas. HKS had worked with ACCI before, and the firm wanted to know if the Arkansas company was interested in grinding and polishing the concourse floors at the stadium, the home of the Indianapolis Colts football team.
Needless to say, ACCI jumped at the chance. "We do stadiums on the high school and collegiate levels," says president David Stephenson. His company was eager to try its hand on a professional venue of this size and scope.
The Colts' new stadium had opened in August 2008 but the concourse floors were already looking nasty. About 400,000 square feet needed to be brought up to acceptable standards. "There were major concerns about all the rust stains, discoloration and holes," Stephenson says.
The clients – the city of Indianapolis, the state of Indiana and the Colts organization – wanted a low-maintenance product that would be durable and look good. They ended up agreeing on the RetroPlate concrete polishing system, which was given a lifetime warranty as long as the floors were maintained properly.
"That was a huge selling point," Stephenson says. "RetroPlate and ACCI told the stadium to figure on between 10 and 12 cents per foot per year in maintenance." Vinyl composite tile in the same environment, he adds, would run between $1 and $1.25 annually in maintenance.
In addition to RetroPlate 99 concrete densifier, Stephenson says, RetroClean Plus was used to clean and maintain the area, and Prosoco LS Guard used to protect against stains. The border epoxy was PPG PitThane by Spectrum Paints.
"We ran approximately 4 miles of 4-inch borders around the concourse to match the (blue-gray) base paint of the walls," Stephenson says. The company also incorporated a darker gray color in the bathrooms. The epoxy was custom matched to existing paint colors for architectural effect.
The epoxy border placement, he explains, was a judgment call agreed on by ACCI and HKS. When using the machinery necessary to polish large areas, you can get only so close to the outside perimeters. "Hand grinding works on smaller jobs," he says, "but when you're talking about this much hand grinding the job becomes unrealistic."
Aside from budget and time constraints, it probably wouldn't have looked very consistent, he says. "And the borders ended up being a nice accent."
As in other stadium jobs, the time element was one of the biggest challenges. Initially, Stephenson says, his company was given 10 to 11 weeks to complete the job, but by the time all the approvals went through and the details were hammered out, they were only left with eight weeks. "We had to finish the job 20 percent ahead of schedule just to be on schedule," he says.
He employed a team of 23 men on the site for eight weeks, plus a project foreman and another four guys for four days just to handle the punch list. American Concrete enlisted a local contractor, VTI Total Solutions, to help with the epoxy and a local janitorial company to assist with cleanup.
"It was a pretty challenging job," Stephenson admits. "The size was daunting and we had to be fast to pull it off on time." They finished the job the Tuesday before the first preseason game against the Minnesota Vikings Aug. 14.
Lucas Oil Stadium covers 1.8 million square feet. The seven-level facility can seat 63,000 fans for football games and up to 70,000 for basketball and concerts.
www.acci-us.com
---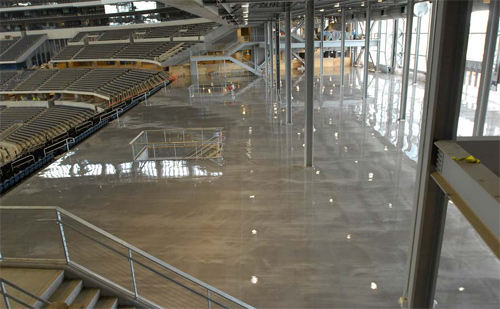 Cowboys Stadium, Arlington, Texas
Flooring contractor: Techniquex LLC
For the $1.2 billion Dallas Cowboys Stadium, the largest domed football stadium in the world, everything – including the floors – had to be a standout feature.
Cowboys owner and general manager Jerry Jones and his wife, Gene, were looking for extremely durable floors with at least a 10-year lifespan, says Baron Adelmann, president of Techniquex LLC, a flooring contractor in Tempe, Ariz., who landed the job of installing about 800,000 square feet of resinous flooring.
Adelmann, who has been in the business some 25 years, is no stranger to stadium work. Besides the Cowboys Stadium, he has installed floors in the Reliant Stadium in Houston, the Superdome in New Orleans and Chase Field in Phoenix.
The Cowboys concourse treatment, he says, needed to be waterproof, aesthetically unique and not used before in any other stadium.
The Joneses chose all LEED-accredited DiamondStone products: DiamondCrete RT, a urethane cement product, for the food prep areas; DiamondCast, an epoxy broadcast flooring, for the concessions and restrooms; and Diamond-Metallic, a polymer resin system blended with metallic particles, for the concourses.
It was this metallic system that made the project shine. Diamond-Metallic is a six-coat system consisting of a primer, two waterproof coats, two metallic coats and a topcoat, in this case a "green" urethane called Eco-Top. "The metallic coats are squeegeed on and then back-rolled," Adelmann says. While the second coat is still wet, the crew sprays a chemical on the floor, causing the particles to diffuse and create a design.
"If you spray enough, the floor would look like the cratered face of the moon when it dried. Even though the surface is smooth, it appears to have a deep look, almost three-dimensional," he says. And, he adds, different lighting changes its appearance.
Over a course of time, Adelmann overnighted HKS Architects hundreds of Diamond-Metallic samples to present to the Joneses, who finally agreed on a custom-blended color called Mega-Griege. "It's a tan and bronze color," Adelmann says.
After the color was nailed, the next challenge was installing the system in a compressed schedule. Although work on the restrooms and concessions flooring began in April 2008, the bulk of the square footage – Adelmann estimates more than 650,000 square feet of concourse and ramps – was installed in 2009 from the end of March through May. The stadium's first event was June 6.
In addition to the compressed schedule, his seven crews also encountered another challenge when installing the concourse floors. "We had never installed (Diamond-Metallic) in that wide of an expanse without an established stopping and starting point, that being a joint," Adelmann says. "Stopping can cause heavy roller marks. In normal concrete jobs, there's usually a joint every 15 to 20 feet. But in a stadium, you can have 80-foot widths without a joint."
After some trial and tribulation, "my guys in the field came up with a proprietary process of treating the floor so it wouldn't roller-mark," he says.
Cowboys Stadium was designed by HKS Architects, who Adelmann says think outside the box. "Through their pursuit of perfection, Loretta Fulvio and Mark Timm have driven Techniquex to create design characteristics in the Diamond-Metallic flooring that weren't before possible."
The stadium was built by Manhattan Construction, and Adelmann has praise for them too: "arguably the most organized and well-run general contractor in the country." The Cowboys Stadium encompasses 3 million square feet and seats 80,000 spectators, but can comfortably accommodate 100,000 thanks to standing-room space on the facility's 10 levels.
www.techniquex.com
Got more questions about your project?