This posh campus of office and parking structures, located in the western Los Angeles neighborhood of Playa Vista about one mile from the Pacific Ocean, contains polished concrete floors and board-formed concrete walls and pillars, but that's just a taste of what decorative concrete has brought to the 15-acre campus. Some of the project's other spectacular design features include terrazzo flooring with brass inlays and cement-composite panels that appear to change color as you walk by.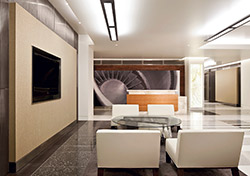 Who is responsible for all this beauty? More than one team, actually. Morley Construction Co., a division of Morley Builders Inc., of Santa Monica, Calif., completed the first two project phases — Parcel A and Parcel B — between 2007 and 2010. Parcel A contains two five-story, concrete-framed office buildings, an underground parking structure with a podium deck, and a post-tensioned concrete parking structure. Parcel B has two steel-framed office buildings (one five-story and one six-story), plus another post-tensioned concrete parking structure.
A second company, Shaw & Sons Concrete Contractors, of Costa Mesa, Calif. is responsible for about 9,000 square feet of polished concrete floors in the two office building lobbies on Parcel A, as well as outdoor architectural concrete elements on Parcels A and B, including all stairs, walls, curbs and paving. The company also installed architectural site concrete for a third phase — a fifth office building and sixth parking structure on a third parcel of land — and is in talks with project developers about renovating an existing building on the site.
The complex sits adjacent to the Spruce Goose aircraft hangar, the site where Howard Hughes built his big wood "flying boat" known as the Spruce Goose. The project's architects drew inspiration from next door, weaving in nods to the aircraft hangar such as exterior building materials that look similar to the hangar's and an aeronautical theme in two of the office building lobbies.
"I think what was most unique about the project was working on the Howard Hughes site," says Shaw & Sons vice president and chief financial officer Paul Taylor. "When he was told it couldn't be done, he went ahead and built the Spruce Goose, and we really took that same approach. We push the envelope when it comes to architectural concrete."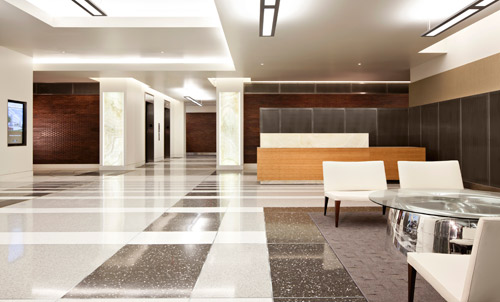 Relying on mock-ups
Morley workers constructed mock-ups for parcels A and B, a process that helped project managers iron out any foreseeable construction issues and make final determinations about materials that would be used. For example, in the Parcel A buildings, board-formed concrete walls were included in the entranceways and elevator waiting areas. Through the mock-up process, project managers decided the walls should be formed using Douglas fir panels to achieve their desired grain pattern.
For the two office buildings in Parcel B, the mock-up process helped determine joint patterns and spacing for imported SwissPearl Reflex panels, integrally colored cement-composite panels with iridescent surfaces that were made by Eternit Switzerland.
The team did mock-ups for concrete columns and beams, metal framing and furring, waterproofing membranes, metal and metal-perforated metal panels, glazing components, metal flashings, sealants, caulking and material fasteners for both parcels.
Morley workers used approximately 73,000 cubic yards of ready-mix concrete supplied by Catalina Pacific Concrete, of Sun Valley, Calif., to build the four office buildings and three parking structures. On the exterior walls, columns, beams and slab edges of Parcel A's office buildings, they applied a concrete patching compound, Rapid Set Wunderfixx from CTS Cement, to create a smooth, seamless finish.
Besides the SwissPearl Reflex panels, the exterior surfaces of Parcel B's office buildings feature metal panels from CMF Inc. that were inspired by the exterior texture of the Spruce Goose aircraft hangar. Project managers enlisted the help of a consulting firm, Simpson Gumpertz & Heger Inc., of San Francisco, to develop water-resistant qualities for the panels.
As for the polished concrete in the lobbies of Parcel A's office buildings, Shaw and Sons workers seeded the concrete slabs with granite pieces before honing the surfaces using 400-grit diamond polishing pads for an even, uniform result. "The polished concrete floors give the lobbies a contemporary look at a good price point," Taylor says.
Parcel A's lobbies also feature several board-formed concrete pillars, which were installed by Morley crews.
For Parcel B's office building lobbies, project managers and architects drew inspiration from the next-door hangar once again. The décor includes aircraft murals and furniture constructed from decommissioned aircraft parts. The lobbies' terrazzo floors in charcoal, gray and white feature brass inlays of compass readings.
Horizon at Playa Vista is a recipient of impressive LEED ratings from the U.S. Green Building Council: a Materials & Resources (MR) Credit 5, which is awarded for regionally extracted, processed and manufactured materials, and a Gold certification in the LEED for Core & Shell system.
Project at a Glance
Client: Lincoln Property Co., Los Angeles, Calif. (The project is a joint development of Lincoln Property Co. and ASB Real Estate Investments, Palo Alto, Calif.)
Concrete Contractors: Morley Construction Co., Santa Monica, Calif. (general contractor for Phases I and II) | www.morleybuilders.com
Shaw & Sons Concrete Contractors, Costa Mesa, Calif. (subcontractor for polished concrete floors in Phase I and exterior architectural concrete in Phases I, II and III) | www.shawconstruction.com
Architects: Johnson Fain, Los Angeles, Calif. (design architect), HKS Architects Inc., Beverly Hills, Calif. (executive/interior architect) | www.hksinc.com
Scope of project: Five office buildings with adjacent parking structures on a 15-acre campus
Duration of project: Three years
Key material suppliers: Cemex, Ontario, Calif.; Catalina Pacific Concrete, Sun Valley, Calif.; CMF Inc., Orange, Calif.; the Cypress, Calif., branch of CTS Cement; Eternit Switzerland, Niederurnen, Switzerland
Grinding machine used on certain floors: Prep/Master STI-2420
Got more questions about your project?