Our team at DreamKrete, the concrete floor polishing and decorative staining division of Mid Atlantic Floor Care LLC, based in Richmond, Va., recently completed our most unique and challenging project to date.
In January and February 2012, we were involved in preparing specifications, implementation and performance of a high-visibility job: nearly 1,600 square feet of poured-in-place concrete vertical walls for the remodel of the former Willow Lawn Shopping Center on the west end of Broad Street in Richmond.
The polished walls are an integral element of the outdoor park, children's recreation and entertainment area at The Shops at Willow Lawn. They're part of the overall renovation of the 50-plus-year-old shopping center.
DreamKrete, a trademarked division of MAFC, has been in the residential and light-commercial polished and decorative concrete business since December 2009. My parents have been in the commercial floor-cleaning and exotic floors (marble, granite, terrazzo, etc.) restoration business for both commercial and residential customers for the past 15 years. We have seen the transitions of floor cleaning over the years and the movement towards more efficient and cost-effective floor systems.
Also, consumers, both commercial and residential, have become more aware of ecofriendly requirements for floor coverings.
As we recognized the trends in the markets, it was a natural progression for us to identify the future direction of our services to customers by developing our expertise in the concrete industry.
We purchased our first HTC 500 concrete grinding system, complete with vacuum and separator, in December 2009. MAFC also became an authorized installation contractor for HTC concrete floor systems. Because of our years of excellent service reputation and our contacts, we immediately began obtaining contracts for decorative and polished concrete.
Planning and pouring
The challenges of the Willow Lawn project were many and very unique. As one of the original shopping centers in the west end of fashionable suburban Richmond, it had undergone the transformation over the years from strip-center to enclosed mall. Now the conversion back to its outdoor roots, following the current trend of "lifestyle centers," required significant demolition and rebuilding.
The idea for the polished walls actually came from the architectural plans. Eilerson Development Corp., dba EDC, the Richmond-based general contractor for the project, specializes in new and renovated commercial projects throughout the East Coast and has completed projects similar to the Willow Lawn Shopping Center. Never before had they encountered polished vertical concrete walls. Since we had worked with them on "horizontal" concrete polishing projects (floors), they contacted us to submit a bid in July 2011 and to provide them with specifications, recommendations and logistics, such as power demands.
Not being experts in the takeoff of plans considering elevations and landscaped grades, we relied on the assistance of EDC project manager Christopher Simone for calculating the actual square footage of the polished areas. This required calculating the square footage of the fronts and backs of the exposed areas as well as the linear footage of the 12-inch-wide exposed sides and tops to be polished. We provided specifications on recommended cure times and preferred psi for achieving best polished results.
On many occasions, our work had to be coordinated around other subcontractors working in the same space, so cooperative efforts were a must.
In this outdoors construction project, weather was always going to be a factor. Considering the sensitive nature of the walls, precautions for polishing under certain wet or temperature conditions was critical to achieving desired results.
Construction is always about deadlines, so our communication and staffing levels kept the polishing on target for completion.
The other critical player in this performance was James River Concrete, the Richmond subcontractor responsible for forming and pouring the vertical walls in place. As we worked with JRC owner and operator Leslie Davis, the plans for this area were changed many times for variables such as drainage, parking lot requirements, sidewalks, and old footings from the many previous configurations of the shopping center itself. The Park was basically designed and poured by sight.
We knew exactly how we wanted JRC to finish the walls to polish, and our early communication of this assisted in the final polished appearance. The grinding of the edges and corners to create a more rounded look was not in the original architects' specifications — we suggested this to give the edges a smoother look and feel, both literally and figuratively. We also predicted that this would prevent breaking or chipping over the life of the walls. This idea was well-received by the property owners and EDC after they saw the sample edges we completed.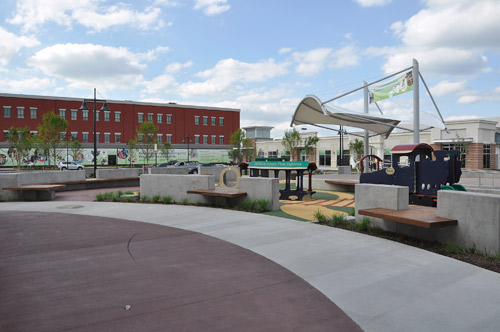 We did not use any dyes or stains. The concrete is a basic gray in coloration. Any hints of coloration in the photos are actually reflections that are coming from other objects, such as flowers, benches or swings nearby, or sunlight effects. We did not add any special aggregate, but in our specifications we always advise clients that "polishing may produce some aggregate exposure — it is to be expected but the amount and extent cannot be predicted or controlled by us."
Gravity and fatigue
Besides working outdoors, the temperature effect on the concrete walls, the rainy weather, the excavation, forming and pouring going on around us, the dust created from the grinding and all the other logistical factors, there were two other major factors that we had to take into account to ensure consistency and quality of our work — gravity and fatigue.
When we do hand grinding on floors, the weight of the grinders is working in a positive direction for the work being done. In this case, we had to work to maintain proper constant pressure of the grinders on the walls. Also, our body positions had to be held for long periods of time. At the end of each day, we were exhausted!
We also had to be safety-conscious, as we always are, regarding the grinding dust and the potential cuts and scratches that could occur from small pieces of concrete grindings. To get the results we got with hand grinders in January and February weather, standing or kneeling below grade in the footings, sometimes working in 6 inches of mud, with concrete being formed and poured all around us — we feel this was a testament to our expertise, resilience and professionalism. Trust me, this was not easy work!
The Park at Willow Lawn, as the area is now called, is a very visible and active center of activity, with children playing, shoppers resting and eating, and performers entertaining crowds with everything from music to magic shows. The area was designed to not only be functional but to also be aesthetically pleasing. The hard work that DreamKrete invested may go unnoticed by the shoppers, but the results of our work are enjoyed every day. We take pride in all our work, but we take special pride that thousands of people annually will get the benefit of our very unique accomplishment.
Project at a Glance
Client: The Shops at Willow Lawn, Richmond, Va.
Decorative concrete contractor: DreamKrete, Richmond, Va. | www.midatlanticfloorcare.com
General Contractor: Eilerson Development Corp., dba EDC, Richmond, Va.
Scope of project: Polishing about 1,600 square feet of poured-in-place concrete vertical walls for the remodel of Willow Lawn Shopping Center in Richmond
Tools and equipment used: Makita 5-inch industrial variable-speed grinders, Intertool DS301 planetary polisher, HTC Edge Pro Metal Bonds in 30 grit, 60 grit and 120 grit; HTC EZ Grind Resin Bonds in 100 grit, 200 grit and 400 grit, HTC Fenix Resin Bond Pads in 800 grit, 1,500 grit and 3,000 grit
Got more questions about your project?