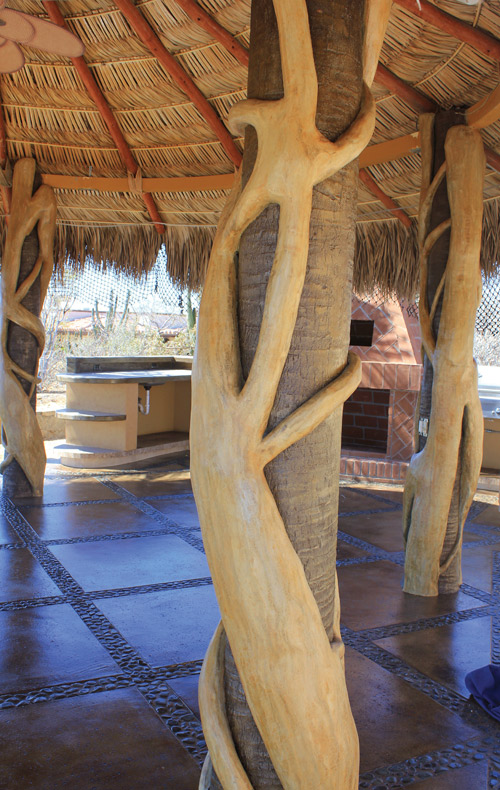 A palm-roofed outdoor living area in Mexico is called a "palapa," and when Robert Hileman bought his vacation home in Los Cabos last year, palapas were on his mind. He wanted to turn his backyard into a large (1,000-square foot) and luxurious outdoor living space, complete with a palapa for shade. But he also wanted it to be easy to keep up —and he wanted the five pillars supporting the palapa to be made from coco palm tree trunks surrounded by strangler vines winding sinuously up the trunks. When artisan Jay Manning heard what Hileman wanted, his first thought was rot and termites and other wood-eating insects.
The home's prior owner, a general contractor, suggested Hileman contact Manning. Since opening up shop in 1989 after moving to Los Cabos from San Clemente, Calif., Manning and his company, Concreations Inc., had become known throughout the region for true concrete artistry.
"Because of the humidity and the fact that this area is really a semitropical area, it teems with termites and other wood-eating insects," Manning says. "So pillars constructed of actual coco tree trunks wouldn't last very long. And the owner wanted the area to be low-maintenance. The same thing held true for the entire backyard area, on which I didn't use a piece of wood. Well, the doors on the outdoor kitchen cabinets are wood, but that's all."
The result, after two weeks of demolition and four weeks of work by a 10-man crew, was a 500-square foot palapa roof over the raised portion of the deck, which extends out to encompass a concrete kitchen area that includes a stove, barbecue grill and wood smoker, plus a fire pit over concrete decking designed to resemble the local habitat.
The decking itself consists of 4-foot squares with river-rock inlays flowing between. "Jay poured the slabs, pulled out the forms and then set a concrete base between them," explains Hileman, the owner. "Then he hand-selected and placed individual flat river stones where they would have the most natural effect."
Manning describes the decks in more detail. "The concrete decks were smooth-troweled. But while the concrete was still wet, and before the last troweling, we broadcast clumps of moistened baking soda all around, which gives the concrete a pitted, travertine look." After that, the decks were acid-stained using Antique Amber and Dark Walnut colors from L. M. Scofield Co.
The fire pit was dug out 2 1/2 feet below the deck, then built back up to deck level with steps and seats. Guests can sit around the fire and still enjoy the view of the ocean. The pit area was constructed of block and brick with a decorative surround of river stones. It was covered with smooth-troweled burnished plaster and acid-stained to complement the decking.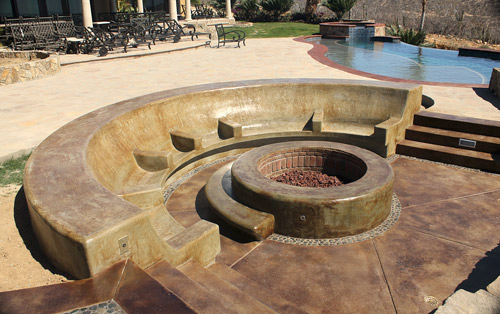 Concrete coco trees
As for Hileman's original vision of using actual coco logs in construction, remember "termites" and realize it is nice to fool Mother Nature — and human guests — in the name of maintenance.
"First," Manning says, " I made latex texturing skins from the bark of a real coconut palm. Then I poured concrete into a Sonotube and made it an irregular shape."
Hileman says he saw Manning take an axe and beat up the sides of the concrete posts. "I ran out and asked, 'What the hell are you guys doing? I just paid you good money to put these posts in.' What they were doing was making the concrete pillars uneven. Each was different, like every tree is different."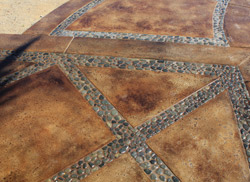 After beating up on the concrete pillars, Manning plastered over them and used the latex skin as a pattern stamp for the finished, textured plaster. The team used a Walnut release agent from Scofield, then a really light fogging of Scofield Antique Amber acid stain.
In nature, strangler vines grow around the base of coconut trees. Birds nesting in the trees eat fig seeds and then drop the seeds, which sprout and grow up around the coconut palm. The vines ultimately strangle and kill it. "They look really cool and tropical," Manning says, "but they get insect-infected and don't last very long, so I had to figure out a way of 'faking' them as well as the palm trees."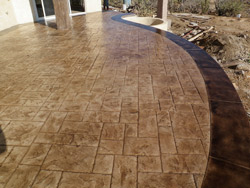 The vines were made with nylon rope and rolled Visqueen plastic sheeting, both wrapped together in diamond lath and covered with GFRC spiked with polymer modifier (because it's so flexible). The nylon rope and rolled-up plastic sheeting give the finished GFRC creations the free-flowing look of actual vines. They were acid-stained with Antique Amber and a little bit of Padre Brown, then sealed with Euclid Chemical's Everclear acrylic sealer.
Because the concrete pillars are hollow, they carry electric wiring for audio, video and lighting for the entire entertaining area. (There are television screens inside the roof of the palapa.)
"Without question," Hileman says, "Jay can make almost anything out of concrete that can look like wood. When we saw how great the palm trees looked we almost told him to stop and not do the vines because the trees looked so cool. But when the vines were finished, we realized they looked even cooler. It turned out every bit as good if not better than we ever dreamed it would be. Jay is truly an artist with concrete, and we've since brought him back to build a casita (guest house) and work more of his concrete magic."
Project at a Glance
Client: Robert Hileman, Los Cabos, Mexico
Decorative Concrete Contractor: Jay Manning, Concreations Inc., Los Cabos, Mexico | concreationsinc.com
Scope of project: Build a 1,000-square foot low-maintenance outdoor living area, fashioning concrete to resemble native wood.
Duration of project: 6 weeks, including 2 for demolition
Crew size: 10
Materials Used: L. M. Scofield Co. Lithochrome Chemstain Classic acid stain in Padre Brown, Antique Amber and Dark Walnut, L. M. Scofield Co. Lithochrome Antiquing Release in Walnut, Sonotube concrete forms, Visqueen plastic sheeting from British Polythene Industries, Euclid Chemical Co. Everclear acrylic sealer
Got more questions about your project?